Report: Pistons saying Greg Monroe isn't available in a trade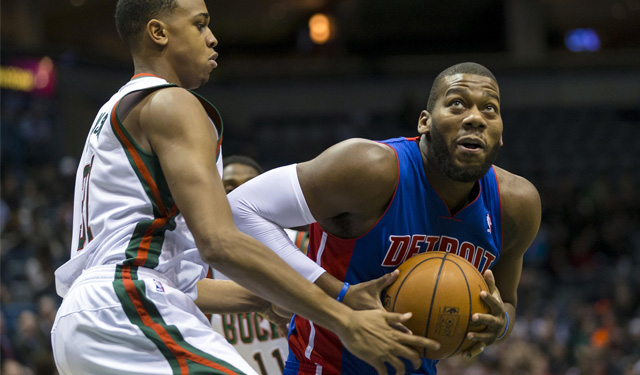 We're less than a month away from the NBA trade deadline on February 20, which means we're about to hit the heavy part of trade rumor season. One of the teams expected to be active is the Detroit Pistons, who have struggled to capitalize on the big free agent moves they made this past summer. With Greg Monroe looking to become a restricted free agent this summer, the best possible time for the Pistons to get a return value for him if they believe he'll be too expensive to keep is by trading him before the deadline.
According to Marc Stein of ESPN.com, the Pistons are reportedly telling potential trade partners that Monroe isn't available. This would lead you to believe that the Pistons either expect to at least match whatever offer he gets in restricted free agency this summer or they're looking for a bigger splash than what's available in return for the big man.
Those increasingly frequent suggestions that Greg Monroe will be moved before the Feb. 20 trade buzzer are premature.

For now, anyway.

Sources briefed on the situation told ESPN.com this week that the Pistons have been telling teams with Monroe interest that the restricted free agent-to-be -- no matter what you've heard -- is not available.
It wouldn't make any sense for the Pistons to make Monroe available unless they were blown away with an offer. A general manager could call up Joe Dumars and ask about Monroe, only to be rebuffed at the idea of trading such a talented young big man. Then that general manager could be aggressive and throw out names in a potential trade package to get Dumars to relent a little bit on this steadfast position.
The problem with that tactic is if that happens and a trade isn't agreed to, then it could start putting out trade rumors about Monroe being available. For now, it makes a lot more sense for the Pistons to be coy about such an idea. However, with their current roster construction the Pistons have, it doesn't make much sense to keep him. Had they not committed over $50 million and four years to Josh Smith this offseason, they'd have plenty of money and flexibility to build around the duo of Monroe and Andre Drummond.
Instead, their roster looks a little cluttered in the frontcourt and they probably need to make a move in the next year or so. Monroe is the easiest player to move with the highest return possible, but the Pistons don't have to move him. They can let the market set his price tag this summer, decide to match it, and then look at their roster moving forward and possibly make a move then.