Shawn Marion thinks there should be no salary cap, higher age limit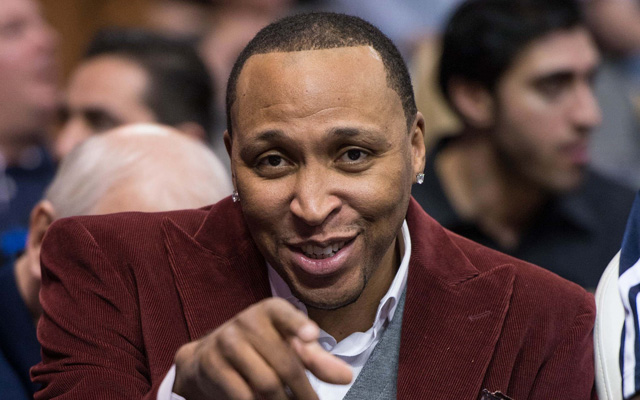 Add Dallas Mavericks forward Shawn Marion to one of the few players who actually support moving the age limit back to keep players in college more than one season. Marion spoke to reporters Monday and chimed in on a number of suggestions he'd give new commissioner Adam Silver, alongside a European expansion and of course, no salary cap.
Marion said he wouldn't mind it at all if the NBA expanded with a franchise or two in Europe.

Marion also opined that while NBA teams should continued to be required spend a minimum amount annually on player salaries, the league should do away with its salary cap.

"I could see no cap and everybody doing what you want to do," he said. "Baseball does it. If you want to go out and spend $200 million on your team (payroll), go ahead and do it.

"It can't guarantee that you're going to win, but why not? If you've got the money to do it, why not?

"There shouldn't be a cutoff on what people want to spend for their teams, but there should be a minimum that have to spend, so you definitely put a good product on the floor."

Speaking of the product, Marion has another recommendation for Silver.

"I think the age requirement for coming into the league should be higher," he said.

"It should be at least two years (out of high school)," Marion said. "Two to three years, minimum."
via Shawn Marion would like to see new commissioner Adam Silver raise league's minimum-age requirement | Dallas Morning News.
So, to go in reverse:
The age-limit is an interesting question. No one seems happy with the current setup of one-and-done. Much of it comes down to coaches and players vs. management. Coaches want their players to be more seasoned, players want their teammates to be more mature and smarter. Management wants guys healthy and as young as possible to meld them into what they want. I continue to think a two-or-none is the way to go. Give them the option to jump from high school so guys like Jabari Parker and Andrew Wiggins can skip a useless year of college, but more raw players can get more time. Every system will have its pitfalls, but that seems more fair to both sides.
It would also remove the bias of strong tournament performances.
As for the salary cap... of course a player wants no salary cap. Players are interested in competitive environments 1. after they get paid and 2. only to the degree that it helps their cause. No salary cap would lead to inequalites between the top markets and the smaller ones. It doesn't mean small markets couldn't compete. But it would make it exceptionally hard. Anyway, this question is moot because the owners would howl with laughter so loud, eardrums would burst.
Maybe most interesting here is the fact that a player is open to the idea of European expansion. Granted, Marion's not going to be around for it if it were to happen. But that's a veteran open to the idea. If the players aren't opposed to it, that would go a long way towards making it happen.