Happy birthday, Steve Nash: Journey down the rabbit hole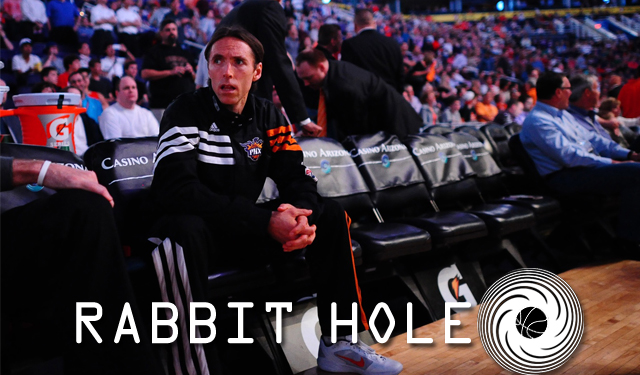 Careers don't last forever in the NBA. One of the more enjoyable careers we've had over the past 20 years would be that of Steve Nash. He's shown us a beautiful shooting stroke, perfect passes with either hand, an incredible sense of humor off the court, and MVP debates that make me glad Twitter wasn't really around when he was winning them. Comments sections and MySpace forums were hell enough for those times. His career is nearing the end and today is Nash's 40th birthday. Happy birthday, Steve!
Let's see where wishing Nash a happy birthday can take us. Let's journey down the rabbit hole:
First Stop: Please don't retire, Steve Nash
He came into the league as a relative unknown. He was a Canadian point guard that didn't look all that athletic. He was from Santa Clara University, which isn't exactly known for its basketball program. The three biggest things to come out of the Santa Clara Broncos basketball program are Steve Nash, Kurt Rambis and Marlon Garnett. Who is Marlon Garnett, you ask? He's the guy that played in the NBA just long enough (24 games) to make it if you type the name "Garnett" into the Basketball-Reference search engine, you don't automatically get to Kevin Garnett's page.
Doug Eberhardt at SB Nation wrote a letter to Nash yesterday pleading for the two-time MVP to not retire after this season. Nash has been pretty banged up since leaving the Phoenix Suns for the Los Angeles Lakers, playing in just 59 of 135 games the past season and a half (counting the playoffs last year). But Eberhardt is hoping that Nash can keep going for the 2014-15 season because he's not done identifying with this man being on the court:
Selfishly, I have the exact opposite viewpoint as them. To me, you can still make a valuable contribution. To me, watching your desire to defy both debilitating injury and Father Time is inspiring. I know you've always been a process guy, and the sheer joy of watching you interact with your (much younger) teammates is enough for me to want more. More endless high-fives, as it were.

If I have to be honest, the most important reason you need to keep playing is my NBA dream dies if you're not playing. Goofy, I know. I'm really old and probably won't be getting much of a look as I approach senior citizen status. That doesn't matter.

You're the local kid who became a two-time MVP. Every time you hit a pull-up three, that is me hitting a pull-up three. Every time you make a perfect slot pass on the pick-and-roll, that is me making that same pass. Not to get existentially crazy on you, but I'm pretty sure there are people in Vancouver and across the province who are "you" every single time you take the court. Identity is a really fuzzy concept sometimes.
I think this sentiment is something that most basketball fans probably take for granted. American basketball fans often have someone to identify with on the NBA courts. Granted, that's a fairly broad generalization because there are going to be examples here and there of people who don't have anybody that "looks like them" or is from where they're from out there. However, for the most part if you're an American from the U.S. watching the NBA, you can probably find a player who grew up in the general vicinity as where you did.
Canadians don't really have that luxury at this time. While Canadian basketball is starting to hit a boom with their player development and influx of players to the league, for the last 20 years the most identifiable player for Canada was Nash. He sort of looked normal and yet did extraordinary things on the basketball court. To see that guy go away soon will be losing a piece of pride in the NBA they can relate to.
It's similar to why Jeremy Lin was such a sensation for the Asian and Asian-American NBA community. While Yao Ming was the hero of Asian basketball for quite some time, it's a little harder to relate to the 7'5" Ming than it is to someone that is a much more normal size. That's not to say that Nash looks like everybody in Canada; it's just that he's a very normal size for a human being, who just happens to be an awesome basketball player. You can see yourself in what he does easier because he's not a 6'8" wunderkind flying through the air.
Nash has given us some pretty incredible highlights throughout his time in the basketball world.
Where it all started
The NBA was doing these pretty cool time travel commercials for a while in which some kid or a creepy guy stalking Kevin Durant would "go back in time" to let them know they were destined for greatness. It's unknown whether or not they brought a sports almanac with them to make a bunch of money, but they definitey messed up some sort of space-time continuum by letting these guys know what was ahead for them.
This was probably the least creepy of the set of commercials. The creepiest commercial definitely was this one in which an older man sought out a high school version of Durant and awkwardly talked to him like that one friend of yours that has uncomfortable body language and lingers way too long when talking to a target at the bar (warning: if you don't have a friend like that, you may be that person in your group).
WHOA! Notice the creepy guy didn't mention James Harden at all? This was back in 2010 and Harden wasn't quite a household name yet but he was just as much of a good, young player as Serge Ibaka. It's like this creepy guy knew Harden was going to get traded from the Thunder to the Houston Rockets. He really WAS from the future! Quick, get my almanac!
Ok, I don't actually have a time machine. But I did find the original video they used for the Nash commercial.
Technology, huh? It's pretty amazing.
Also amazing: Steve Nash playing basketball
While Steve Nash's career started with the Phoenix Suns, it didn't seem to truly get going until he was traded to the Dallas Mavericks for his third season in the league. It was then that he teamed up with Dirk Nowitzki and under Don Nelson was in charge of orchestrating the revival of Dallas Mavericks' basketball. Joining up with Nowitzki ended up being a life-altering and career-changing experience for Nash.
It was fun to watch that Dallas Mavericks team grow. They were so bad when they were first constructed but they also had guys that needed to learn threw the growing pains of getting roasted by the league every night. Through that trial-and-error process, they figured out what worked and what didn't work. Eventually, they broke through to being a perennial playoff contender and one of the most entertaining teams in the NBA.
In Chris Ballard's book Art of a Beautiful Game, there's a chapter dedicated to Nash. It talks about his development through every stage, especially when it gets to his time with the Mavericks. There's a great story about Nash and some friends wanting to hang out. His friends pressure him to have beers with them when he's supposed to be training but Nash has some conditions for the experience that allow him to remain in shape:
It's a few weeks before Mavericks training camp is to begin in the summer of 2003, and Nash is out to lunch with Mavs athletic trainer Al Whitley and another buddy. It is a beautiful day, and the guys begin badgering Nash to have a beer. Reluctant to alter his preseason training routine, Nash says he'll do it on two conditions: They drink one beer per bar, and they have to run between bars. "So we finish our beer and then take of jogging," remembers Whitley, who grew up with Nash in Victoria, "only Steve immediately sprints way ahead of us. By the time we got to the next bar, he was finished with his beer and telling us the name of the next bar." And so it continues, through the McKinney area of Dallas, from the Taco Diner to TABC bar to The Quarter, Nash racing ahead and his friends straggling behind. All the while startled passersby wonder if the local NBA team's star has embraced an unusual new workout regimen. After running close to six miles, Whitley and his buddy are gassed. They stumble up to the final bar, which happens to have an outdoor pool attached, and walk in. Unable to find their friend inside, they look out back, only to spot Nash in the pool, doing the backstroke. "He smiled and waved," says Whitley, "like it was the most natural thing in the world."

It is quintessential Nash: accomplishing two seemingly incongruous goals simultaneously. He maintains his training program, and he hangs out with his buddies. He gets in a run, he and his friends have a memorable afternoon, and many beers are consumed. It is, in a way, multitasking of the highest order. Which, when you think about it, is what being a point guard is all about. Keep everyone happy, be efficient, have fun, achieve the end goal.
You should definitely buy Art of a Beautiful Game by Ballard. You can get it here on Amazon.
Also beautiful: Steve Nash's time with the Phoenix Suns
Nash put his stamp on the history of the game by helping usher in a new era of basketball with Amar'e Stoudemire, Shawn Marion and Mike D'Antoni. He was rewarded with the highest individual honor two years in a row by winning the MVP through unselfish, up-tempo basketball that helped change the league into what it is today.
He ran the pick-and-roll like few we've ever seen. Even with John Stockton hitting Karl Malone in stride thousands of times, it's up for debate whether or not anybody has run that and delivered the pocket pass better than Steve Nash in NBA history. Were you hoping for 12 minutes of Nash pick-and-roll set to various ACDC songs? Of course you were:
Steve Nash: the personality
Nash has also been one of the best personalities that can joke about himself, the game, the world, or whatever is necessary. He has never had a problem making an ass out of himself in the name of good fun and it's been a joy to see his personality truly emerge over the past few years as he's embraced his stardom.
That's right, you're never going to beat Nash out for a single parking spot in a half-empty parking lot, old lady!
I could watch him play FIFA with Hope Solo all day and would love to take him on in that game (preferably 2K14, actually).
Alright, he's a little terrifying as a Vitamin Water salesman.
It's much more comfortable to see Nash as a supermodel type of salesman.
I never want to stop seeing Steve Nash and Baron Davis hanging out together. Because it brings us things like this: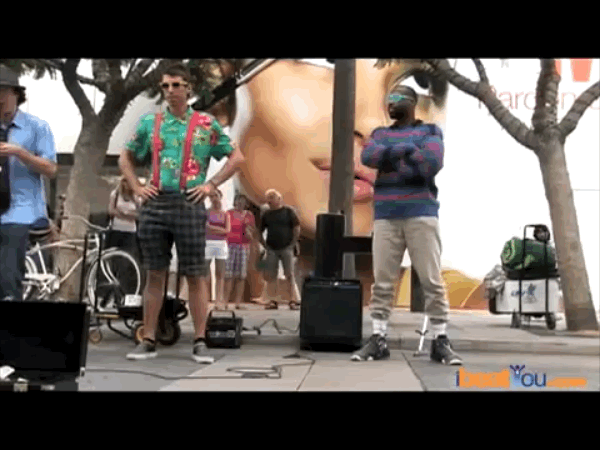 Happy birthday, Steve Nash. I'm with Doug. Please don't retire.