Baseline Awards: NBA awards update at the All-Star Break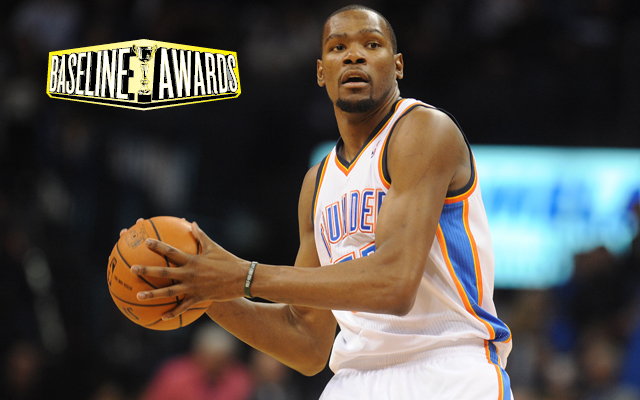 With the All-Star Break just days away, it's a good time for us to look over the awards for this season. For the most part, there's not a whole lot of surprise, and not a whole lot of drama left to be honest. If you're reading this column, you pretty have a good idea of who will wind up winning or at least be able to pick out the winner from a candidates list.
But there's always some intrigue, so let's take a quick look at what's going on.
Most Valuable Player
1. Kevin Durant, Oklahoma City Thunder
2. LeBron James, Miami Heat
3. LaMarcus Aldridge, Portland Trail Blazers
4. Paul George, Indiana Pacers
5. Kevin Love, Minnesota Timberwolves
This thing is just about wrapped up. Durant's performance Sunday vs. the Knicks on national TV (41 points, 10 rebounds, 9 assists, 1 steal, 2 blocks, 12-22 shooting, 4-7 from three, 13-18 from the line, I can keep going but you get the point) was another gem in his crown. Either Durant would have to get hurt or LeBron James would have to go on a Wilt-Chamberlain-like tear just to get this thing back to even.
James is still certifiably the No. 2 and that's not a bad thing. The fact that a coasting version of him is the second-best player in the league is beyond crazy. But he remains so good that when he engages now, there's not a whole lot of hope for another team. James has also shown a level of humanity this season, dealing with back spasms and admitting being tired. Heavy is the crown and all that.
Some will argue for LaMarcus Aldridge to be higher, but the Blazers' recent struggles his high-volume of shots, and only above-average defense keep that away. Paul George is on a rough run this month, but I'd expect him to climb back into third by the end of the season. Finally, yet another stellar season for Kevin Love that won't wind up registering because his team can't get it together.
Defensive Player of the Year
1. Roy Hibbert, Indiana Pacers
2. Serge Ibaka, Oklahoma City Thunder
3. Dwight Howard, Houston Rockets
4. DeMarcus Cousins, Sacramento Kings
5. Paul George, Indiana Pacers
This may honestly be the most fun race of the year. Hibbert and Ibaka are effectively neck and neck at this point. We'll get more into this in a few weeks, but the two have remarkably different tactics but similar rates of production. Hibbert's mobility is underrated as the assumption is that he's stuck in the paint. The reality is that he has good awareness of staying within range so it seems like he's always there. But he can guard in the pick and roll and stay fluid with his rotations.
Meanwhile, Ibaka's closed on the things that I had always criticized him for. He doesn't fall for pump faks nearly as often. He doesn't chase blocks at the expense of his rotation. He's still a monster rebounder. He's able to more effectively guard in space and can shut down players with multiple weapons from the triple-threat. KD is unbelievable, but OKC's defense is what makes them a title contender. And Ibaka's the biggest part of that.
That's right, DeMarcus Cousins. Cousins still does enough to drive you nuts, but it's reached "Serge Ibaka in 2012" levels. Just because he has a worse attitude doesn't take away from what he does well. For all players defending at least 10 possessions per game, Synergy Sports lists DMC as fourth best in the league,. He's the best with over 14 possessions defended per game.
Dwight Howard's getting more and more healthy. Just keep that in the back of your head.
Rookie of the Year
1. Victor Oladipo, Orlando Magic
2. Steven Adams, Oklahoma City Thunder
3. Michael Carter-Williams, Philadelphia 76ers
4. Tim Hardaway Jr., New York Knicks
5. Trey Burke, Utah Jazz
Oladipo takes over Michael Carter-Wiliams on account of the Sixers' recent struggles, MCW's health issues, and the quality wins or Orlando (wins over Indiana and OKC that Oladipo was pivotal in.). He carries the preseason cache, Is the best defender of the group, and has the most responsibility.
I continue to assert that Steven Adams, who has carved out a huge role on a title contender, deserves more credit. Who cares about the per-game numbers? Wouldn't you rather reward a kid who came in, did what his coach told him to, and is pushing Kendrick Perkins who Scott Brooks loves with a big part of his heart for a starting spot? Just because Adams is doing things to help a good team win instead of piling up numbers on a bad team doesn't mean his contribution is less worthy.
Coach of the Year
1. Jeff Hornacek, Phoenix Suns
2. Terry Stotts, Portland Trail Blazers
3. Steve Clifford, Charlotte Bobcats
4. Frank Vogel, Indiana Pacers
5. Dwane Casey, Toronto Raptors
The other extremely close race. You can sell me on Stotts pretty easy, he's designed the best offensive system in basketball outside of San Antonio this year. He's also been a tremendous late-game coach. But I keep coming back to how Hornacek has taken fringe NBA guys and made them into a winning component, how he's maximized Goran Dragic's ability, how he made Dragic and Bledsoe into a viable unit, and has Gerald Green (!) as a valuable contributor.
Vogel may not win this award with Indiana, which is a shame. This is his best chance, and if he won it, it would be deserving. I'd be surprised, since the vote typically goes to someone who did the most despite challenges instead of "maximized an incredible roster." But everyone forgets how forgettable this team was before Vogel took over. Vogel and Carlisle are the future of coaching greats in this league.
Dwane Casey and Mike Budenholzer are a toss-up in that last spot for me. Both have had roster instability due to trades and/or injuries and have done a great job. Casey gets it based on recent success.
Sixth Man of the Year
1. Rodney Stuckey, Detroit Pistons
2. Mike Scott, Atlanta Hawks
3. Markieff Morris, Phoenix Suns
4. Taj Gibson, Chicago Bulls
5. Patty Mills, San Antonio Spurs
I know, a Piston on this list is crazy. But I noticed Stuckey's solid play first, then checked the numbers. I just can't get around 19.8 points per 36 on 45 percent shooting for a guard (33 percent from three), alon with thee boards and three assists per 36 minutes. Stuckey's in a contract year, and it shows. I've long criticized his inconsistency. He's ben great this year.
Who's Mike Scott? That's Atlanta Hawk Mike Scott, averaging, wait for it, 19.6 points, 7.5 rebounds, and 2.1 assists per 36 minutes, on 48 percent shooting and 34 percent from three. And that's for a pretty decent Hawks team.
The "other Morris twin" meanwhile is second behind Martell Webster (who honestly deserves a nod here) in Win Shares via Basketball-Reference, and at 18.2 points and 8.4 rebounds per 36, has been legitimately great for the surprising Suns. Talk about putting it together.
And ys, Patty Mills. I know it sounds nuts, but the Australian is a legitimate weapon for San Antonio. It's not just garbage time, the guy's stepped up big time.
Most Improved Player
1. James Johnson, Memphis Grizzlies
2. Patrick Beverley, Houston Rockets
3. Anthony Davis, New Orleans Pelicans
4. Jared Sullinger, Boston Celtics
5. Blake Griffin, Los Angeles Clippers
This should not be close. It really shouldn't. Johnson isn't just averaging 13.9 points and 7.1 rebounds per 36 minutes for the Grizzlies, he's the reason their team turned around. That's not my estimation, that's what Mike Conley and the rest of the Grizzlies have said. He's averaging 2.5 blocks per 36 and many of those are on three-pointers, an incredibly hard thing to do.
Beverley joined the Rockets too late last season to get in on this award, but he deserves it. There are two sophomores on this list, and I'm always loathe to include them. You're supposed to make big jumps from your rookie season to your second year. Instead, let's look at two guys who were barely in the league in the past year, and now have vital roles for playoff-quality teams.
(Note: You can make an argument for DeMar DeRozan for this list, and he may in fact wind up winning it. He's an easy choice. But his shooting is actually down considerably and wasn't great to begin with. He's still making plays and is a phenomenal player, but his jump has mostly been a part of being a bigger part of the offense. I don't object to his inclusion or winning, it just doesn't hold up to these other guys for me.)
Executive of the Year
1. Ryan McDonough, Phoenix Suns
2. Neil Olshey, Portland Trail Blazers
3. Daryl Morey, Houston Rockets
4. Sam Presti, Oklahoma City Thunder
5. Masai Ujiri, Toronto Raptors
I covered the McDonough-Olshey debate here. It basically comes down to this. The Suns are good now and have the best capacity to improve with multiple picks. Check back after trade deadline.
I did want to mention that maybe Sam Presti should get a certain amount of credit? Because Jeremy Lamb's been a right decent shooting guard giving them depth, Steven Adams (listed above) is tremendous, and Perry Jones is contributing. I know the idea that he's a moron for trading Harden is a narrative monolith, but if the Thunder win a title this year, what will people say then?
If you ask me if I'd rather have Harden's foul-drawing ability (unsustainable in the playoffs) and defensive worthlessness or Serge Ibaka's defensive brilliance and safety valve shooting? Let's just say the gap's a whole hell of a lot closer than it was a year and a half ago.