Carmelo Anthony says he'd take less money to stay in New York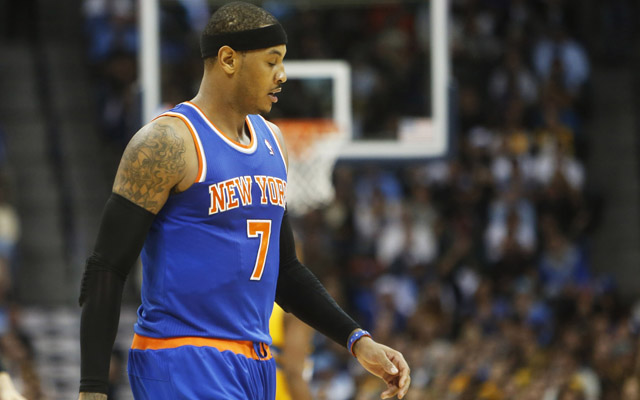 Carmelo Anthony seems intent on remaining with the Knicks, but not just that, he wants to make sure the manner in which he re-signs helps the team improve.
"I'm going to make money, I have money. I'm good if I want to retire right now," Anthony said on SportsCenter on Friday.
At All-Star availability later that day, he expanded on those thoughts.
"As far as the money, it don't really matter to me,'' Anthony said. "If I go somewhere else, I get paid. If I stay in New York, I get paid. As far as the money goes, it's not my concern. My concern is to be able to compete on a high level, a championship level, coming in this last stretch of my career. I want to compete at that level. "
As Melo enters the later stages of his career, there's a much bigger premium on winning for him. He's been paid, he's made money. But he's only been to one conference finals in his career, and his focus is being on a championship contender. Problem is, he plays for the Knicks.
The Knicks have been horrible this season and obviously need more help and more talent. So as Anthony is thinking, maybe if he takes less money it'll give the Knicks some necessary financial flexibility to make a run at players like Kevin Love or Rajon Rondo who are free agents in 2015.
"I have a chance to attract come people to come to New York," Anthony said in an interview with SportsCenter. "I think playing in New York -- and everybody saw this last year -- how electrified that city was. The organization, the team, how much fun we had as a team when we was playing good basketball. So I want to kind of bring that back to New York. And if I can become a free agent to make that happen then, I want to do that.'"
However, Melo taking less doesn't help in the immediate future. The Knicks have potentially about $70 million committed next season without Anthony, assuming Amar'e Stoudemire and Andrea Bargnani don't opt out of their contracts. Even if Melo took a highly discounted deal like the veteran minimum, the Knicks would still be well over the salary cap.
It could make a big difference in 2015 though, but the question is, is Melo willing to wait that long?