Rajon Rondo skipped team trip to Sacramento without permission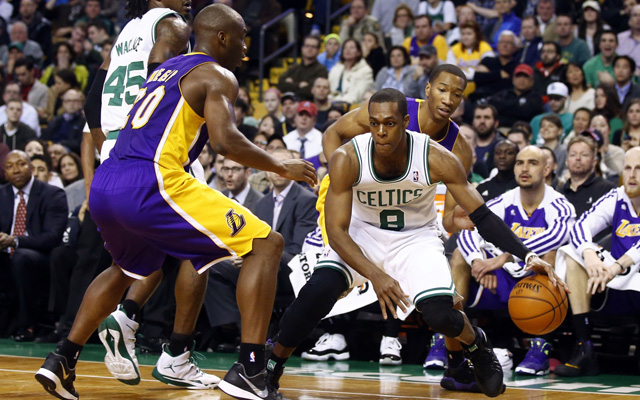 If you're a millionaire and celebrating your birthday, you can do it in a lot worse places than the city of Los Angeles. That's what Boston Celtics' point guard Rajon Rondo did this past weekend when he turned 28 on Saturday. Instead of accompanying the team from Los Angeles to Sacramento for Saturday's game, Rondo opted to stay in LA and miss attending the game against the Kings. He wasn't going to play in the game against the Kings anyway, because it was the second night of a back-to-back and he's still working his way back from his ACL tear.
There's one little problem with that: He apparently didn't have permission from the team to skip the trip to Sacramento. Steve Bulpett of the Boston Herald tells us that some weren't happy with the decision by Rondo but others think he was just making an assumption based on precedent, rather than being defiant. Rondo didn't want to talk about it before registering 18 points and 10 assists in a Monday loss to the Jazz.
The Celtics are not taking it as a major issue, but the team is still hoping to straighten things out with Rajon Rondo after his decision to stay in Los Angeles and not accompany the team to Sacramento for Saturday's game.

While some were displeased by the move, for which Rondo did not receive official permission, others pointed out he was not scheduled to play in the game anyway (on the second night of a back-to-back), and that he may have simply been making some assumptions based on precedent. Multiple sources say he remained in LA for a birthday celebration. He turned 28 on Saturday.

The captain didn't want to get into the matter before last night's 110-98 loss to the Jazz.

"We already talked about it," Rondo said. "There's nothing to talk about."
Celtics' president of basketball operations Danny Ainge didn't seem to necessarily share Rondo's idea that there's nothing to talk about further, at least when it comes to discussing it with the organization.
"I plan on talking to Rondo when he gets back into town," he told the Herald. "I'll find out more about what went into it, and then we'll handle it internally. We handle all of those kind of issues internally."

The possibility exists that Rondo could be fined, but if not, the team will likely gain a more well-defined set of rules from this.
It's unlikely that Rondo gets fined or publicly scolded for such a decision that could be mostly harmless, especially considering he wasn't going to play in Saturday's game anyway. Injured or recovering players miss trips all the time, but not usually when they're already on the road trip with their team. Clearly it didn't affect his performance Monday night either when he had a very solid game in a loss.