New York Knicks purchasing own D-League team, fans can name it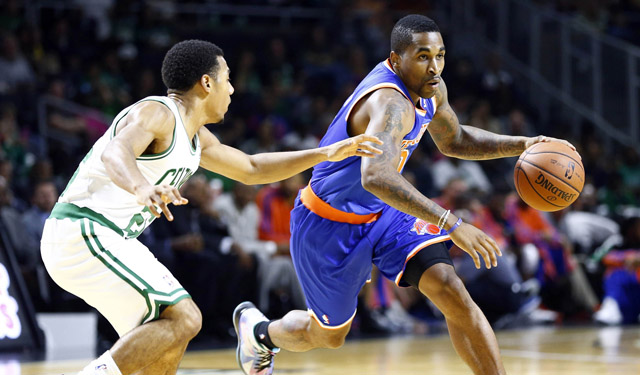 A lot more NBA teams have purchased or set up hybrid affiliation with D-League teams over the past few years. Some expect it to be something all 30 teams will voluntarily do or be urged to do when the next Collective Bargaining Agreement is signed in 2017. As of right now, 14 of the 17 D-League teams have single affiliation with an NBA team and six of them are fully owned and operated by their NBA parent team.
The Knicks currently have single affiliation with the Erie Bay Hawks D-League team, but they announced today they will own and operate the 18th D-League franchise, which will be located in Westchester, New York. Allan Houston, the Knicks' assistant general manager, has been named the general manager of the new D-League team. From the Knicks:
The NBA Development League and The Madison Square Garden Company (MSG) today announced that MSG has acquired the right to own and operate an NBA D-League team that will play in White Plains, New York. The new team will be the NBA D-League's record 18th team and will be the exclusive affiliate of the New York Knicks, playing its home games at the Westchester County Center, approximately 30 miles north of New York City. With the purchase, the Knicks become the seventh NBA team to fully own and operate their own NBA D-League affiliate.

Allan Houston, the Knicks' Assistant General Manager, will serve as the new team's General Manager, while Bill Boyce joins the MSG family as the vice president of sales and business operations for the club in Westchester, reporting to Dave Howard, president of MSG Sports. Bill joins MSG after four years as the president of the NBA D-League's Frisco-based Texas Legends.
The Knicks are cutting their ties with the Erie franchise, which will actually help grow and expand the D-League. Instead of 16 NBA teams sharing affiliation with three D-League franchises, we may see one of those teams reach a single affiliation with Erie or have the 16 teams split between four D-League franchises.
The team also announced Knicks fans will have a chance to help name the new D-League team.
The Knicks are inviting fans to help choose the name for the new team. From now until March 24, fans can go to nyknicksdleague.com to submit their names online. Following the submission process, fans will go back to the same website to vote for the final team name. In addition, beginning today, fans can enter to win two full season tickets on the website; the sweepstakes will run until April 11.
If Chris Smith somehow isn't involved with this, the writing may be on the wall for J.R. Smith's future with this team.
(H/T - Posting and Toasting)