Eastern Conference three-quarter report: It's crunch time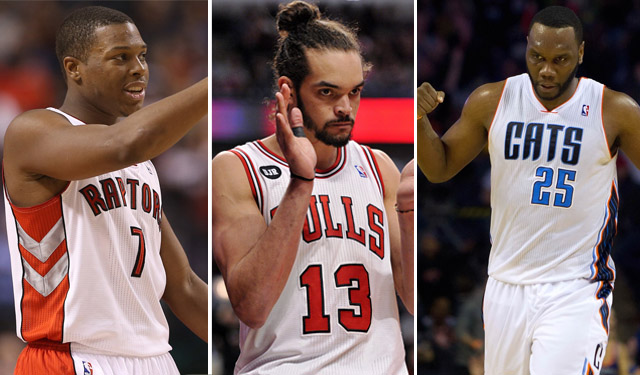 We are three quarters of the way through the 2013-14 NBA season and it's time to grade out how each team in the East is doing:
ATLANTIC DIVISION
By Zach Harper
(First quarter grade: F, Midseason grade: A-)
Ever since the Toronto Raptors decided the Rudy Gay trade didn't signal the dismantling of the roster and the good things Kyle Lowry and DeMar DeRozan were doing for this team, they've been one of the best teams to watch this season. Most of the season, it looked like this team was going to be a top four seed in the East by default. Now it's starting to look like they just flat-out deserve it.
Boston Celtics: D-
(First quarter grade: F+, Midseason grade: D)
The only thing that possibly matters with the Celtics right now is the play of Rajon Rondo as he works his way back from an ACL tear last year. He's played 18 total games and has the lowest shooting percentage of his career (40.0 percent). But that's to be expected in such limited play and limited physical movements/recoveries until he's back to full health. The passing is still there though and he's looking better as we approach the end of the season.
(First quarter grade: F, Midseason grade: C-)
The Sixers would get an F if we were treating them like a normal basketball team, but that's not what they are this season. They're a team looking to lose so they can have a high draft pick to find a star to build around. They have ridden themselves of the early season success and are now looking at a 17-game losing streak and a great shot at overtaking the Bucks for the top spot in the lottery. Had they traded Thaddeus Young at the deadline, they'd get an A.
(First quarter grade: F, Midseason grade: C+)
Ever since Brook Lopez went down with his latest foot injury and Jason Kidd decided to have his guys play small, this Nets team has actually been good. They're defending a lot better, Andrei Kirilenko and Kevin Garnett are defending a lot better, and we're two healthy Deron Williams ankles away from this team looking like a second round lock. But will we ever get those ankles of D-Will back to what's needed?
New York Knicks: D+
(First quarter grade: F, Midseason grade: C-)
This little four-game winning streak right as these grades are being published has kept them from creeping toward an F at the three-quarter mark. Carmelo Anthony is playing his tail off (on offense in a contract year) and the rest of the team is a mess. They're trying to lure Phil Jackson to run the team. They've asked Tyson Chandler not to criticize the schemes his team can't execute. And how many role players can you name that seem to care?
CENTRAL DIVISION
By Matt Moore
Indiana Pacers: C
(First quarter grade: A+, Midseason grade: A++)
What happened to the Pacers? It's like every good habit they've developed over two years turned sour and all the bad habits, like not putting the orange ball into the little net thing went away. Sometimes around February the bad things started. They're still 11-7 since then but it has been rough. They need a swift, spiritual kick to the head that alters their reality forever.
Chicago Bulls: A+
(First quarter grade: C, Midseason grade: C)
This is like one of those action movies where the hero is supposed to be dead, but he fishes himself out of the river and exacts revenge on the people who put him there. The Bulls didn't just survive after Derrick Rose went down and Luol Deng was traded, they've thrived. Is it possible they could actually make some playoff noise?
Detroit Pistons: D-
(First quarter grade: D+, Midseason grade: D-)
When Joe Dumars put this team together, we thought they would be hilariously mediocre. Turns out they're just sternly sad. There is no joy on this team, with is too bad with so many fun players. But you have to balance out the inefficient and wacky with some leadership and control. They're a runaway train, never looking back.
Cleveland Cavaliers: D+
(First quarter grade: D-, Midseason grade: C-)
The trade for Luol Deng didn't fix them. The firing of Chris Grant helped them for a week or two. But this team has settled in as simply forgettable. Veterans who don't make the difference and young players who haven't made the leap. Come on back, LeBron! Who could resist this combination!
Milwaukee Bucks: F-
(First quarter grade: F-, Midseason grade: F--)
The draft lottery is May 20th. This ends your Milwaukee Bucks update.

SOUTHEAST DIVISION
By Royce Young
Miami Heat: B
(First quarter grade: A-, Midseason grade: B+)
They definitely haven't played all that well lately, but let's not overlook their eight-game winning streak that included an impressive 5-1 Western road trip. LeBron James dropped his 61, then struggled to find his jumper as the Heat lost games to the Spurs, Rockets and Bulls. But this is still a team that's in control of its own destiny in the East, despite not playing to its potential.
Washington Wizards: B+
(First quarter grade: D+, Midseason grade: C+)
They went over .500 a few weeks ago, and here's the best part: They've stayed over .500 since then. They're at 33-30, and well positioned to make a playoff appearance, which really was the big goal coming in to this season. Still, it feels like they've underachieved and while they've been dealing with a significant injury to Nene the last few weeks, this team is better than its record.
Atlanta Hawks: C-
(First quarter grade: C+, Midseason grade: B-)
Injuries ruined what could've been a great underdog season, bouncing back from losing Josh Smith and putting together an impressive mid-tier Eastern team built around Paul Millsap, Al Horford and Jeff Teague. Except Horford was lost for the season, and Teague has battled injures in the second half of the season. The Hawks are still scrapping for the postseason, but really, it's probably in their best interest to call off the dogs and take their lottery medicine.
Charlotte Bobcats: B+
(First quarter grade: C-, Midseason grade: D+)
Shouts out to Al Jefferson, who has been an absolute monster in March. He's averaging 21-10 on the season, but has upped that to 28-9 in six games so far this month. The Bobcats are 30-34, but appear to have firmly placed themselves in the Eastern Conference playoffs. No, not a banner season, and they'll likely get to enjoy the honor of being swept by the Heat in the opening round, but this is a positive step forward for the franchise, and a goal likely accomplished.
Orlando Magic: D
(First quarter grade: C-, Midseason grade: D)
I suppose they're accomplishing their goal, right? Be terrible and get another high lottery pick? Well good job! Since Jan. 1, they're 9-25, but amazingly, that hasn't been enough to be worse than the Bucks or 76ers, who out-tanking them. Still some time left, though. They're just four ahead of the Bucks in the loss column. There's still time play worse.
You can view the Western Conference three-quarter grades here.