Season in Review: R.I.P. Los Angeles Lakers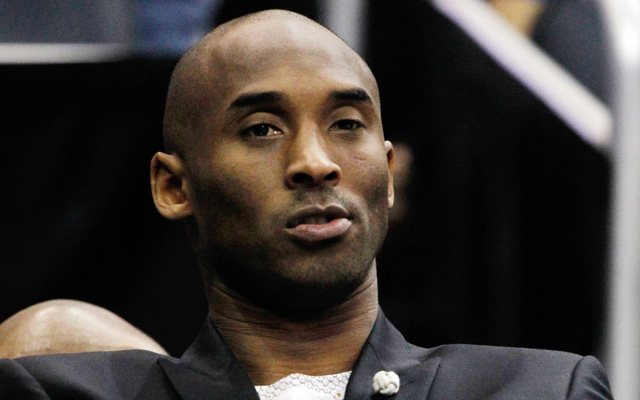 More NBA: Power Rankings | Expert Picks | Latest news, notes
With the Los Angeles Lakers officially eliminated from playoff contention on Friday night, it's time to reflect back on the season that was. Or as I like to call it "Dwight Gone: The Ryan Kelly Story."
What went right: Cough. Ahem. Well. Er.
OK, I can do this.
Xavier Henry, before he got hurt, developed really nicely. Robert Sacre might not be bad as a third big. Nick Young showed that he is in fact Nick Young. So he wasn't worse-than-Nick-Young, which is nice. Jordan Farmar really is a quality guard. Kendall Marshall is a decent third guard option.
Chris Kaman bought a lot of cow.
They'll get a good pick.
That's it. That's all I've got.
What Went Wrong: All of the everything.
Oh, you want details? Cool.
Well, they were the first team eliminated from postseason contention thanks to the abysmal Eastern Conference, after Kobe Bryant missed all but six games. After Bryant slowly made his way back from his torn Achilles and the Lakers had a big to-do about his return, he then suffered a fractured tibia in the same leg. He was supposed to come back at the end of January, then that turned into "maybe All-Star" and then that became "eventually" and then that became "next season." Did I mention the Lakers gave him a monster extension before he even stepped back on the court, locking up cap space that will severely hamper their efforts at a rebuild/reload/re-try-and-not-suck-so-hard.
Steve Nash barely played this year after more back problems limited him to just ten games but don't worry, he's coming back next season no matter what because he wants the money. (Which he's totally in the right to do so, but it's still not a great thing for the Lakers.) After Nash went down, then Steve Blake got hurt. After Steve Blake got hurt, Jordan Farmar went down. They had to play Kobe at point during the six games he played in. They wound up signing Kendall Marshall who turned out to be one of the bright sides for this team.
No, wait, seriously, Kendall Marshall was one of the few bright spots.
Pau Gasol had himself a little resurgent year, looking at times like a halfway decent center as long as you didn't pay attention to defense, he wasn't guarded by anyone with athleticism and you ignored the way he kept maligning his own coach in the press. He got dunked on a lot. Oh, and they didn't trade him at the deadline which means he's either $16 million in cap space walking out the door with no return value or he'll be re-signed for what is sure to be significantly more than he's worth at this point.
They lost to the Clippers by 48 points, the widest margin in franchise history. They suffered the biggest defeat to San Antonio in franchise history on the same night they were eliminated from the playoffs.
At one point their starting lineup was Kendall Marshall - Nick Young - Jodie Meeks - Ryan Kelly - Chris Kaman. That was their starting lineup. One of the better ones.
Magic Johnson ripped them. Boston fans made fun of them. They won enough games to ensure a top-three lotto spot is unlikely but still are on track to be worst in their conference.
Oh, and Phil went to New York.
MVP: Hmmm. Nick Young's a candidate, in the same way that you can argue "Paul Blart: Mall Cop" is a grea film because of its box office revenue. Pau Gasol could be considered if you don't care about chemistry, leadership, or the ability to box out. Ryan Kelly might be a... no.
In 38 games, Xavier Henry finished with a stellar-by-Lakers standards minus-1.3 net points per possesion mark and one of the lowest defensive ratings on the team (lower meaning better). He gave good effort and energy on both ends and showed versatility as well as leadership. He is at the top of the trash pile.
LVP: I have to pick one?
I'll go with Nick Young. 42 percent shooting (which is higher than Xavier Henry's but Henry provided things other than shooting) for a pure gunner is not awesome. He also had 1.8 assists per 36 minutes and 2.0 turnovers at the time of this writing. He took some horrific shots. What's worse, in the few games where he did get hot, he cost them valuable losses in pursuit of a pick.
But hey, Swaggy P, though.
Gameplan headed into the offseason: Be the Lakers!
No kidding, that's the gameplan. There's no "we know who we're going to go get," no presumptive player that's looking to head to LA. Carmelo Anthony's a possibility, but you have to think the money and Phil Jackson make that unlikely. Kevin Love could pull the Melo act and demand a trade to the Lakers, but it's not even clear what the Lakers could trade for him.
Hey, there's always LeBron!
If Nick Young opts out (which he's unlikely to do), and the Lakers decline optinos on both Ryan Kelly and Kendall Marshall (again, unlikely), the Lakers have $35 million locked up for next season... on four players. That would leave room to sign another max player, and then try and fill in the rest with veterans on a minimum contract. So if LeBron decides he just has to be closer to Hollywood for all the movies he's making, they can sign him to the max and then grab a handful of guys after that.
They have no infrastructure. The have no core. They have what will be a tremendous draft pick and could potentially be a franchise-changing guy. They have Kobe Bryant, and then after that they have nothing. Absolutely nothing. It's Kobe and Nothing for $35 million.
Kobe Bryant has said he wants to win now, doesn't want to wait to rebuild or reload or whatever. The expectation for this franchise is to immediately improve, not just get better, but make a leap back into contention. So I suppose the plan is "Make Carmelo Anthony who has never taken a paycut in his life take one to play next to another high usage player in a tougher conference, then use the remaining $1.82 and lint left in your pockets to build a reasonable contender around the burning remains.
The Lakers always figure something out, it's what they do. If you ask me to identify what that is from here, not only can I not see it, it's like looking through a black shroud into a room with a sewer main busted open in the middle of it. But get a star, or at leas a good player, add a few guys on discounts, get Kobe back healthy, and build towards something. Oh, and hope the guy you draft turns out to be a gamechanger. That's the wildcard in all of this.
We're all so used to the Lakers landing on their feet but even though we can't see the gorund, we don't expect the impact to break them.
Ridiculously premature prediction for 2015: You look stupid either way, here. If I go with logic, reason, and a basic understanding of market dynamics in the NBA, I have to pick them to go no better than 35-47, probably 30-52. There's just no other way to look at it. A 35-year-old coming off two traumatic leg injuries making $23.5 million a year is their best player. This is an issue.
But if I doubt them, I'm overlooking their repetitive ability to remake themselves, to transform into superpowers overnight simply by the force of their brand. But you know, what, since Jim Buss took over, it's been different. Every year, it hasn't been the same. Maybe the Lakers mystique isn't gone forever, but it's definitely sitting on a patio taking some time off while this team figures out what it wants to be.
It would be surprising if Mike D'Antoni was retained at this point.
Understand one thing, maybe more than any other. The league needs the Lakers to be great. Not good, great. The NBA wishes the Knicks were better, like a disappointing movie with a great script and tremendous cast. It needs the Lakers to be good, like a grocery store can't survive without decent produce.
The question is, in the urgency to fix this situation under the new CBA, whether Hollywood special effects and Kobe's fading star will be enough to make the transformation happen.