Season in Review: R.I.P. Milwaukee Bucks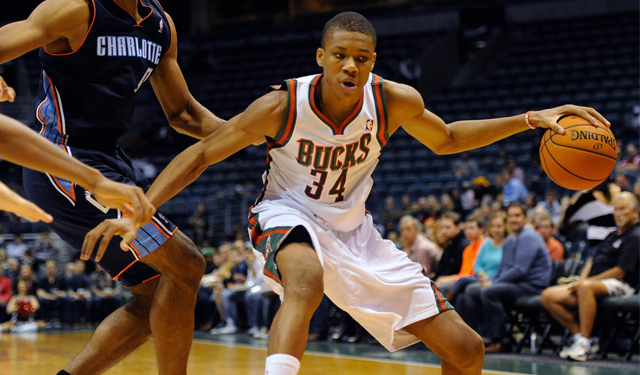 With the Milwaukee Bucks officially eliminated from playoff contention Saturday night, it's time to reflect on the positive and negative from their season. It's also time to look ahead for them to see what work must be done during the summer when they'll have an important draft pick and a lot of decisions to make.
What went wrong: Everything. Everything went wrong. Injuries, bad signings, bad play, bad coaching, bad everything. The Bucks tried to build themselves to be a playoff team last offseason, adding players and making deals. But it all blew up completely in their faces and they quickly dissolved into one of the three worst teams in the league.
Their big issue quickly became an inability to score. Brandon Knight is a solid player, but shouldn't be your primary scorer. O.J. Mayo couldn't follow up his solid play in Dallas last season, shooting the ball inconsistently and scoring sporadically. Caron Butler was signed as a homecoming feel-good guy, but he only showed up here and there, shooting the ball poorly. Larry Sanders was hurt basically all season.
It was all bad. Very, very bad.
Bright Spots: GREEEEEEEEK FREAAAAAAAAAK. Here's how exciting and enticing Giannis Antetokuonmpo is: The Bucks were absolutely terrible and horrible in every way, yet they were borderline must-watch on League Pass. Because you didn't want to miss the Greek Freak.
His numbers don't really pop -- 7.3 points 4.4 rebounds, a PER of 11.3 -- but the flashes he showed make him a player that may be a franchise building block. His size and length are fantastic, but he proved to have more skill and feel than more expected. His perimeter touch is something that needs to be worked on, and he needs to add strength and muscle. But there is a lot of room on this canvas. He could be a special kind of player, and not just that, but the kind that brings excitement and energy back to a mostly boring, forgotten organization.
2013-14 MVP: Brandon Knight, I guess. He's going to lead them in scoring (at 17.4 a game currently), assists per game (4.9) and PER (16.9). It's hard to really figure if he has been an upgrade over Brandon Jennings, but that's really just because he's different. He's far less of a gunning point guard, and more of a creator that has to score because his team sucks.
But he's at least been a promising player. His shooting has improved and he's managed his turnovers well. Given the right players around him, Knight could be a quality, winning point guard. I kind of see him similar to Mike Conley, in that if he had a system and the right teammates, he'd probably see his numbers dip some, but his play improve.
2013-14 LVP: Larry Sanders. After signing a $44 million extension, Sanders played the first three games of the season, and then tore a ligament in his thumb during a fight at a nightclub. He missed a couple months before finally returning, then played a handful more but then broke his cheekbone during a game and hasn't played since Feb. 8. He's appeared in just 23 total games, and didn't impact the games much when he was in, averaging just 7.7 points and 7.2 rebounds with a paltry PER of 14.1.
It was a really bad season for Sanders. Doesn't mean he can't return to form and start earning that big extension next season. But if not and if he continues to be a problem player, his deal could be something the Bucks find themselves trying to dig out of for a few years.
What's ahead this summer for the Bucks: There's a strong possibility the Bucks finish the season with the most ping-pong balls in the hopper. But that obviously doesn't guarantee anything. What they're hopeful for is a top three pick to add someone like Andrew Wiggins, Jabari Parker or Joel Embiid alongside a young core of Antetokuonmpo, Knight and Sanders.
They don't have a whole lot of pending cap space -- about $10 million -- but do have the ability to make smart additions. Assuming they make a qualifying offer to Ekpe Udoh, they'll have a decision to make whether or not to match on any offer sheet he gets as a restricted free agent.
But their focus will be entirely on the draft and trying to add to what they're trying to turn the page with. More suffering is probably ahead for the Bucks, but if the lottery can fall their way, hope could finally be on the horizon.