John Wall would prefer if the Wizards were the Bullets again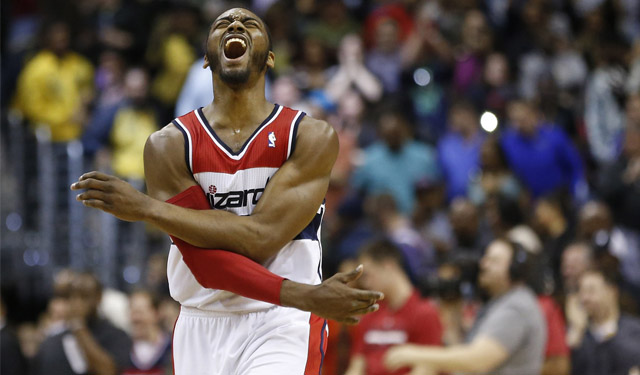 In the early 1960s, the Chicago Packers were an NBA team that became the Chicago Zephyrs in their second year of existence. Then from 1963 until 1997, this franchise was referred to as the Bullets, no matter where they resided. They were the Baltimore Bullets, the Capital Bullets, and eventually the Washington Bullets. Then to remove such a potentially negative connotation, the franchise became the Wizards for the 1997-98 season and haven't changed since.
John Wall has been a member of the Wizards since 2009, and while he claims to like the Wizards' logo, he apparently wishes the team could go back to the throwback Bullets logo and uniforms.
John Wall on Bullets cap: "The Wizards logo is cool. I like all that, but I wish we could go back to these – I know we're never going back."

— Michael Lee (@MrMichaelLee) March 20, 2014
He's probably just being a good employee when he says he likes the Wizards logo and thinks it's cool. Unless he's a really big Harry Potter fan, it's unlikely an adult thinks Wizards is a cool logo. The franchise point guard who just signed a max contract extension for five years and over $80 million could probably try to push for a change, but a move back toward the Bullets seems unlikely.
(H/T - ProBasketballTalk)