It's time for March Madness: Let's journey down the rabbit hole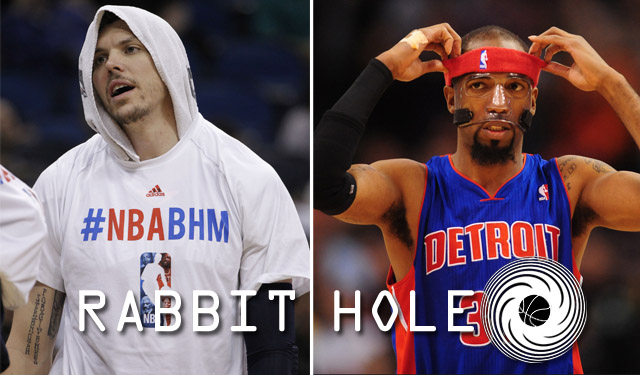 The Madness has begun. With March Madness in full swing as we enjoy the second day of the second round of the tournament, it's hard not to think of the memories being made now and the highlights we were given in past NCAA tournaments. The incredible moments of the past are plenty and we have a lot of NBA ties because of them.
Let's relive some of the past glory of the NCAA tournament and how it's tied to the NBA as we journey down the rabbit hole this week.
First Stop: Some great buzzer-beaters
While we're all hoping for our brackets to remain pure and the under-the-table office pools to yield some spending money for us, the real prime moments of March Madness have certainly come from buzzer-beaters and upsets. As soon as Cinderella gets out on the dance floor, everybody wants the spotlight on her and that's what we get nearly every year in the tournament.
Just to get us going, here are some fantastic buzzer-beaters from the past before we go more in-depth with this:
Some of the best buzzer-beater moments come from games in which we're hit with back-to-back clutch plays at the end of a game, rendering us pretty disoriented by the moment and not sure why our hands are up in the air.
This Kevin Pittsnogle-Kenton Paulino duel from 2006 when Texas outlasted West Virginia was one of those moments.
We had this buzzer-beater from the 2009 tournament when Gonzaga couldn't put Western Kentucky early. It came down to the wire when Steffphon Pettigrew seemed to keep the Hilltoppers' tournament lives going when he tipped in a missed shot to tie the game, only to be followed by Demetri Goodson playing the role of hero.
On a team that included Austin Daye, Jeremy Pargo, and Robert Sacre, it was Goodson -- the seventh leading scorer on the team for the season -- saving the day, which is part of the beauty of the NCAA Tournament in which anything can happen and anybody can end up being a hero.
Let's take a look at some more NBA-centric moments
One of the biggest moments of the tournament I remember from my "youth" happened in the 2000 tournament when I was a senior in high school. A friend of mine was a huge Florida Gators fan because of his Sacramento Kings' fandom. He, like many of us, loved Jason Williams and it caused him to sort of adopt rooting for the Gators in the tournament as a sign of solidarity.
During the tournament that day, we were sitting in class and wishing we had stayed home sick for the day so we could watch the tournament. You'd ask some of the teachers around the school for updates and some people were listening to radios (MY GOD IT SOUNDS LIKE THE STONE AGE WHEN I PUT IT LIKE THIS) to get updates on the scores. But we didn't have smartphones to keep us informed about the tournament.
One of our teachers was kind enough to put the Florida game in his classroom and we were able to check in on the game between classes. We lucked out that his class just happened to be after our lunch break, so we ate our meal in there and then stayed to see the end of the game right before the bell sounded and we had to move on to our next class.
In the process of prehistoric tournament following, we were able to see Mike Miller save the day for the Gators.
And of course, you can't think of Mike Miller these days without thinking of the pandemonium that is the Mystic Wolfman.
Adventures of Christopher Bosh in the Multiverse! from Borscht on Vimeo.
A lot of my NCAA tournament memories ended up being because my friends oddly befriended a school they weren't going to. My best friend Andy was randomly a huge Connecticut fan, even though neither he nor anybody he knew ever went there. I think he was just a big Ray Allen fan.
This caused him to be in love with the UConn team in 1998 that sported Richard Hamilton, Khalid El-Amin, and Jake Voskhul. He was certain they were going to win the national championship that year and I did nothing but tease him about El-Amin's weight because what else are you going to do when you're 16 years old? We watched the big moments of the madness together, including Hamilton coming through on this famous buzzer-beater to end Washington's season.
Richard Hamilton is pretty entertaining
This gives me the opportunity to show you one of the weirdest and slightly morbid NBA commercials in recent memory. It's a Boost Mobile commercial that uses Richard Hamilton's life as the setting. It jokes that if he hadn't used Boost Mobile as a child then he'd be a mortician instead of an NBA player.
No, I'm serious; this is the commercial.
Hamilton is pretty infamous for wearing a mask during his play, even though he didn't need to protect any bones on his face. Initially, Rip finally relented on wearing a mask to protect his face and needed to figure out a way to make it stylish and comfortable. He added the headband to the look and ended up playing really well with it on.
Here was the first model that didn't quite take: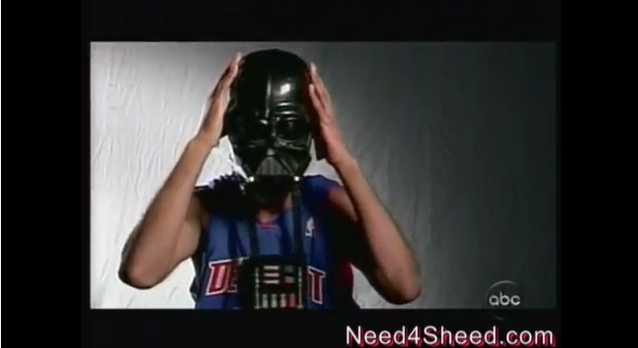 OK, maybe that's not the first model. Watch this video to get the entire story of Hamilton and his mask.
Hey, Rip, thanks for the nightmare fuel. I was hoping to not sleep any time soon.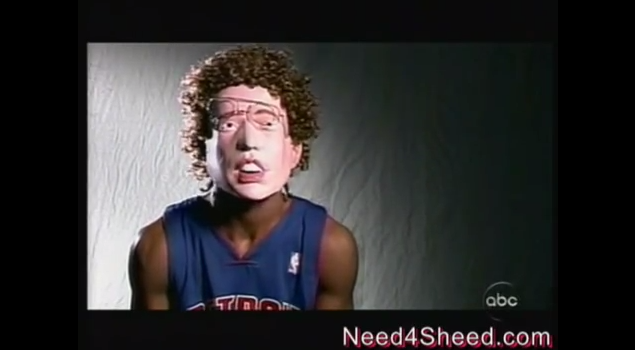 It's not that Rip Hamilton was a boring player by any means and he had plenty of success in his career, but it's still kind of amazing how much YouTube material there is for him out there. Like the time he saw his twin in the crowd at a Pistons game.
There was a Teammates game show a while back. Rip Hamilton and Chauncey Billups were contestants on the show. We learned about the things Chauncey tells him he can't do, who has more game day superstitions, and who is the last person they'd want to room with on the road.
Don't want to room with Rasheed Wallace? Room Service don't lie?
We still have a lot of NCAA tournament moments to relive and will definitely continue this journey next Friday.