Report: Metta World Peace wants back with the Knicks under Jackson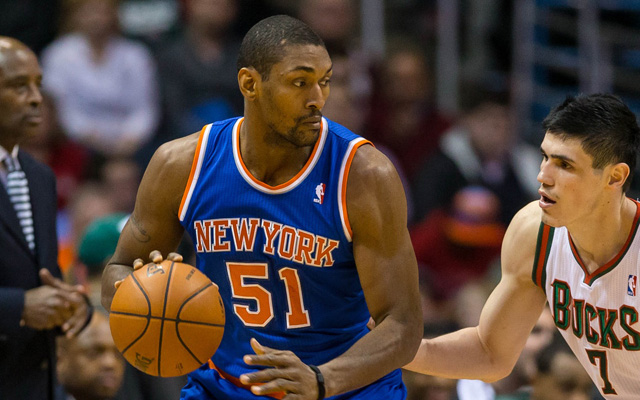 More NBA: Power Rankings | Expert Picks | Latest news, notes
Metta World Peace joined his hometown Knicks after being waived by the Lakers last summer and thought it would be the fitting end to his career he deserved. Another title run, help show the Knicks championship-level leadership, make some money, the works. Instead, he was injured, then fell out of the rotation and fell out of favor with coach Mike Woodson. He and the club agreed to part ways through a buyout earlier this year.
But all that's reportedly changed since Phil Jackson came to town! From the New York Post:
World Peace has told confidants he yearns for a second chance as a Knick after his first stint went sour. When asked if the former Ron Artest wants another shot at New York when he's a free agent this summer, the confidant told The Post: "Abso-bleeping-lutely.''
via World Peace meets with Jackson; interested in Knicks return | New York Post.
MWP was famously spotted during the Knicks-Lakers game talking to Jackson in a luxury suite. The two were laughing and clearly remembering old times, like when Metta put the spaghetti on his head and ran around until Phil ensnared him in a net of his own mind and they both vanished into the zen sea of nothingness. (Note: The conversation might not have gone down exactly like this.)
Maeks sense, World Peace had a remarkably close relationship with Jackson, who seemed to "get him." World Peace won a title with the Lakers in 2010 under Jackson. Would the Knicks need a forward like MWP? Maybe if they install the triangle he can help with its execution and they certainly still need the wing defender. But bringing back World Peace after the drama of this year may not be possible.