Heat say they're not planning on resting players beyond Wade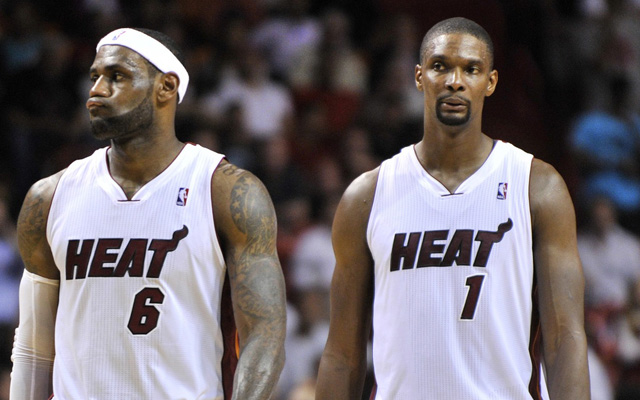 More NBA: Power Rankings | Expert Picks | Seasons in Review | Playoff Picture
The Miami Heat told reporters Friday that despite their experience in winning playoff games on the road, they don't expect for players beyond Dwyane Wade to "rest" by taking games off before the start of the playoffs, in an effort to secure the No. 1 seed in the East and home-court advantage over the Indiana Pacers. The Heat entered play Friday night ahead by percentage points over the Pacers.
We'll get to that point when we get to that point," Spoelstra said.

In 2011 and 2012, the Heat were able to rest players because the Chicago Bulls had already secured the top seed.

"I don't think we have the luxury this year," Bosh said. "I think before in the past, things were kind of settled in and we knew what was going to happen. At this point last year, we were well ahead of everybody and we were able to just do what we do. Now, it's more of a race."

The importance of the earning homecourt advantage is part of the reason James said he plans to play all the remaining regular season games. Last year the Heat hosted Game 7 of the conference finals, defeating the Pacers.

Spoelstra said he will evaluate James' playing status on a daily basis.

"He won't rest [Friday]," Spoelstra said. "I'm taking everything day by day. That's the world we live in right now."

Bosh added, "There's no rest. I gave hope up about rest a long time ago. For whatever reason, it is what it is. I take pride in being tired."
via Miami Heat: Heat faced with dilemna of resting players or chasing top seed - Sun Sentinel.
It's a bit surprising Miami's planning on taking that approach. They've always indicated that home-court advantage isn't that important to them and that they feel they can win anywhere. In and of itself, pursuing the No. 1 seed this late in the season is an admission that they feel it's valuable. And that's surprising since the Pacers are in abject freefall.
To add to that, LeBron James is dealing with the most injuries he's ever had headed into the playoffs. On top of the broken nose he suffered weeks ago, he's also had issues with his back that have caused him to miss time this season. If anything flares up for him, back or otherwise, they're likely to be cautious with him, regardless of their rest policy.
Then again, they've talked about not resting in the past and gone ahead and done it.
Miami is a half-game up on the Pacers for the No. 1 seed in the East as of Saturday morning. Miami and Indiana meet for the final time next Friday in Miami. The Heat lost to the Timberwolves Friday night.