Raptors' Valanciunas cited for driving while impaired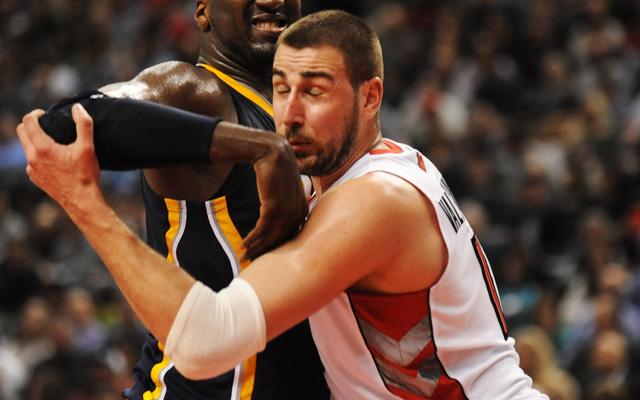 More NBA: Power Rankings | Expert Picks | Seasons in Review | Playoff Picture
Newstalk 1010 and TSN 1050 report that Toronto Raptors center Jonas Valanciunas was cited with impaired driving by police Sunday night in Wasaga Beach in Canada.
At about 2:30 a.m., OPP officers responded to a report of a silver car going through a drive-through with open beer bottles inside.

Police say they located the vehicle near a residence on Oxbow Park Rd.

After an investigation, officers determined that the driver was under the influence of alcohol while in control of the vehicle.

21-year-old Valanciunas was charged.

The charge carries a $1,000 fine and one-year license suspension for first-time offenders.
via NEWSTALK 1010 - IN-DEPTH RADIO :: Raptor Jonas Valanciunas charged with impaired driving :: News - Article.
Valanciunas is averaging 11.0 points and 8.6 rebounds this season for the Raptors in his second season.
The Raptors released the following statement Monday night:
We were made aware this morning of the incident involving Jonas Valanciunas and are disappointed he has put himself in this situation. We take this matter very seriously as we have the highest expectations for all members of our organization.


At this time we are continuing to gather information and we will comment further when appropriate.
The Raptors released the following statement from Valanciunas as well:
I hold myself to a high standard and take my role as a member of the Toronto Raptors very seriously. I apologize to the organization, my teammates, my family and my fans, and regret any negativity this incident has brought upon them.
HT: SI.com