Pacers coach Frank Vogel to rest some starters down the stretch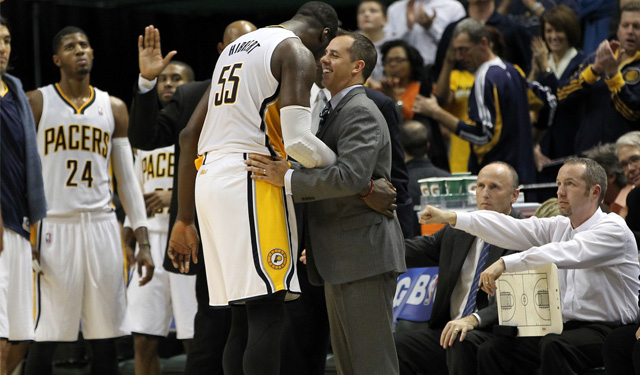 More NBA: Power Rankings | Expert Picks | Latest news & notes
Since losing Game 7 of the Eastern Conference finals in Miami, the Indiana Pacers have stressed how important having home court advantage in the East and the playoffs is to them. They don't want to have to go through another Game 7 on the road if they don't have to, so they shot out of the gates this season with the goal of running over the competition and may have run themselves ragged in the process. The Pacers have struggled mightily, losing eight of their last 11 games and falling to second in the East.
Instead of pushing through and looking to grind out the rest of the regular season, Pacers coach Frank Vogel has decided he's going to give the starters some rest in the hopes of reviving their execution and production just in times for a deep playoff run. From IndyStar.com:
In an unusual turn of events, Pacers coach Frank Vogel gave his starting unit their second consecutive day off Tuesday, and said after practice he will continue resting some of them during the team's final four regular season games.

"I think rest and healing up is part of the solution," Vogel said. "It's not the whole solution, but it's part of it."

The only Pacers' starter at practice was recently-benched Roy Hibbert, who watched in street clothes from the sideline. He did not speak to the media following practice.
Paul George and David West have both requested some additional rest before the playoffs start and Vogel believes it's a good idea. They've struggled so much lately and have been losing games they shouldn't and losing badly. They're one game behind the Heat for the top seed in the East but they're two back in the loss column. Making that up in the final four games of the season seems unlikely, but they'll allow for the Heat to give them the opportunity if necessary.
It could lead to some interesting psychological questions for the Pacers though. They haven't handled this poor stretch well, lashing out in the postgame comments in which accusations of selfish players on the team are being thrown around. As noted in the article, Roy Hibbert had some bad body language after he was benched early in a recent loss to the Atlanta Hawks.
Will not getting their goal of the top seed in the East be a mental barrier for them to bust through this postseason? Will they handle a Game 7 in Miami better if the situation presents itself? If this rest doesn't cure their offensive woes, what's the next step they take as a team that was supposed to be much better than a stellar season last year?