Pacers to rest all five starters Wednesday vs. Bucks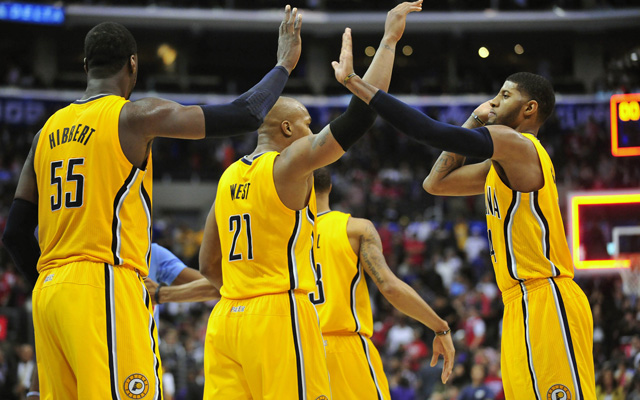 More NBA: Power Rankings | Expert Picks | Seasons in Review | Playoff Picture
Last week, I wrote an article saying that the Pacers should consider resting their starters for some of the games against the weaker opponents. The idea was to "reboot" the team by giving the starters a mental rest and pushing the bench to step up. Now, obviously the Pacers likely never read the article, and this was probably part of the plan for some time, but Indiana is in fact resting starters Wednesday night vs. Milwaukee.
All five Pacers starters will sit tonight in Milwaukee.

— Scott Agness (@ScottAgness) April 9, 2014
Vogel told reporters that the plan is not to rest the starters for the remaining games, and that all five will be active Friday vs. the Heat in a game that will effectively decide the No. 1 seed in the Eastern Conference. The Heat lead Indiana by a half-game going into Wednesday night, and face the Grizzlies in Memphis on a back to back. Their magic number for home court thoughout the Eastern Conference playoffs is five.
It's a reversal of tune for Vogel, who said at All-Star Weekend that he didn't feel rest wa necessary for his players based on their youth and intensity. But with their collapse approaching epic, it's clearly time for desperate measures, and at least he's doing something. Most coaches would avoid that kind of move to try and duck the idea of panic. But the Pacers are beyond that. We'll see if their bench can take down a tanking Bucks team Wednesday, and if the rest fixes the larger problem before the playoffs.