LeBron kind of gives Kevin Durant his MVP blessing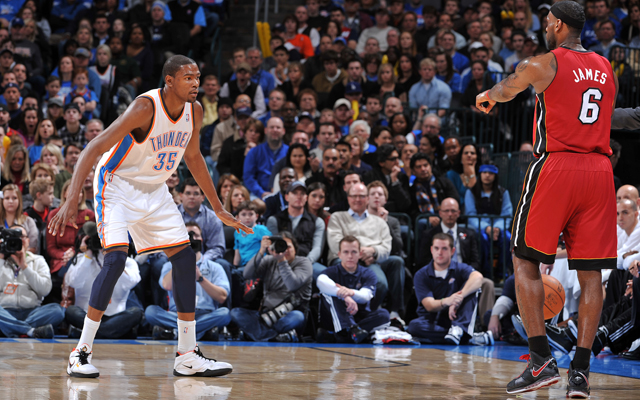 More NBA: Power Rankings | Expert Picks | Seasons in Review | Playoff Picture
With only a week left in the season, it seems as if Kevin Durant is on his MVP victory tour in one of the closest races in recent memory. And LeBron sort of gave his concession speech on Wednesday.
LeBron James has won two-straight MVP Awards and four in the last five years, so he knows a thing or two about the type of basketball it takes to earn the NBA's most coveted individual prize. According to James, Kevin Durant of the Oklahoma City Thunder has done the most to deserve the award.

All but conceding the race to Durant, James said on Wednesday in Memphis that "it would be great" if Durant won the award.

"I think K.D. has had one heck of a season, and if he was rewarded with the MVP, it would be great," James said. "It would be awesome for him, for his family. It would be a great thing for him. He has played MVP-type basketball."

James went on to say that Durant has been "the most consistent basketball player as far as MVP this year. He has put up some great numbers."
Durant's season has been outrageous, punctuated by his 41-game streak of scoring at least 25 points, but it's not like LeBron had some kind of bad season. Which is a credit to Durant, and the fact he's gone and really taken this more than LeBron gave it away.
But LeBron seems to be coming to terms with the idea that this is Durant's award. LeBron has had his time -- four times in the last five seasons, actually -- and just didn't play with the same kind of overwhelming consistency Durant did. Doesn't mean Durant has passed LeBron, but there really is little doubt who had the better season. Even LeBron can see that.