Kupchak says Kobe Bryant will not be consulted about Mike D'Antoni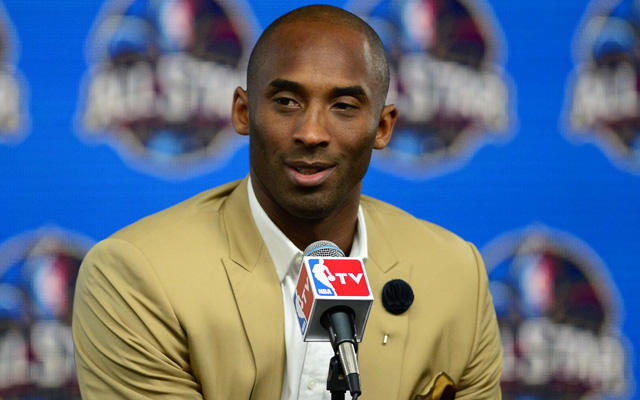 More NBA: Power Rankings | Expert Picks | Seasons in Review | Playoff Picture
In a wide-ranging interview with Lakers GM Mitch Kupchak, who the Lakers reportedly signed to an extension earlier this week, USA Today asked about the role Kobe Bryant will have in the decision making process about whether to retain Mike D'Antoni as coach or not.
Q: Will he factor in on the decision about Mike?

A: We will not consult with him. No, we won't consult with him.

Q: Because when he was asked about Mike last week, the perception was that he didn't go to bat for him publicly. That started the storyline of "Well, Mike's not coming back because it doesn't seem like Kobe wants him back."

A: We won't consult with him. Our decisions going forward — we're not going to do knee-jerk stuff. We'll let the season end, and take some time. We've got a lot of injuries and surgeries to sort through. That's a lot to accomplish. We have the draft coming up.
via Lakers' Mitch Kupchak on Kobe Bryant, Phil Jackson, more.
So I'm sure Bryant will be thrilled about that. Kobe's attitude is usually "they handle that stuff, it's not my business.." as long as the Lakers are winning. Not only are they not winning, but they are finishing up the worst season in franchise history.
Bryant recently told reporters that he didn't know if D'Antoni had earned another year.
The more interesting part of the interview, however, came when Kupchak was asked about whether the Lakers' ability to dominate the landscape by grabbing up stars had changed under the new CBA and in a new media environment.
I'm confident that over time, that we're going to be able to assemble a team that's competitive, fun to watch. The advantages that this franchise and this city have always had remain, which is our fan base, it's a great city, players like playing here, there are a lot of diverse components of this city that attract players. The organization itself, its legacy. So those things don't change. Now the collective bargaining agreement changed considerably (after the 2011 lockout) the playing field. That's just the way the owners wanted it, and as a manager all we've ever said is just give us the rules and we'll play with the rules. But for example, when we signed Shaquille O'Neal (in 1996), Orlando made an offer and we topped it, and then Orlando topped it, and then we traded two players and got more cap room and then we topped it. They could have topped our offer and they chose not to.

So it could have kept going back and forth because there was no max salary, and there was no home-team advantage — 7½ percent (annual) raises versus four (percent), a five-year deal versus a four-year deal, those rules didn't exist (the current CBA gives the incumbent team this edge). So the playing field is considerably different. But having said all that, our advantages remain the same. And considering where a lot of teams have ended up in this kind of position, we have a lot of flexibility going forward. We don't have a lot of players that are good players but not great players who are on long-term deals. Those kinds of contracts can sometimes bury an organization for four or five years. Going forward it's pretty clean, so it's up to us to use that money wisely. We are going to have a good (draft) pick this year, so those are the advantages that we have. The short answer is that yes, I'm hoping to be very competitive in a year or two, but the key really is over time.
via Lakers' Mitch Kupchak on Kobe Bryant, Phil Jackson, more.
So that's pretty much "Well, things have changed and the things we did that worked in the past won't work anymore under the new CBA... but we'e the Lakers. So we'll be fine."
And that's kind of been the attitude of both the team and media. The Lakers will be good again because they have always been good again. The question is how much Bryant's $49 million extension he signed this year before he even came back from the Achilles tear will impact their ability to rebuild. That's a big chunk of cap to take up.
But still, there are always stars attached to interest in playing for the most famous franchise. Carmelo Anthony, Kevin Love, Russell Westbrook,the Lakers will be at the top of the list for most players when they think about moving. There's a balance, though. The truth is we don't know how the new CBA affect the future of the Lakers.