Power Tankings: Tanks for everything, guys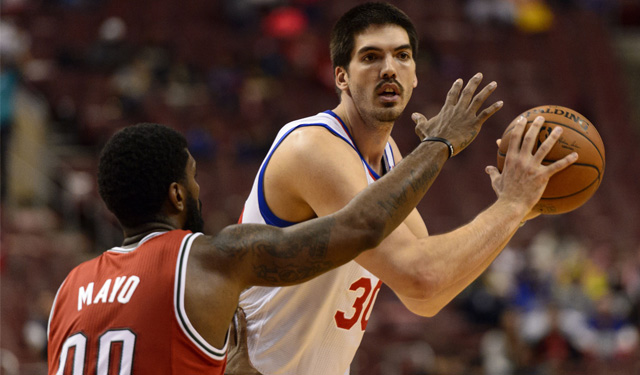 More NBA: Power Rankings | Expert Picks | Latest news & notes
With the star-studded draft class expected to hit the stage on June 26 to shake Adam Silver's hand, it behooved some NBA teams to realize their present state wasn't advantageous enough and they needed to get worse so they could put themselves in a position to get better. It wasn't the first time a team or five has done this in an NBA season and it certainly won't be the last, unless they decide to do the smart thing and unweight the lottery.
With Andrew Wiggins, Jabari Parker, Julius Randle, Joel Embiid, and Dante Exum all looking to become stars in the NBA, it seems like securing a top 5 pick in the draft could really accelerate the learning curve of your franchise and get the necessary talent needed to become an elite roster. We've seen teams end up on this tanking list because of injuries. We've seen teams end up here due to poorly constructed rosters on accident. And we've seen teams show up in Power Tankings because they built their roster to lose now so they can win a lot down the road.
In the final installment of Power Tankings, we get to take a look at the entire season of tanking for some teams and the importance of late additions. A big thanks to our friends at Tankathon.com for making the lottery likelihoods easy to research at the drop of a hat.
Here are the Week 25 Power Tankings:
Record: 32-49 (1-2 last week), Net Rating: -3.9 points per 100 possessions
I don't know how they did it but the Cleveland Cavaliers managed to put together a roster that could compete for a playoff spot in the weak Eastern Conference, hired a coach in Mike Brown who hasn't missed the playoffs once in his career (other than the time he was only allowed to coach the Lakers for five games), and traded for Luol Deng in the middle of the season. And yet they still missed the playoffs for the fourth straight season and managed to have all kinds of turmoil in the process.
This team sucked with Kyrie Irving on the court and somehow managed to be better with him on the bench. Dion Waiters allegedly punched Irving after a big road loss. Anthony Bennett looked like the worst first pick in NBA history after a few months into his rookie season (don't worry, he's getting better). And this team couldn't even muster a 37-win season to still be in the playoff hunt heading into the final half week. All of that happened, plus they fired Chris Grant from the front office. This team was in and out of Power Tankings all season long because they made us as confused as they looked out there.
Record: 36-44 (3-0 last week), Net Rating: -2.0 points per 100 possessions
This is still a thing that happened once they were eliminated from play. Sure, they were ravaged by injuries this season and are currently playing out the final games missing six of their top seven players, but this Timofey Mozgov 3-point attempt by design keeps them in the final Power Tankings.
Record: 28-53 (1-3 last week), Net Rating: -3.3 points per 100 possessions
The Sacramento Kings weren't actually full-on tankers this year, but their roster was bad enough to ensure they would have a terrible record. Their record is probably worse than their roster actually is. They made two big trades, one for Rudy Gay and one for Derrick Williams, and tried to acquire assets for their rebuilding process the next few years under new management. We got to see DeMarcus Cousins grow as a player on and off the court while Isaiah Thomas set himself up for a big restricted free agency.
Their record shows they're tankers but I don't necessarily believe that to be totally true. Michael Malone decided to make certain lineup changes and rotations to prove the point that you had to play a certain way to be a part of his team. It may have cost them some games (they played Travis Outlaw a lot) but it's for the greater good.
Record: 24-56 (0-3 last week), Net Rating: -8.6 points per 100 possessions
The Utah Jazz are in a similar boat as the Sacramento Kings. They built this team knowing they were going to be bad but it's all with a big picture in mind. We got to learn quite a bit about Derrick Favors, Alec Burks, Enes Kanter, Gordon Hayward, and Trey Burke moving forward. Considering some, most, or all of those guys are a part of their future core, the growing pains they showed during this bad season of play is something that will benefit them down the road.
This team was historically bad until Burke joined the lineup, then they were quite competitive for a while, before ultimately losing out because of a lack of talent on the roster. They may have screwed themselves up long-term by not coming to a contract extension agreement with Hayward, but they still hold all the cards in his restricted free agency if they want to. Had they held on to Jamaal Tinsley for longer than they did, they might have worked their way up the Power Tankings for the final posting.
Record: 25-55 (0-3 last week), Net Rating: -6.5 points per 100 possessions
To be honest, this team was probably never going to be all that good, even if they had a healthy complement of Steve Nash, Pau Gasol, and Kobe Bryant once he came back from injury. This team has been a joke all season long, even though Mike D'Antoni has tried to turn low-grade gruel into a lovely soufflé. But there is only so much you can do with Kendall Marshall, Wes Johnson, Ryan Kelly, Robert Sacre, Jodie Meeks, and Kent Bazemore.
This is the worst Lakers team in Los Angeles history and it's not far off from being the worst team in franchise history. It's certainly the most embarrassing team in Lakers history, which isn't a hard distinction to get with the incredible sustained success. But is there anything on this team, other than the name on the front of the jersey, that makes us think they'll be just fine in the future?
Record: 29-52 (1-3 last week), Net Rating: -4.4 points per 100 possessions
The Detroit Pistons were a late add but had some of the most impressive tanking of anybody on this list in a short amount of time. After the night of February 10, the Pistons were 22-29 and tied for the 8-seed in the East. Since then, they've gone 7-23 and were even blown out by the Philadelphia 76ers, who had just lost 26 games in a row but used the Pistons to snap their historic streak. During this stretch, they went from being a mediocre at best defense (104.8 defensive rating) to a hilariously bad defense (111.3 defensive rating).
Why would they become so bad so quickly? They owe a pick to the Charlotte Bobcats, which is top 8 protected. This stretch as taken them from near the end of the lottery to locking up the eighth worst record in the NBA, giving them a great chance of keeping their draft pick for another year. The only way they lose their pick is if the Cavaliers (6.1 percent), Pelicans (4.0 percent), Knicks (2.9 percent), Nuggets (2.5 percent), Wolves (2.2 percent), or Suns (1.8 percent) find their way into the top 3 and bump Detroit to 9th or worse. You are a genius, Joe Dumars... except when it comes to putting together a winning team in the modern era.
Record: 23-57 (1-2 last week), Net Rating: -5.2 points per 100 possessions
The Orlando Magic have been in that weird territory all season of developing young players (Victor Oladipo playing a lot of lead guard) while still being bad enough to lose games and put themselves in position to grab a star in this draft. They clearly have a plan since losing Dwight Howard in a trade instead of free agency, and they're executing that plan really well. But over the last five games, which will probably last the final two games as well, they've played Kyle O'Quinn 27.0 minutes per game and Dewayne Dedmon 19.7 minutes per game. That's making sure you wrap up a bad season with a nice little bow on it. It leads to stuff like this:
They're a game in front of the Jazz in terms of landing in the top 3 with their lottery odds. If they hold that position over the last two games, they'll have a 46.9 percent chance of grabbing a top 3 pick in the draft and a 15.6 percent chance of getting the top pick. Those odds drop to 37.8 percent and 11.9 percent, respectively, if they slide down to the fourth worst record.
Record: 25-55 (2-1 last week), Net Rating: -5.4 points per 100 possessions
The Boston Celtics have been pretty coy with their feelings on the 2014 NBA Draft. Danny Ainge has been making comments about how this draft class isn't all that impressive and the local media has been fed story lines about how they can't be tanking because new coach Brad Stevens wants to win so badly. This is fantastic lip service to sell your fans and prospective season ticket holders while still putting together a roster so bad that they couldn't help but lose a lot of games.
They were competitive early one before they lost 22 of their last 29 contests, including two losing streaks of five games and a losing streak of nine games during this stretch. Ainge and the Celtics are the boy in the schoolyard pushing down the girl they like with the draft class being the targeted girl. Please believe that Ainge knows and agrees that Andrew Wiggins' milkshake brought him to the yard.
Record: 17-63 (0-3 last week), Net Rating: -11.2 points per 100 possessions
What more can you say about this Philadelphia 76ers team and their tanking effort for 2013-14. Sam Hinkie took over before the summer and immediately made it obvious retaining Andrew Bynum was not going to happen. On draft night, he traded away Jrue Holiday for a draft pick overcoming an ACL tear and a future pick that will land them in the lottery twice this June. Then he constructed a roster in which Thaddeus Young, Evan Turner, and Spencer Hawes were the three best players on the team. He then traded Turner and Hawes at the deadline for the rights to waive Danny Granger and some second round picks.
All the while, he's given new coach Brett Brown carte blanche in how this team plays this first season, Michael Carter-Williams the freedom to do whatever he wants on the floor (which may have earned him Rookie of the Year), and they were exciting enough to give Sixers' fans some enjoyment early in the season. They'll be remembered for their 26-game losing streak above all, but this was tanking out of the textbook down to a T.
Record: 15-65 (1-2 last week), Net Rating: -8.7 points per 100 possessions
I'm extremely impressed by what the Milwaukee Bucks did. They hired Larry Drew, signed O.J. Mayo to a three-year, $24 million deal, and constructed a roster that made a lot of fans think this team was trying to make the playoffs. I'm not sure many of them believed this was a playoff team but the illusion of effort was there and sometimes that's enough for fans looking to spend some money on seats at a game. They had some injuries, some locker room intrigue, and were so bad they withstood a 26-game losing streak by the Sixers without ever relinquishing the worst record in the NBA.
As long as they don't win their final two games of the season, both against playoffs teams (Toronto and Atlanta), they're going to lock up the worst record in the NBA for this season, which gives them the best odds of finding that cornerstone to build their team around. Considering they haven't won consecutive games all season long and their two wins against playoff teams (Washington and Chicago) happened in early December, I'd say they're safe. The Bucks have a 64.8 percent chance of remaining in the top 3 and a 25.0 percent chance of winning the top pick in the draft.
You know what else they have? Master P's gold tank.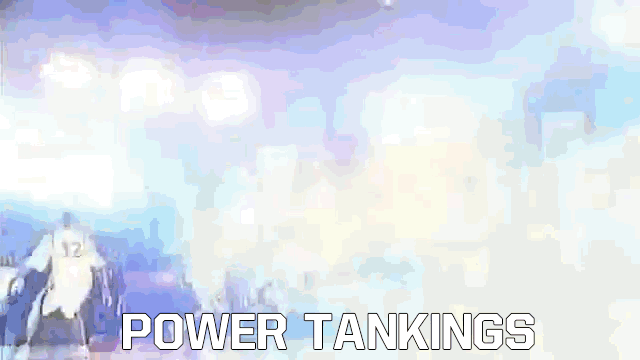 Congratulations, Milwaukee! You earned it!