2013-14 final regular season grades: Eastern Conference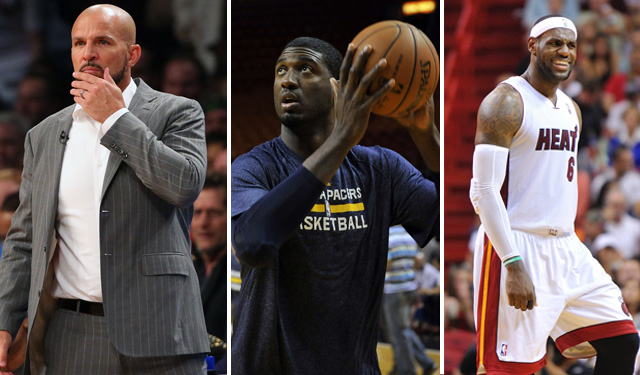 More NBA: Power Rankings | Expert Picks | Latest news & notes
After the full 82-game grind of the 2013-14 season, it has finally come to an end and given us a fun postseason to look forward to. Let's see how the East teams graded out at the end of the season:
ATLANTIC DIVISION
By Zach Harper
Toronto Raptors: A+
(First quarter grade: F, Midseason grade: A-, Third quarter grade: A)
I'm not sure you could have predicted a better season for the Raptors. Dating back to the offseason, they traded Andrea Bargnani for a first round pick, and then went into the regular season hoping to compete for a final spot in the East playoffs. Then they traded Rudy Gay for some really good complementary pieces. This lit a fire under Kyle Lowry and he led the team, along with DeMar DeRozan and Dwane Casey's coaching, to finish as the 3-seed in the East. Even with it being a down season for the East, this was a great accomplishment for this franchise.
Boston Celtics: F+
(First quarter grade: F+, Midseason grade: D, Third quarter grade: D-)
A late season swoon/tank job allowed the Boston Celtics to finish with the fourth worst record in the NBA and a coin flip between them and the Utah Jazz to determine where their lottery odds will fall. Rajon Rondo successfully came back from ACL surgery, and Brad Stevens looks like he's going to be a really good coach in the NBA. But I'm not sure you walk away from this season thinking they were bad enough or that their young players are must-haves for the future.
(First quarter grade: F, Midseason grade: C-, Third quarter grade: B+)
Not even a 26-game losing streak could get this team to go full tank job. The Sixers will finish with the second worst record in the NBA, which doesn't seem like it was the design of the offseason plan. We won't truly know how bad they were until the lottery results happen, but that's really what will determine how successful their tanking was. At least Michael Carter-Williams has a great shot at winning Rookie of the Year, and Brett Brown looks like a keeper as a coach.
Brooklyn Nets: A-
(First quarter grade: F, Midseason grade: C+, Third quarter grade: B)
The team lost Brook Lopez, decided to go small, and in the process has made Jason Kidd look like a coach way in over his head to someone who is helping boost the team's performance. Deron Williams still isn't what they need him to be, but the full complement of versatile players surrounding him makes this team a dangerous first round foe. Makes you wonder if they would have eventually given us this fuzzy feeling by turning it around with a full bill of health.
(First quarter grade: F, Midseason grade: C-, Third quarter grade: D+)
Thankfully, this is over. Good luck with your Carmelo Anthony negotiations, Phil. I hope you helped Mike Woodson pack his things.
CENTRAL DIVISION
By Matt Moore
Indiana Pacers: A
(First quarter grade: A+, Midseason grade: A++, Third quarter grade: C)
I recognize that many will scoff at this considering the slide that the Pacers went on over the last two months of the season. But on some level, you have to look at the facts. 56 wins, the No. 1 seed in the East, accomplished their goal, home court. They were the most dominant team in the league for three months, a mediocre team for a month, a bad team for a month and a half. They had the opportunity to crack and yet they beat the Thunder, took the No. 1 seed, and still have the personnel to match up with them. It may not feel like it, but I can't give them a B for doing everything they set out to do this season.
Chicago Bulls: B+
(First quarter grade: C, Midseason grade: C, Third quarter grade: A+)
The darlings of the narrative crowd, the Bulls somehow survived the loss of Derrick Rose and the trade of Luol Deng. They were supposed to peacefully slide into the lottery and then come back next season with a revamped roster. But they just wouldn't die. Joakim Noah found another level of his game. D.J. Augustin came off the waiver wire to lead the team in scoring, and they kept defending, kept hustling, kept playing for one another. Let's be clear, there are two sides of the floor and the Bulls are not good at all on offense. But they play inspired, they fight through every game, and they find ways to win.
Detroit Pistons: F-
(First quarter grade: D+, Midseason grade: D-, Third quarter grade: D-)
They should take this season, put it in a box, take that that box and put it in another box, put that box in a self-destructing spaceship, and have it burn up in the atmosphere. Then they should take the ashes from that spaceship with the box inside it, put that in a box, and then put that in a coffin, and drop the coffin with the ashes from the spaceship carrying the original box with this season in it, down a well. Then cover the well up.
Cleveland Cavaliers: D-
(First quarter grade: D-, Midseason grade: C-, Third quarter grade: D+)
The Magic are a punchline because they stayed bad and didn't make aggressive moves to improve this season. But do you see what happens when you try and skip steps? The Cavaliers, so desperate to escape the lottery and the humiliation left after LeBron's departure, signed veterans like Jarrett Jack and Andrew Bynum. They traded for Luol Deng. They tried to push their way into the postseason through risky draft picks bucking cnoventional wisdom. And here they are, with two young stars who don't seem to get along no matter how many press conferences they hold together. The Cavs didn't want to go through a true rebuild. And that's exactly what happened. They never rebuilt.
Milwaukee Bucks: F-
(First quarter grade: F-, Midseason grade: F--, Third quarter grade: F-)
Sometimes good ideas go badly. Of course their roster construction wasn't a good idea, but that's hindsight. Everything that could go wrong did, except for Brandon Knight being pretty good, Khris Middleton showing some things, and Jeff Adrien being worth trading for. But hey, they have a one-in-four chance of winning the lottery. So who knows.

SOUTHEAST DIVISION
By Royce Young
Miami Heat: B+
(First quarter grade: A-, Midseason grade: B+, Third quarter grade: B)
Basically, the Heat kind of played an 82-game preseason schedule. Because when you're the back-to-back champs, the regular season is nothing but a warmup. At times, that mentality was obvious as the Heat coasted through a lot of games. Other nights, they showed up with that scary good ability. The big question all season has been health and depth, and if they were actually coasting or showing some signs of weakness. I tend to think it was always the former.
Washington Wizards: A
(First quarter grade: D+, Midseason grade: C+, Third quarter grade: B+)
The playoffs were the goal, and the playoffs are what they achieved. In fact, they got the fifth-seed! That's really good. So what that the East's general awfulness greatly aided in that, getting the fifth-seed and having an opportunity to win a playoff series is a really nice step in the right direction for a franchise that hasn't been relevant since 2007, unless you count when Gilbert Arenas brought firearms into the locker room.
Atlanta Hawks: C+
(First quarter grade: C+, Midseason grade: B-, Third quarter grade: C-)
To make the postseason seems like an achievement, considering they lost their best player not even halfway through when Al Horford went down. Yep, being in the playoffs at 38-44 doesn't seem right or fair, but the Hawks are there, for a seventh straight season.
Charlotte Bobcats: A
(First quarter grade: C-, Midseason grade: D+, Third quarter grade: B+)
When the Bobcats signed Al Jefferson to a three-year, $41 million deal, the feeling was they just overpaid a player to rot in mediocrity. They went 43-39, which isn't great, but it was a good 43-39, if that makes sense. The way the Bobcats played the last two months was really encouraging, with young players like Kemba Walker, Cody Zeller and Michael Kidd-Gilchrist showing nice signs of development. And Big Al proved worth every penny as he put up nightly double-doubles. The Bobcats wanted the playoffs and they earned their way in.
Orlando Magic: D-
(First quarter grade: C-, Midseason grade: D, Third quarter grade: D)
I suppose they're accomplishing their goal, right? Be terrible and get another high lottery pick? Well good job! Since Jan. 1, they're 9-25, but amazingly, that hasn't been enough to be worse than the Bucks or 76ers, who out-tanking them. Still some time left, though. They're just four ahead of the Bucks in the loss column. There's still time play worse.
You can view the Western Conference season grades here.