2013-14 final regular season grades: Western Conference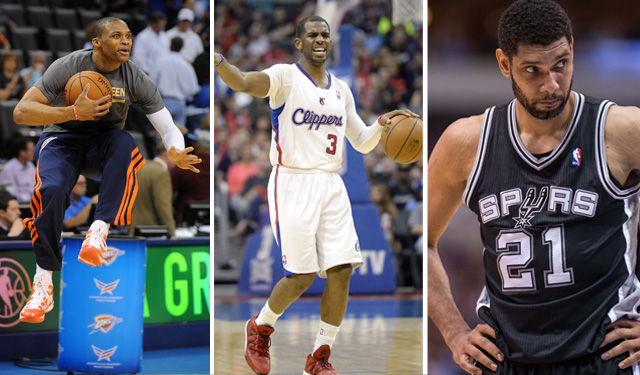 More NBA: Power Rankings | Expert Picks | Latest news & notes
After the full 82-game grind of the 2013-14 season, it's finally come to an end and given us a fun postseason to look forward to. Let's see how the West teams graded out at the end of the season:
NORTHWEST DIVISION
By Royce Young
(First quarter grade: A+, midseason grade: A, Third quarter grade: B)
They were in a difficult position of managing Russell Westbrook's availability which disrupted their continuity and flow. And they were missing two other starters for almost 20 games each, as Thabo Sefolosha and Kendrick Perkins both sat all of March. But that doesn't completely excuse their inconsistency, particularly on the defensive end where they had issues defending the 3-point line, allowing career-highs to Jodie Meeks, Gerald Green and Tyreke Evans. As a result, the Thunder let the No. 1 seed slip to the Spurs and darn near gave up No. 2. Still: 59 wins when Westbrook missed 36 games is pretty good.
Denver Nuggets: D
(First quarter grade: B+, midseason grade: C, Third quarter grade: D)
Injuries really killed what could've been a surprising first season for Brian Shaw in Denver. The Nuggets never got any contribution from Danilo Gallinari who had to have another knee surgery. They lost Ty Lawson for a large stretch, which really sent them spinning. Nate Robinson tore his ACL. Wilson Chandler was out. So was JaVale McGee. At times, it was a question of if the Nuggets could field an adequate NBA team any given night. It's the first time they've missed the playoffs in a decade, which wasn't unexpected. But it still could've been better.
Utah Jazz: F+
(First quarter grade: D, midseason grade: B-, Third quarter grade: C-)
They achieved the worst record in the West, and tied for the fifth-worst overall. I think that was the goal, while still trying to develop some young talent like Trey Burke, Enes Kanter, Alec Burks and Derrick Favors. There were some positive steps forward and you can see the makings of a good young core, but they also were a hideous mess other times. Kind of what we expected, really.
Portland Trail Blazers: A-
(First quarter grade: A+, midseason grade: A, Third quarter grade: B-)
There was a serious slip midseason, and it was mostly due to injuries and probably, fatigue. But the Blazers snapped out of their lull, coming back to win 54 games take nine of their final 10. Their hot start where they sat atop the West for almost two months was a bit misleading because of a soft December schedule, but the Blazers firmly proved they belonged, especially once they got a healthy LaMarcus Aldridge back in the lineup.
Minnesota Timberwolves: D+
(First quarter grade: B-, midseason grade: C-, Third quarter grade: D+)
A season of missed opportunity. Hard to believe a team could finish with a +2.7 margin of victory and still go 40-42. The Wolves were just miserable in close games, going 6-13 in games decided by four or less. They won 17 by 15 or more, often showing off serious firepower. Kevin Love had a good season and there were obvious positive things, but this team should've been in the conversation for the playoffs, possibly for a top six seed.
PACIFIC DIVISION
By Matt Moore
Los Angeles Clippers: A+
(First quarter grade: C, midseason grade: B-, Third quarter grade: A)
They improved in every area over the course of the year. They weren't as good as expected to start out with, but they got there by season's end. They can score in artillery rounds and defend at a high level. High enough to contend? That remains to be seen. But Rivers has done terrific work with this roster in just a year, and they've entered another level of contention. They're on the cusp of being ready. Let's see if they can get there this spring.
Golden State Warriors: C-
(First quarter grade: B, midseason grade: A, Third quarter grade: B+)
50 wins, another playoff appearance, the first repeat appearance in a very long time. So why does it feel this way? It's the context behind the numbers, the way they won. Too many home comebacks vs. bad teams, too many bruisings of bottom dwellers to boost the record. They haven't won as many as expected, haven't looked like the juggernaut ownership invested the money in. That's why Mark Jackson's job is on the line. Most alarmingly, the ball-movement-heavy team that set the world on fire last spring seems to have caught wind of its own greatness and they've fallen into isolation-heavy, predictable offense. Curry hits enough shots to keep it exciting, but not enough to keep it good, because he doesn't shoot 80 percent. They're good. They're just not as good as advertised.
Phoenix Suns: A+
(First quarter grade: A+, midseason grade: A++, Third quarter grade: B-)
Not bad for a team that was supposed to tank out the rest of the season. The Suns not only weren't supposed to be good, they were supposed to be incredibly bad. But everyone made leaps. Goran Dragic became a top-five point guard. Eric Bledsoe fit seamlessly next to him. Both Marcus and Markieff Morris became valuable players and made big plays, Channing Frye became Mr. Big Shot. It was an incredible transformation and it has led to Jeff Hornacek on his way to getting a lot of Coach of the Year votes, even if he doesn't win. They have multiple draft picks and are ready to go forward. Just imagine if they played in the East and were headed for the playoffs.
Los Angeles Lakers: F-
(First quarter grade: B+, midseason grade: D, Third quarter grade: F+)
Robert Sacre. Nick Young. Chris Kaman. Xavier Henry. Kendall Marshall. These are the names on the roster of the world's most famous franchise. Kobe Bryant's injury scuttled their season, Steve Nash's injury compounded it. but the Lakers were doomed. Too much Swaggy, not enough disciplined. They lost by 48 points to the Clippers earlier this season.
Sacramento Kings: D-
(First quarter grade: D+, midseason report: C-, Third quarter grade: D)
They should feel better about this season than they will. They added Rudy Gay and he played great, efficient basketball for the first time in years. DeMarcus Cousins made significant strides on both ends and Derrick Wiliams became a good role player. They just don't know how to win games, and figuring out how to teach that is proving way harder than expected.

SOUTHWEST DIVISION
By Zach Harper
San Antonio Spurs: A+
(First quarter grade: A+, midseason grade: A, Third quarter grade: A)
They had significant injuries to Kawhi Leonard, Tiago Splitter, and Danny Green. Tim Duncan, Tony Parker, and Manu Ginobili all had their minutes managed throughout the season. They never seemed to be pushing themselves too hard, and yet they seemed to be on a mission to avenge the way they lost the 2013 title. Gregg Popovich and what he gets his team to do can't be beat in the regular season.
Houston Rockets: A-
(First quarter grade: A-, midseason grade: A-, Third quarter grade: A)
It's always going to take some time for a team to gel when they're adding a major piece. Even with all of the trade buzz surrounding Omer Asik early on, this team came together and showed us the potential to be a dangerous contender. Dwight Howard had a bounceback season and James Harden still proved to be one of the top scorers in the NBA. I don't know what they'll do this postseason but you have to love their future.
Dallas Mavericks: A+
(First quarter grade: B, midseason grade: B+, Third quarter grade: A-)
This is a team with Monta Ellis and Jose Calderon as the starting backcourt and Samuel Dalembert is one of their most important big men. They were a really bad defensive team this season and have rebounding issues. And yet, they still ended up as a playoff team in the West because of their beautiful offense and Rick Carlisle's incredible coaching. This was a great season for them to build around Dirk Nowitzki and his legacy.
Memphis Grizzlies: A-
(First quarter grade: B-, midseason grade: B, Third quarter grade: B+)
This is a weird version of the Memphis Grizzlies and their grit-and-grind culture because it's not as boisterous as it once was. Maybe that's because Tony Allen missed so much time this season. Marc Gasol also missed time with a sprained knee ligament. And yet the Grizzlies grinded out another playoff berth and the 7-seed. They're one more outside shooter away from being the team nobody wants to play against.
New Orleans Pelicans: D+
(First quarter grade: B, midseason grade: C+, Third quarter grade: F+)
Anthony Davis was a star in his second season, but the risk to trade a draft pick in order to bring in Jrue Holiday and compete for a playoff spot blew up in their face because of all the injuries. Ryan Anderson's season couldn't get going due to injury, Holiday got injured, and Eric Gordon never looked all that great. The potential is there but they might need a coaching change and some injury luck to make that leap.