Playoff Assist: How the point guards match up in the first round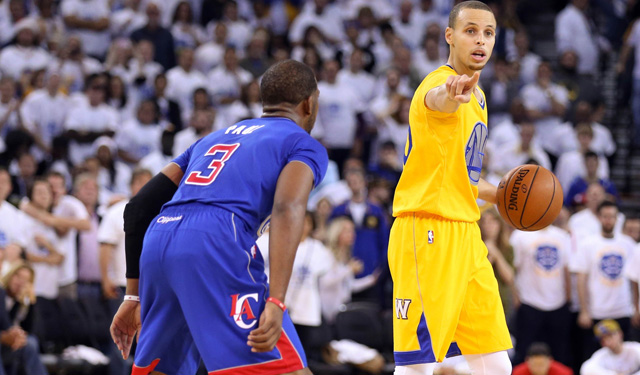 More NBA: Power Rankings | Expert Picks | Latest news & notes
From April 1 until the end of the regular season, we've been looking at players assisting their teams trying to get to the playoffs. In this awkward period between when the regular season ends and the playoffs begin, let's take a look at the point guard position match-ups for the first round and see which lead guards will be assisting their teams the most.
Indiana Pacers (1) vs. Atlanta Hawks (8): George Hill vs. Jeff Teague
A year ago, George Hill was a key cog to arguably the best lineup in basketball. After the season he's just had for the Pacers, he's now looking more like a liability because his scoring attack isn't there and he's still a big turnover risk. He's not scoring as effectively as he did in the pick-and-roll in year's past but he still has the potential to kill an opponent from downtown. The Hawks are susceptible to giving up 3-point accuracy, so that's where Hill is likely to regain some success and consistency in this series.
The only way the Hawks will have a chance in this series is if Jeff Teague puts in a dominating performance. Teague is a better point guard than Hill but he's going to have to do everything to initiate the offense and keep it flowing in order for the Hawks to score against the stingy Pacers' defense. Teague's playmaking and shooting will attempt to lead an attack similar to how the Heat created 3-point attempts against the Pacers, but they don't exactly have LeBron James drawing attention from the Pacers.
Where these guys hurt you: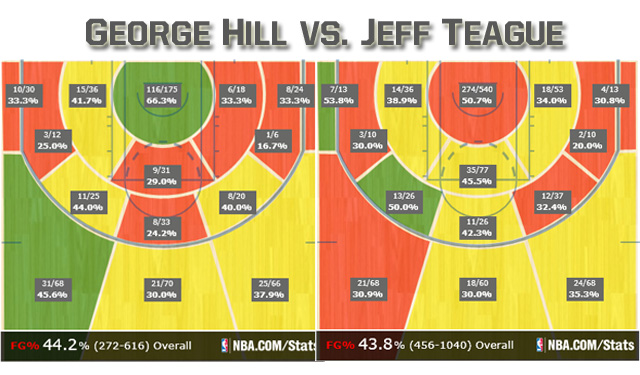 Miami Heat (2) vs. Charlotte Bobcats (7): Mario Chalmers vs. Kemba Walker
The Heat love to yell at Chalmers when he's on the floor, but that's because they know he can handle that kind of mental pressure. His match-up against Walker will pit two guys against each other who love to step up in big moments. With Chalmers, his defense will be as important as his big shot opportunities. This season, Chalmers has an effective field goal percentage of 66.1 percent on unguarded catch-and-shoot attempts. He'll make the Bobcats pay if they double off of him.
For Walker, it's his first taste of the NBA playoffs and he'll have to see if the pressure he felt at Connecticut is the same type of feeling in the NBA postseason. If he can manipulate that feeling into something he's used to feeling in big moments, he should be just fine. Walker is probably best attacking the defense in the middle of the floor, which is what Miami wants. It's up to Walker to be a better 3-point shooter or finish at the basket in order to help Al Jefferson score.
Where these guys hurt you: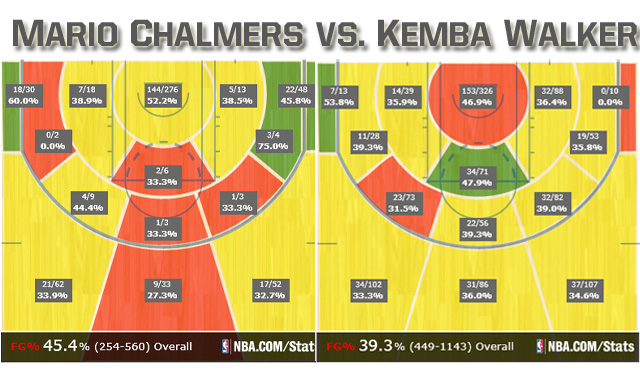 Toronto Raptors (3) vs. Brooklyn Nets (6): Kyle Lowry vs. Deron Williams
If I told you two years ago that Lowry is a better point guard than D-Will, you would have called me insane and laughed at me. This year, it's not even up for debate because Lowry has been so much better than what Williams gives to the Nets. Lowry's success this season is attacking the defense in the pick-and-roll and knocking down spot-up shots. He's been one of the best in the league at both, which allows him to play equally both on and off the ball. There isn't much you can do to take him out of his game.
For Williams, it's time for him to remind everybody he's the star point guard we're used to praising. His ankles have given him troubles the last two years and while he did a good job of managing a balance between the discomfort and his production, the Nets will need him to be much better in the first round. He's still good as a spot-up shooter and he makes the defense pay in those hand-off plays with him becoming the scorer. Williams being physical with Lowry and tricking him into early foul trouble could be how he wins this match-up.
Where these guys hurt you: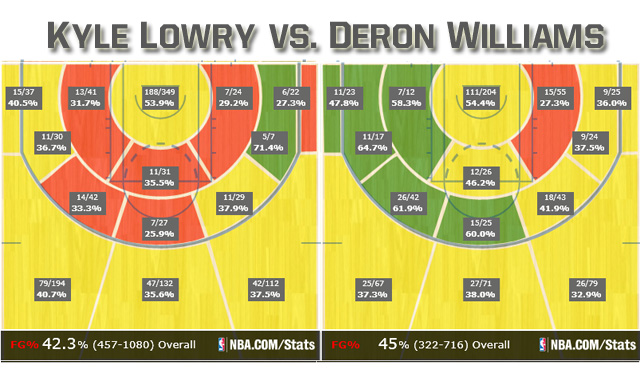 Chicago Bulls (4) vs. Washington Wizards (5): D.J. Augustin vs. John Wall
D.J. Augustin isn't the starter for the Bulls but he'll be the main offensive weapon between him and Kirk Hinrich. Augustin's reclamation has been sudden and shocking. He couldn't even get time as a backup with the Raptors and now he's a 41.1 percent 3-point shooter fueling a struggling Bulls' attack. He's absolutely destroying teams in the pick-and-roll and Tom Thibodeau has once again found his gunning guard off the bench.
John Wall's match-up in this series is much more about how he attacks the entire Bulls' defense than his individual match-up. Wall handled the Bulls' defense pretty well in the regular season, making 50.0 percent of his shots and averaging 20.7 points and 8.0 assists. If he can get past Joakim Noah or Taj Gibson in the hedge on the pick-and-roll, he'll be able to get to the rim and kick to the corners whenever he wants. This could be Wall's coming out party.
Where these guys hurt you: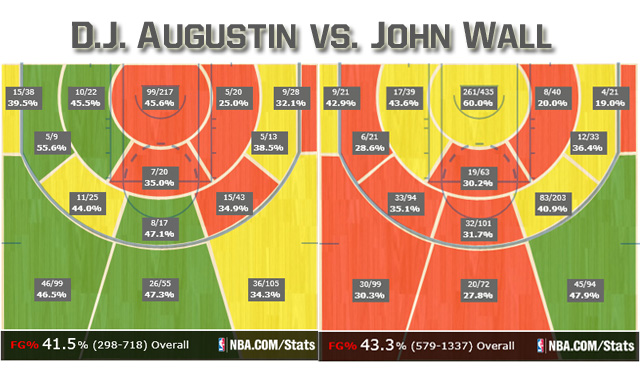 San Antonio Spurs (1) vs. Dallas Mavericks (8): Tony Parker vs. Jose Calderon
What happens when the unstoppable force meets a very movable object? Tony Parker ends up scoring a lot of points; that's what happens. Parker's ability to get into the paint and get whatever shot he wants bodes well, especially against Calderon. Parker is so automatic at running the Spurs' offense efficiently that he may end up looking like the best player in the first round of the playoffs, period. He could put up 30 points per game without breaking a sweat.
And the Mavericks didn't get Calderon for his defense; they got him for his shooting. Look at his amazing shot chart below. There is so much green on there. He's been the best spot-up shooter in the NBA this season and has an absurd eFG of 74.0 percent on unguarded catch-and-shoot jumpers. He'll be asked to spread the floor and Parker can't allow him to get loose. Otherwise, the Spurs' incredible offense will be met with efficient offense by the Mavs.
Where these guys hurt you: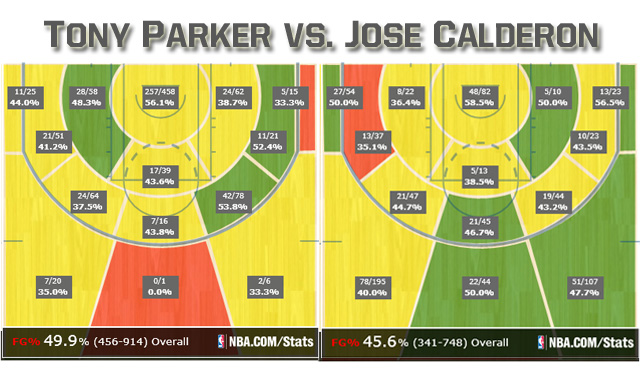 Oklahoma City Thunder (2) vs. Memphis Grizzlies (7): Russell Westbrook vs. Mike Conley
While it's not the most star-studded point guard match-up in the first round, this could end up being the best one of all. Westbrook is so explosive and is so capable of hurting the Grizzlies in transition that it will be Conley's job to slow him down. How do you slow down a rocket though? Westbrook puts more pressure on a transition defense than any point guard in the league and upping the tempo in select situations will be the key to just how much damage he does.
Conley, on the other hand, will be asked to be the steady hand for the Grizzlies. He'll pressure the ball on defense, but mostly he'll be asked to stay controlled and look for openings in the defense for OKC. He struggled shooting the ball against the Thunder this season (36.6 percent from the field), but he did average over eight assists in those games. If he can knock down shots, he may trick Westbrook into thinking this is a one-on-one game.
Where these guys hurt you: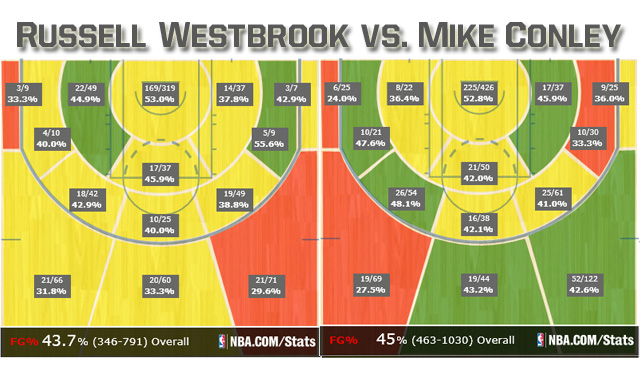 Los Angeles Clippers (3) vs. Golden State Warriors (6): Chris Paul vs. Stephen Curry
The bright lights will be on Chris Paul trying to prove the Clippers are the real deal. Paul won't have to contend with Andrew Bogut protecting the rim, but he will have to deal with Andre Iguodala trying to make his life hell on one end while Steph Curry tries to light him up on the other. What's the solution for Paul? Just be Chris Paul. There's nothing CP3 can't do on the court and he'll be able to break down a great perimeter defense from the Warriors and put their defense off-balance.
Curry has all of the responsibility in a different way. His passing is plenty important but with this team having to go small due to injury for a second straight first round match-up, the Warriors will need him to shoot. Look at his shot chart below and you will know that isn't a bad idea. Curry is the best outside threat in the NBA and if he can get loose like he did against the Nuggets last postseason, the Clippers will be in trouble.
Where these guys hurt you: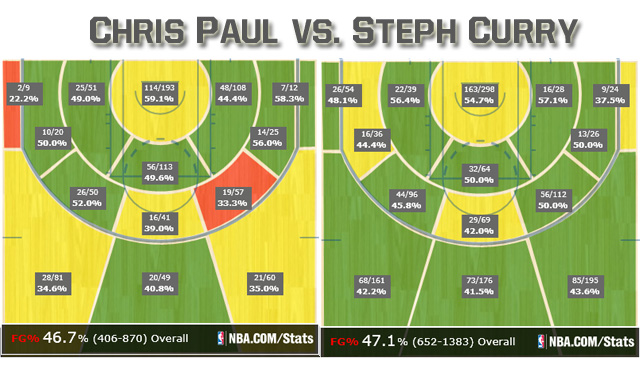 Houston Rockets (4) vs. Portland Trail Blazers (5): Patrick Beverley vs. Damian Lillard
This may be the most contentious point guard match-up of the first round. Patrick Beverley being healthy enough to be himself would mean that Damian Lillard could get very frustrated at Beverley's antics and tactics. Beverley is still a 3-point threat when left alone on the right wing, but mostly he's out there to slash to the basket and be a disruptive force on defense. Just a month ago, they were dealing with this match-up in a psychological way.
For Lillard, he has to be able to turn it on in the fourth quarter. The Blazers' defense is shaky enough that they'll need the offense to be humming when we're in clutch situations. The internet has dubbed this "Lillard Time" and rightfully so. He's been incredible in the clutch. Lillard can't just rely on the 3-point shot though; he has to attack the basket in these situations. Even with Dwight Howard waiting there for him, it will get the ball movement going and the 3-point shots will follow.
Where these guys hurt you: