Erik Spoelstra says no minute restriction for Dwyane Wade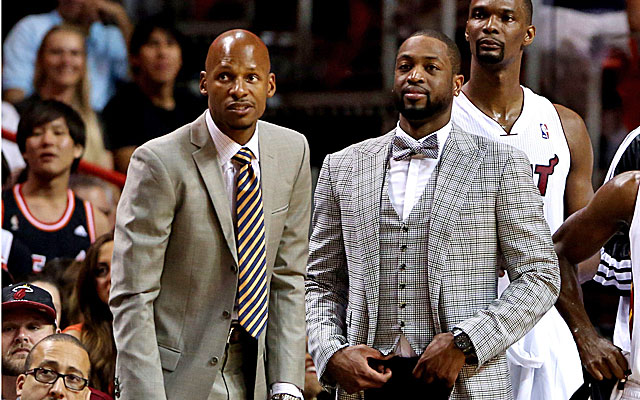 More postseason coverage: Playoff schedule, results | Latest news, notes
Dwyane Wade returned to the Heat lineup with a few games to go after recovering from a hamstring injury, and won't have any restrictions placed on him for Game 1 against the Bobcats.
Heat coach Erik Spoelstra told reporters that Wade will playing without a minute restriction, even though it's been almost a month since he's played more than 23 minutes in a game.
"I don't have a restriction with him," Spoelstra said. "So I don't necessarily have a window, either.

"I'm going to read his body language; I'm going to read the game. I'm going to have communication constantly with him. But he's cleared to play. So neither one of us want to put a restriction on it, but we're also realistic and we'll be smart about it."
Wade missed 28 games this season because of a variety of injuries, but is obviously a critical piece to the team's success. The Heat managed his health throughout the season, resting him in back-to-backs and taking it cautious, with an obvious eye to the postseason.
Now, it seems like that preparation has paid off as Wade will be able to go full out in Game 1 against the Bobcats. He might still have a little rust, but the more you play, the better you get. And with no restriction, Wade should get to play a lot.