Dwight Howard: 'I have to demand the ball, get it and go to work'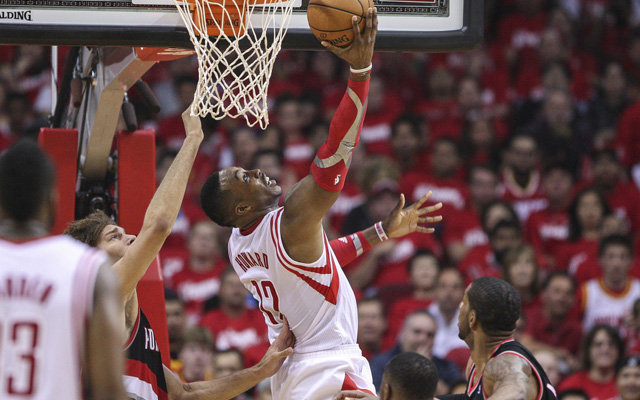 More postseason coverage: Playoff schedule, results | Court Vision Monday
Dwight Howard was supposed to dominate the Portland Trail Blazers inside for the Houston Rockets. And while Howard had 27 points and 15 rebounds in Game 1, it came on 9-of-21 shooting. Howard finished minus-5 for the game while his counterpart Robin Lopez made Howard work the entire game and finished plus-15. It was less than an inspiring performance.
On Tuesday, Howard vowed to bring more in Game 2, provided he gets the ball, which he says he has to "demand."
After making just 9 of 21 shots with a 1 of 6 start on Sunday, he said he needs to demand more touches inside.

"We have to play inside out, play their bigs and make it a long night for those guys," Howard said. "I have to demand the ball, get it and go to work."
via Ultimate Rockets » Dwight Howard: 'I have to demand the ball … and go to work'.
So was that the problem?
According to Synergy Sports, the Rockets ran 13 post-up plays for Howard. He scored just 10 points in those sets and drew no fouls. Conversely, the Rockets managed to get no touches for Howard in the pick and roll.
Once again, and I hate to keep hammering this, but Howard is infinitely better in the pick and roll than in the post. In the post this season Howard scored .751 points per possession. That's horrible, 29th percentile. In the pick and roll, Howard scored 1.28 points per possession, 96th percentile. I don't know how else to put this.
Dwight Howard does not need more touches in the post. It's not that Howard doesn't have a post game. It's not that playing inside out isn't a good strategy. But how they play inside out is important. Howard's been on this kick for two years. But if they keep going to Howard and if he doesn't make a major improvement in very little time, this could get bad. The Rockets can't afford to go down 0-2 at home.