Court Vision: Playoff lessons and looking ahead, 4/22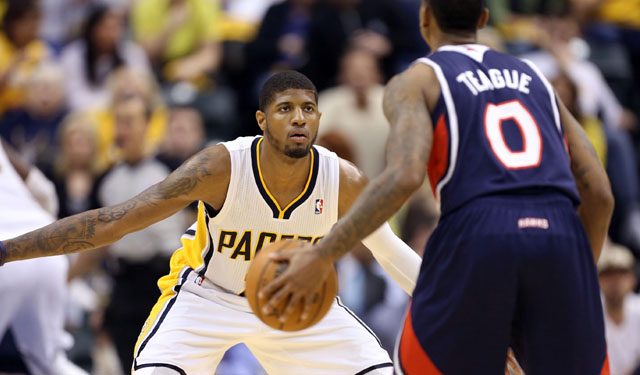 More postseason coverage: Playoff schedule, results | More on Wizards-Bulls
Here's what we learned from the playoffs on Tuesday, April 22, as well as a look ahead to Wednesday's games.
Washington Wizards 101, Chicago Bulls 99 OT: Wizards lead series 2-0
• Poise, poise, and more poise. The Washington Wizards' young backcourt just looks so comfortable on the court, especially against the second-best defense in the NBA. John Wall had a solid game with 16 points, seven assists, six rebounds and three steals, but Bradley Beal had no problem shining late in the game to help pull out this victory for the Wizards. He hit a couple of big 3-pointers late in the fourth quarter to significantly cut the lead by the Bulls, and finished with 26 points on 9-of-20 shooting.
• We're learning that the Chicago Bulls are in some trouble. They're relying on D.J. Augustin and Kirk Hinrich to initiate late-game offense, when Joakim Noah is their best playmaker. Taj Gibson is having to do too much on offense with the ball, and you can't play Carlos Boozer down the stretch because of defense, even though he's the team's best scorer.
• We just learned that Carlos Boozer is the Bulls' best scorer and now the city of Chicago is very sad.
• Beal had 11 points, a steal and a block in the fourth quarter. He's sneakily one of those guys you expect to step up in big situations and he can't even legally drink alcohol until June 28.
• John Wall took a kicked ball to the face at one point. (Via @BenGolliver)
• The final foul call on Nene was pretty bogus, but when you think about the fact that he tied up Gibson's back and arms and received a jump ball, and then subsequently pulled Taj's arm down on the jump ball to regain possession for the Wizards and it wasn't called, maybe the Wizards didn't almost get screwed on that call.
• Kirk Hinrich got mad at Bradley Beal and immediately took his protective eyewear off his face in order to tussle. That's right; your end-of-game decision-maker for the Bulls took off his protective eyewear to possibly get into a fight.
• Boozer played just 21 minutes, scoring five points on six shots. You either have to commit more to him or just not even bother with playing him at this point, right? Perhaps start preparing him for the amnesty news by giving him a courtside seat across from the Bulls' bench.
Indiana Pacers 101, Atlanta Hawks 85: Series tied at 1-1
• We learned the Indiana Pacers aren't dead, not yet. The Pacers got back to their bread and butter with defense, and this game looked more like the Pacers team we saw in the first half of the season. Struggling through the first half as Atlanta continued to launch from three, the Pacers came out in the third with what I came to refer to in the regular season as "The Third-Quarter Haymaker of Doom." They locked down on defense, used that to create easy buckets at the other end, and uncorked some perimeter shooting.
• We learned that the Pacers don't need to abandon their primary lineups. The third quarter was dominated by lineups featuring the Pacers' traditional lineups of one center (either Hibbert or Mahinmi) a true power forward (West or Scola) a point guard and two wings. No trickeration, no Chris Copeland, just the normal formula. Mahinmi in particular was active. C.J. Watson did a great job pushing the tempo and managing the offense.
• The Hawks were bombs away in the first half, but in the second, the Pacers ran them off the three. A lot of it was just smart switches by the Pacers and a willingness to get outside their comfort zone, but a lot of it was the Hawks just missing. Either way, the result was the same.
• Paul George, 27 points on 9-of-16 shooting, 10 rebounds, six assists, four steals, one block and just one turnvoer. Whoooeeee. That's more like it, PG.
• The Pacers had 31 points in the third. The Hawks had 33 points in the second half.
• Jeff Teague was dominant again in the first half, and in the second, just two points in 11 minutes. He was overwhelmed when the Pacers really sicked George on him and started playing him away from the screen when he tried to reject it. Key adjustment.
• C.J. Watson had a good night, but....
• The biggest difference was likely Pero Antic going 2-of-9. The Pacers weren't outright guarding him, but they were keeping within range to contest, and that was enough. If the 5-out by Atlanta is going to work, Antic has to spread the floor. Otherwise, the Pacers can do more of what they do.
• The Pacers didn't go "zone" but they went "zone-ish" in this game and it worked some.
Toronto Raptors 100, Brooklyn Nets 95: Series tied at 1-1
• We learned that the Raptors are much better with Amir Johnson and DeMar DeRozan playing like they have a pulse.
• The big takeaway here, beyond it being a fun win for a city that loves this team, is that the Nets had a chance to steal this game. Paul Pierce missed two huge threes late that he's going to hit more often than not. The Nets had chances to go up 2-0 and it took a heroic effort from the Raptors to split the season series.
• Still there's a lot to be excited about for Toronto, who got good contributions from almost everyone, including, you wouldn't believe it, Landry Fields. Fields did great work on Joe Johnson late, pressuring him on the catch and deterring him in the clutch. I wouldn't believe it if I hadn't seen it.
• It was in many ways a script flip from Game 1. Jonas Valanciunas struggled defensively. He had good numbers (15 and 14) but the Raptors were significantly worse on defense with him on the floor (111.8 points per 100 possessions). But Johnson was huge with 16 and DeRozan had 30 points to lift them when they needed it.
• Turnovers are still a huge issue for Toronto. Sometimes it's just mental mistakes like not knowing where guys will be, and sometimes it's just not watching their dribble. Sometimes it's just driving into trouble. But they've got to clean it up.
• Mason Plumlee gave great effort with some bad units. His plus/minus isn't indicative of the work he did.
• DeRozan did this, which was insane:
Tomorrow's questions, today;
Charlotte at Miami Game 2, 7 p.m. ET: Is Al Jefferson healthy enough to give the Bobcats what they need out of him on offense? Is Josh McRoberts going to dunk on someone again? Are we going to see the same healthy Dwyane Wade that dazzled us in Game 1? Will we see more of a facilitator role of LeBron James or will he try to bully the smaller Charlotte defenders inside once again? Are we poised for a big Kemba Walker game yet?
Dallas at San Antonio Game 2, 8 p.m. ET: How will the Mavericks work to get Dirk Nowitzki better looks at the basket? Is Jose Calderon going to eventually be coming off the bench for Devin Harris? Should Harris start against the Spurs? Will Calderon make shots? Should Shawn Marion be guarding Tony Parker all game? Can he actually do it? Will the Spurs get sucked into playing isolation ball again or will we see the passing and outside attack we're used to?
Portland at Houston Game 2, 9:30 p.m. ET: Can we please just get a reenactment of the Sunday night Game 1 between these two teams? Will LaMarcus Aldridge continue to get scoring chances inside? Is Patrick Beverley healthy enough to play heavy minutes against Damian Lillard? How do the Rockets get Dwight Howard the ball more when he's demanding it with terrible post position? Does James Harden need to be better on offense? Which team will hurt the other with outside shooting?