Mario Chalmers questionable for Game 2 vs. Charlotte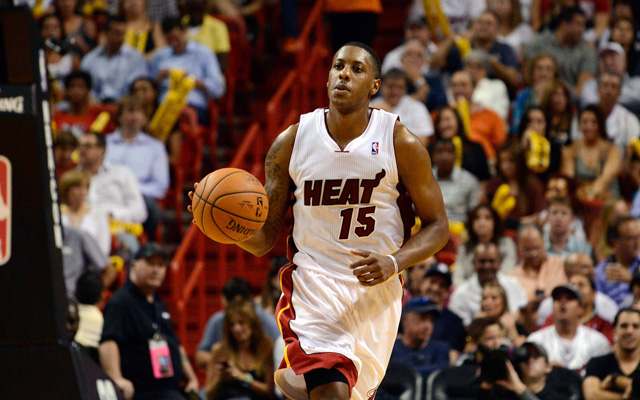 More postseason coverage: Playoff schedule | Jefferson will play in Game 2
Miami Heat guard Mario Chalmers is questionable for Wednesday's game against the Charlotte Bobcats wth a bruised knee, the Miami Herald reports:
Miami Heat starting point guard Mario Chalmers is questionable for Wednesday's playoff game against the Charlotte Bobcats after bruising his knee Sunday in Game 1.

Chalmers was limited in practice Tuesday and will be reevaluated by team trainers before Wednesday morning's shootaround and then again before Game 2 of the first-round playoff series. The Heat defeated the Bobcats 99-88 on Sunday at AmericanAirlines Arena to take a 1-0 lead in the best-of-7 series. Wednesday's Game 2 is at 7 p.m. (TNT, Sun Sports).

"He still has that bruise on his knee and we'll see how he feels tomorrow," coach Erik Spoelstra said of Chalmers. "He did make progress from [Monday]."
via Miami Heat guard Mario Chalmers questionable for Game 2 with bruised knee - Miami Heat - MiamiHerald.com.
Chalmers is less important in this series with Miami having such a firepower advantage over Charlotte. The big question is who will start in this place. Norris Cole is the first answer, given that he's the backup point guard and has played his way into significant minutes this season. But coach Erik Spoelstra likes to keep his second units intact. That's why when Dwyane Wade missed time he started Toney Douglas who was acquired through trade this year from Golden State
Douglas' more natural position is point guard, so he can fill in if Chalmers can't go, allowing Cole to stay in his sixth man spot. Chalmers averaged 9.8 points and 4.9 assists this season for the Heat.