Westbrook and Durant have to start trusting teammates again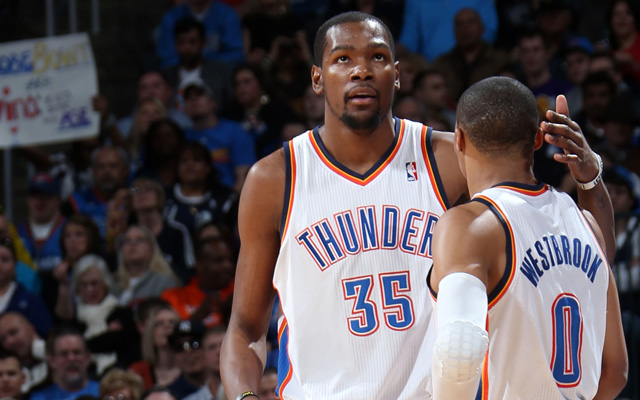 More Playoffs: Schedule | Threat Matrix | Previews: East | West | Picks
In Game 3 against the Grizzlies, the Thunder attempted 87 shots as a team.
Fifty-three of those came from either Kevin Durant or Russell Westbrook. Durant had 27 to his name, hitting just 10. Westbrook fired 26, hitting just nine. Next closest in attempts was Serge Ibaka with 10. His last shot came with 6:35 left in the fourth quarter. Reggie Jackson had nine attempts. His last shot came with 9:26 left in the fourth.
Of the Thunder's final 18 shots, including overtime, 16 came from either Westbrook or Durant.
So here's the point: As the Thunder fell behind 2-1 to the Grizzlies with a back-breaking 98-95 loss, it's become about trust for their two superstars. Obviously, you want Durant and Westbrook at the core of your offense, using the most possessions. But the Grizzlies have essentially turned the Thunder into a two-dimensional team as the Thunder duo goes 2-on-5, particularly in crunchtime.
In the overtime period, the Thunder had nine shots. Eight came from Westbrook or Durant, with Thabo Sefolosha hitting a baseline jumper off an offensive rebound with 13 seconds left. The Thunder have become painfully unbalanced, and it shows as Durant and Westbrook essentially take turns trying to attack that stout Memphis defense. In 53 minutes of Game 3, the Thunder produced just 13 assists. Westbrook had only two.
Isolation-heavy basketball has often been an issue for the Thunder, but with Durant's development as a distrubutor the last couple seasons, most of that has been cured as OKC grew into a better overall offensive team. The spacing was better, the ball movement improved.
But as the Grizzlies grind them down, seemingly inviting them to ignore the three teammates on the floor with them, Westbrook and Durant have to start playing against instinct some, and trust in those other guys. It's the quandary the Thunder are in, because those other guys are Derek Fisher, Sefolosha, Jackson (who has been bad in the series) and Caron Butler (who has been worse). The key may be Ibaka, who hasn't been able to stay involved nearly enough.
The Thunder need a split in Memphis, and they failed in their first attempt. They have another chance on Saturday, which means two days to sort themselves out and find the identity that helped them win 59 games this season. Otherwise, even with Westbrook joining Durant this time around against the Grizzlies, it might end up being the same story.