Raptors-Nets Game 3 Preview: Whose house is it?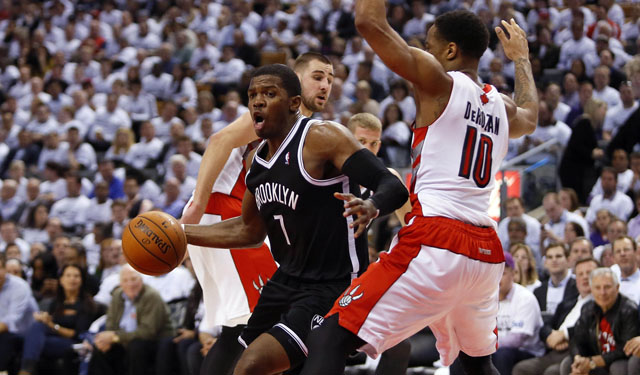 More Playoffs: Schedule | Threat Matrix | Previews: East | West | Picks
Previewing Game 2 of the Raptors-Nets first-round series.
1. Where We Are: Tied 1-1 in the series after the Brooklyn Nets withstood a raucus crowd in Game 1 and the Toronto Raptors fought back in Game 2 to tie the series and keep hope alive after dropping a game at home. The Raptors showed they're able to get over a lack of experience in the playoffs by rallying in Game 2 and letting the young guys take over. Jonas Valanciunas had another big effort on the boards and DeMar DeRozan went off in the fourth quarter to the tune of 17 points, giving him 30 on the night.
The Raptors seemed to play much more like a cohesive unit in this game, getting a great team effort all around and not just relying on one guy taking over. Kyle Lowry had a really good all-around game, Patrick Patterson gave the Raptors big minutes off the bench, and Greivis Vasquez was a huge spark plug for them. The Nets made the Raptors turn the ball over 21 times in the game but couldn't take advantage enough to sneak out another victory before heading back to Brooklyn.
2. The Big Number: 30. The Nets shot under 30.0 percent from 3-point range for the second straight game, and were lucky to pull out the Game 1 victory on just 16 percent from downtown. Brooklyn was 11th in the NBA in 3-point percentage this season and seem to close out a lot of close games with back-breaking attempts from deep. The Raptors have defended the three well in the first two games but the Nets are also just missing their open attempts. When they shoot under 30.0 percent from 3-point land this season, their record is just 11-15. They're 33-23 when they hit 30.0 percent or better. At home, that record improve to 22-7 when they make 30.0 percent of their threes or better.
3. Key Adjustment: Keep DeMar DeRozan away from the basket. The Nets can withstand Kyle Lowry being an offensive force at times but when you throw DeRozan out there as his wingman, the opposition is in trouble. In the first game, Brooklyn made the Raptors shooting guard a jump shooter and only allowed four attempts in the restricted area. That number doubled in Game 2 and he also got to the free throw line 14 times. If they can build a wall behind his defender, they can slow him down considerably.
4. The Big Story: Will inexperience shine through on the road for the Raptors? This Toronto team isn't completely wet behind the ears, but they're still going to have to go on the road, whether the Nets' crowd ends up being wild or not, and pull out a victory in a "hostile" environment. They can't afford to go down 3-1 in this series and force themselves to win three straight games against such a veteran roster. And if they're going to get a split in Brooklyn, they've got to get it early to put the pressure back on their opponents. They have to realize the crowd isn't as rowdy as their home crowd and use that as a calming presence or their inexperience will become a real factor.
5. The Facts: 7:00 p.m. ET. Brook Lopez is out with a broken foot and Shaun Livingston is questionable with an illness. There aren't any expected injuries for the Raptors.