Pacers-Hawks Game 4 Preview: Having everything to prove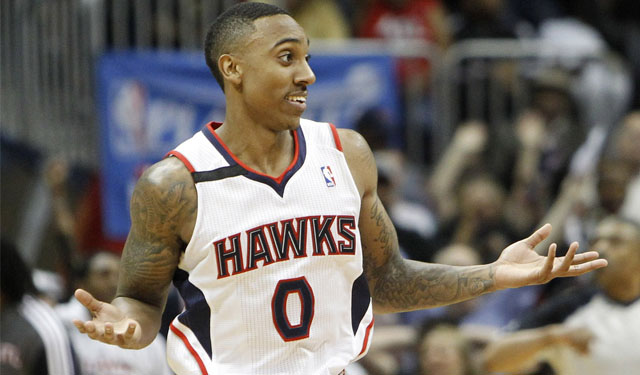 More Playoffs: Schedule | Threat Matrix | Previews: East | West | Picks
Previewing Game 4 of the Pacers-Hawks first-round series.
1. Where We Are: The Atlanta Hawks once again posed matchup problems for the Indiana Pacers and took Game 3 at home in a pretty easy fashion. The 98-85 win for the Hawks was fueled by Jeff Teague's attack and the role players stepping up. The Hawks didn't shoot the ball well, making just 38.4 percent of their shots, but they managed to move the ball extremely well. They had 21 of their 28 made shots assisted and Teague was the driving force of that offense time after time.
The Pacers just couldn't score. Most offensive sets looked stagnant and Luis Scola and Lance Stephenson were the only players who could get stuff going. Most of the time, they were forcing the action and their turnovers (13 of them) led to 20 points by the Hawks. Indiana shot 37.6 percent from the field and made just five 3-point attempts, as opposed to the four Kyle Korver hit all by himself.
2. The Big Number: Six. Kyle Korver had 20 points on 6-of-9 shooting in this game. Those six made field goals are significant because the trio of Paul George, Roy Hibbert, and George Hill combined to make six shots. That's just not acceptable at all. Korver matched the scoring output of those three players by himself but needed 22 fewer shots to accomplish it. George was 3-of-11, Hibbert was 2-of-9, and Hill was 1-of-11. None of that is acceptable for the Pacers.
3. Key Adjustment: Get Paul George going. He's struggling to dribble against Atlanta defenders right now, so maybe he needs to get more shots coming off of screens, curling into the lane, or in the post. There has to be a way to get him going that doesn't involve him doing a lot of dribbling. Part of that could be establishing a post presence as well. George wasn't good in the post this season but quick post-up opportunities with deep position coming from a cross-screen could force the defender to foul him. Having David West or Roy Hibbert posting up and kicking out to George spotting up would be ideal for Indiana.
4. The Big Story: The Pacers are in trouble. Game 1 could have been a fluke. They were presented with a weird matchup and didn't respond all that well to it. In Game 2, they played their style of basketball, dominating the third quarter and looked to be back on track. It was supposed to be the realization of a team getting back to being dominant. And then Game 3 happened, they reverted back to their troubled ways, and now there's no hoping for a brighter tomorrow for Indiana. They have to grind out three more victories and none of them will come easy because this team isn't ready to dominate anymore. They can't figure out how to establish their style of play against this Hawks team consistently, which leaves them with a real possibility of embarrassing themselves further in the series.
5. The Facts: 2:00 p.m. ET. Al Horford, Gustavo Ayon, and John Jenkins are still out for this series. Andrew Bynum is not active for the Pacers.