Mavs didn't reinvent Monta Ellis, they just figured out how to use him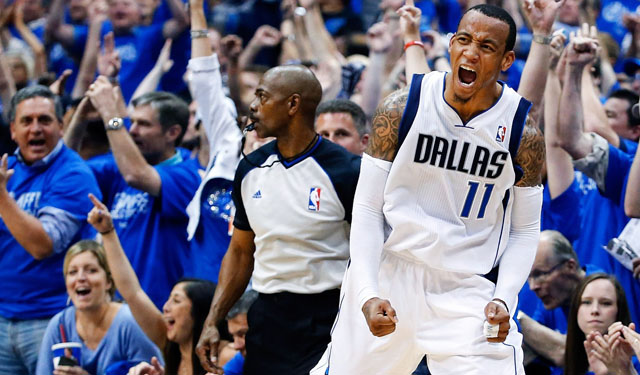 More postseason coverage: Playoff schedule, results | Latest news, notes
The conversation about the Dallas Mavericks' Game 3 victory over the San Antonio Spurs will be about Vince Carter's winning 3-pointer from the left corner. It was an incredible shot that was well-defended and executed perfectly. It should be celebrated as one of the best moments of a postseason that has delivered on the promise of big moments. It was the seventh straight game of the playoffs that ended up being decided by four points or less or went into an overtime period.
Rick Carlisle's ability to figure out what Monta Ellis does well and build a successful environment surrounding his game put them in a position to give Vince Carter that winning opportunity though. It was Ellis who matched the Spurs shot for shot in the fourth quarter, a period that saw 66 points combined between the two teams as they battled for control in this series. His 12 points on 5-of-5 shooting in the fourth led the Mavericks' attack. Overall, he had 29 points on 12-of-22 from the field and was the leading scorer in the game.
Ellis has long been a polarizing figure in the NBA. He's an immense talent with freakish athletic ability, even for an NBA player. And yet, he's long been looked at as an overrated talent incapable of making his teammates better and contributing to winning basketball. Fair or not, his reputation as a player has been sullied with seemingly selfish play and a career bereft of winning.
And yet the Mavericks embraced Ellis and gave him a three-year contract this offseason. Coach Carlisle worked with Ellis immediately when he signed, finding a way to implement a talent that hadn't been quite tapped properly into an offensive system of trust, ball movement, and selfless acts of setting up scores. The Mavericks had the third best offense in the NBA this season with Ellis prominently featured next to Dirk Nowitzki. The two scorers had nearly identical usage rates for the Mavs.
For a while, it seemed like the Mavs found a way to change Ellis' game and they were lauded for figuring out how to focus such a talented scorer. But the reality is they didn't really change much at all. His numbers are comparable to the seasons in Golden State when he was pouring in points and racking up losses. They haven't changed his game at all, only figured out how to surround his talents with floor spacing and other options.
He doesn't pass more than he has in the past. He doesn't shoot all that more efficiently than other points in his career. And his overall efficiency is on par with his career numbers. They've managed to fit an aggressive initiator on offense into their team attack. Space the floor and let him attack around a screen and you'll find him taking a lightly contested midrange jumper or be at the basket for a layup in the blink of an eye.
It works because the Mavericks set it up to work. You could hesitate in defending Ellis' moves in the past because he was operating outside of a team concept. The team concept is now built to include his attacks, much like we saw in an epic fourth quarter Saturday afternoon in Dallas. The Mavericks are up 2-1 in the series because they trust Ellis to be Ellis, and his teammates to supplement his attack.
Don't commend the team for fixing a problem; commend them for figuring out how to make sure it isn't a problem at all.