Pacers-Hawks Game 5 Preview: Taking charge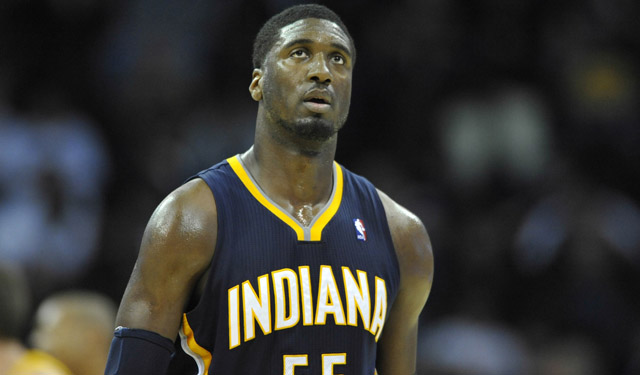 More postseason coverage: Playoff schedule, results | Latest news, notes
Previewing Game 5 of the Hawks-Pacers first-round series.
1. Where We Are: The Pacers evened up in a must-win Game 4 in Atlanta, and did it in a manner than may be defining for their season going forward.
But that's why Game 5 is so intriguing. The Pacers came together in Game 4, Paul George closed and Frank Vogel figured out some effective lineups, but all of that only counts for one win. The Pacers could be finally snapping of their funk, or the win in Game 4 might've just been delaying the inevitable collapse that has been happening slowly over the last month.
Game 5 is a chance to actually start to put the mess behind them. A win and they're in complete control and have a very good opportunity to get out of this ugly first round and start thinking about being a contender again. A loss, and it's back to the drawing board and trying to save themselves again.
2. The Big Number: 0:00. Roy Hibbert played a grand total of zero minutes in the fourth quarter of Game 4, and had only played 24 total. The Hawks' aggressive smallball approach has forced Hibbert into a difficult position of being a center without a place on the floor. He can't stay with the spacing and movement the Hawks have created, so Vogel made the difficult decision to just match the small with small, playing Luis Scola and David West together the entire fourth.
3. Key Adjustment: The Hawks have to get Jeff Teague going again. Paul George took over the assignment in the second half, and Teague struggled, taking just five shots over the final 24 minutes, and finished 5 of 15 overall. Teague is the engine that runs the Hawks, and really the only likely supplement to Paul Millsap. The Hawks need to get Teague attacking downhill more often, utilizing his speed and quickness. Run more high pick-and-roll with him hitting the screen with a head of steam.
4. The Big Story: One team is going to be within a win of moving on after tonight. The Hawks will have to find a way on the road, but then again, the Pacers slipped badly there in Game 1. This series feels like it could almost be decided tonight. Because a Pacers win and the Hawks may see the writing on the wall and have a hard time gearing up for Game 6. A Hawks win, and the Pacers could be so deflated and devastated that the Hawks finish them off in Atlanta.
5. The Facts: 8:00 p.m. ET. Al Horford is out for the entirety of the postseason.