Court Vision: Playoff lessons and looking ahead, 4/28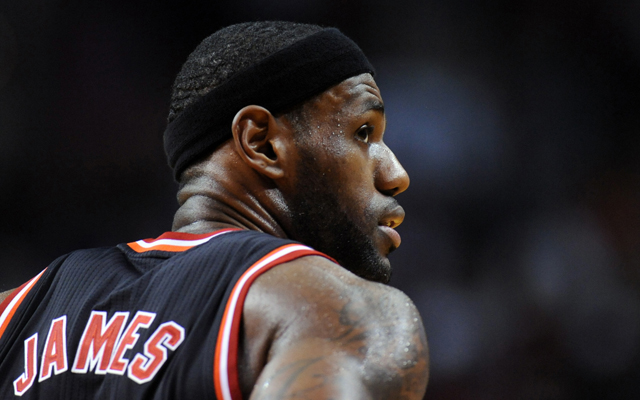 More postseason coverage: Playoff schedule, results | Top contributors
Here's what we learned from the playoffs on Monday, April 28.
Spurs 93, Mavericks 89: Series tied at 2-2
• We learned what we already knew: This was never going to be this easy for the Mavs.
• The Spurs trailed by 10 early, then made an impressive second-quarter push outscoring Dallas 32-13 in the period. The Spurs led by double-digits most of the second half before the Mavs made a run at the end of the third to make the lead manageable.
• Boris Diaw, difference-maker. He had 17 points, including a massive 3 with 50 seconds left to break a deadlock.
• Incredible: Dirk has been held under 20 points in all four games.
• The Spurs' bench won this game for them. Their starters had a combined 45 points. Their bench had 50, led by Manu Ginobili's 23.
• Monta Ellis has been a major problem for the Spurs so far, but they kept him in check tonight, hedging higher in the pick-and-roll and taking away his midrange pullups. Ellis finished with 20, but on just 6-of-20 shooting.
• The Mavs missed 10 free throws. That stings.
• A very big swing in the game was DeJuan Blair -- who had a double-double in 16 minutes -- kicking Tiago Splitter in the head. Not only did it result in Blair being ejected, but the foul plus a technical turned a one-point Mavs lead into a two-point deficit with three minutes left.
• The series is squared at 2-2, with both teams feeling like a 3-1 lead was within their grasp. The Spurs came back to sneak out with a Game 1 victory, and the Mavs stole Game 3. Game 4 was a toss up, and this time it was the Spurs who made the critical plays down the stretch.
Hawks 107, Pacers 97: Hawks lead series 3-2
• We learned that Game 4 didn't end up meaning anything at all. After a performance that had the potential to finally turn the tide for the Pacers, uniting them in a positive direction and shaking off the dysfunction and problems of the last couple months, Game 5 threw all of that completely out the window.
• We learned that you probably need to guard Mike Scott. The Hawks forward was FIRE in the first half. He hit 5-5 from 3 in the second quarter, opening up the game and giving the Hawks a big lead early on.
• The Pacers didn't quit, though. They trimmed a 30-point deficit to single-digits with a few minutes left, but a ridiculously deep 3 from Kyle Korver and a dagger pull-up from Paul Millsap put the comeback down.
• Frank Vogel attempted to make a significant rotational change by dusting off Chris Copeland. It was effective (Copeland was a plus-17 in 20 minutes) but it really might not mean much. Playing Copeland means the Pacers can match up and even dictate lineups, but it also means they're taking their own best players off the floor by choice.
• Roy Hibbert: 12 minutes, zero points, zero rebounds, one block, one assist, four fouls and a minus-seven.
• Blockbuster trade deadline piece Evan Turner: Four minutes and save for a missed shot and a turnover, he would've had a four trillion.
• A nice summary of the Pacers right now:
• A big issue for the Pacers is that their defense is completely letting them down. The Hawks hit 15 of 27 from 3, and so many of them were open looks. The Pacers aren't an offensive force and make their living on the defensive end. That's killing them right now.
• Impressive balance from the Hawks with six players in double-figures. The Pacers don't know who to guard and they can't put Paul George on five guys at one time.
• Do the Pacers have any hope? Let's not forget one simple fact: The Hawks were a 38-win team this season. They deserve a lot of credit for taking it to the Pacers, but this isn't some sleeping giant that has turned it on for the postseason. This is as much about the Pacers as it is the Hawks. The Pacers have given the Hawks a belief, and that's dangerous. But even with the problems, a win in Atlanta brings things back for a winner-take-all Game 7. That's all the Pacers have to think about. Get back to Indy.
Heat 109, Bobcats 98: Heat win series 4-0
• We learned that the Heat didn't have much trouble clicking back over to playoff mode. Yes, the Bobcats were desperately missing Al Jefferson's presence, but the Heat were always going to come out of this series.
• We learned the Bobcats have a future. The Heat dispatched them without too much effort, but the Bobcats were in a postseason series with a plus-.500 record just two seasons after winning only seven total games. That's an achievement. They have a quality core of young players who appear to be on the right track with their development, and a head man that can flat out coach in Steve Clifford. Things are looking up in Charlotte.
• Dwyane Wade? He looks to be fine. He averaged 17.5 points on 49 percent shooting. His health is always at the center of the Heat's playoff hopes, and he appeared to be rounding into form just fine.
• We didn't learn this, but we were reminded that LeBron James is pretty darn amazing. His Game 4 was an effortless 31 points on 10-of-19 shooting with seven rebounds and nine assists. He dominated every game without too much energy, shrugging off the defensive physicality of the Bobcats.
• Kemba Walker gave it an outstanding shot in Game 4. Without Jefferson, it was clear that he was the only hope the Bobcats had in extending the series, and he tried, man. Walker went for 29 on 11-of-15 shooting plus five rebounds and five assists. At times, Walker had the look of an unguardable player with his darting moves and yo-yo handle. He's just got to bottle it and be able to produce consistently.
• A sense of relief: It would've been super awkward for the Bobcats to have won an NBA title this year, and then switch to Hornets next season. How would they have raised that banner? What would it have said?
• The Heat now wait for either the Nets or the Raptors. You have to think they prefer the Raptors, right? The Nets went 4-0 against them this season, and are basically Boston south with Kevin Garnett and Paul Pierce. Even though LeBron has solved those guys in the past, he probably would rather see another young, inexperienced team in the Raptors.
Questions for Tuesday, April 29th:
Thunder-Grizzlies Game 5: The Thunder and Grizzlies have played three consecutive overtime games, but OKC got maybe the most important one, taking a must-win Game 4 to even the series 2-2. Game 5 will break the deadlock and give one of the teams a chance to wrap the series in six. Can the Thunder ride the wave of momentum to a big swing-game win? Or will the Grizzlies throw a patented haymaker back and resume control?
Wizards-Bulls Game 5: The Wizards are in a terrific position, with a chance to finish the Bulls and advance in five games. But here's the scary part: They have to do it on the road in Chicago, and not helping is the fact they're a young team with limited postseason experience while going against one of the more determined, resilient teams in the league. Will the young Wizards be able to put together another performance? Winning the clinching game is the hardest thing to do in a series, and it's going to take a big effort to do it.
Clippers-Warriors Game 5: All eyes will be on Staples Center Tuesday night. How will the Clippers respond to the loss in Game 4? What will the atmosphere look like? Will the fans boycott? Will there be demonstrations? Will there be any issues? And how will the Clippers play? They need this game badly, but with their emotions likely to be all over the place, can they focus on the task at hand?