Report: Bulls could look to trade Carlos Boozer instead of using amnesty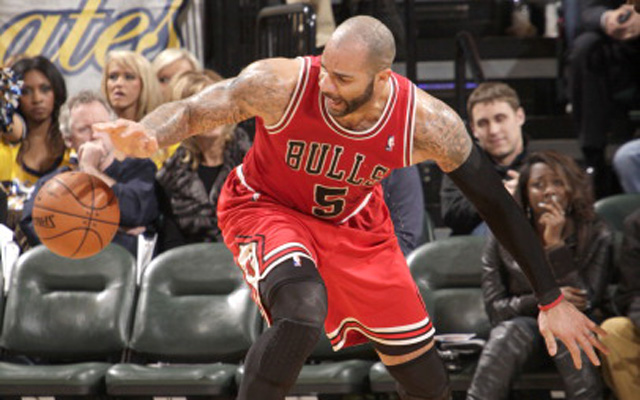 ESPN reports that the Bulls will endeavor to trade Carlos Boozer this summer instead of using the amnesty provision on him.
But here's the thing: You continue to hear rumbles that Bulls chairman Jerry Reinsdorf is adamantly against the idea of setting Boozer free via amnesty, even though the 32-year-old is finally poised to enter the final year of his contract, valued in 2014-15 at $16.8 million.

Sources briefed on Chicago's thinking say the Bulls are going to do everything they can to try to find a trading partner for Boozer before seriously considering the amnesty option.

Bear in mind that Chicago essentially has until July 15 to craft a deal that finds a new home for Boozer after a season in which he lost much of his fourth-quarter run to Taj Gibson. The NBA's amnesty window this summer runs through July 10-16.
via Summer Scoop: Chicago's next step - Marc Stein Blog - ESPN.
Reinsdorf has typically pushed the team to avoid the luxury tax, so the idea of just popping out for $16.8 million in dead money for Boozer probably isn't just sliding by.
And he may not have to. At $16.8 Boozer has value as an expiring contract, and for teams looking for back-to-the-basket veteran scorers, he's a great fit. It's not inconceivable that the Bulls could get offers for him. But if they don't, on account of teams being aware of the bind they're in when it comes to having to amnesty him, the Bulls could face a tough decision.
The only way for the Bulls to pursue Carmelo Anthony or another major free agent would be to clear Boozer's $16 million off the books, unless they did something radical and drastic with Rose or Noah, which seems unlikely.
Additionally, if they were to amnesty with him, and a bidding war were to ensue, the money a team pays for Boozer comes off of what the Bulls have to pay him. So if a team puts in even a $4 million offer for Boozer, that drops the Bulls' commitment for him to $12 million. So there's a lot for the Bulls to weigh.
But it doesn't look like Boozer is long for the Bulls.
Talked to Boozer by phone. Said management told him they haven't decided on his future, lauded him for professionalism through reduced PT.

— K.C. Johnson (@KCJHoop) April 30, 2014
Boozer: "I would love to be back in a Bulls uniform. We have a team that I don't feel has reached our potential, mostly due to injuries."

— K.C. Johnson (@KCJHoop) April 30, 2014