NBA Playoffs: Bomber Hawks run out of 3-point ammo in Game 7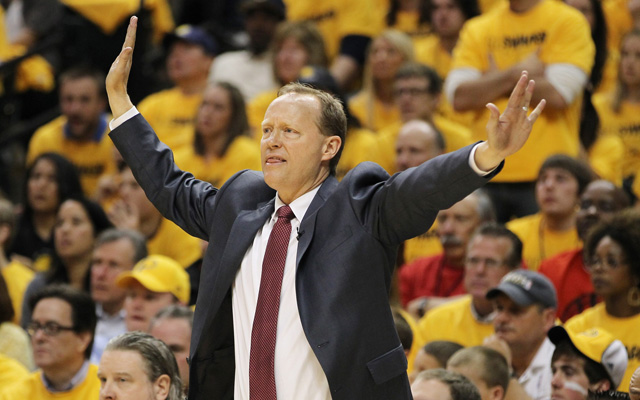 More postseason coverage: Playoff schedule, results | Latest news, notes
In Game 7s, a lot of the time it just comes down to who shoots better. The Atlanta Hawks had pushed the Indiana Pacers to the brink of elimination by going five-out and shooting a supremely high number of 3s. They broke the record for the most 3-point attempts in a single series, launching a record 44 3s in Game 7.
Unfortunately, for Atlanta, they only connected on 11 of them. They shot 25 percent from 3 in Game 7. Sometimes it's that simple. They just didn't hit.
For the Hawks, the tactic was a smart one. Even when they weren't hitting in the first half, continuing to launch was still their best strategy. That approach was a genius move by Mike Budenholzer. While everyone focuses on the disaster the Pacers had to avoid, the work by Budenholzer should not be overlooked. He constructed a strategy to give the eighth seed, without their best player in Al Horford, a legitimate chance to upset the No. 1 seed.
It wasn't just the five-out strategy, either. It was the way they attacked the baseline drives that the Pacers like to go for, and how they used Jeff Teague rejecting the screen in the pick and roll. He had guys ready to play, often guys who don't have stellar reputations in this league, and they fought and battled and most importantly, they played smart. That remind you of anyone? Oh, by the way, Bud's a Pop disciple.
The shots just didn't fall.
The Hawks can't be too upset about this. They had a good year, and if nothing else, they learned that Jeff Teague and Paul Millsap are worthy of building around, and that Budenholzer is "the guy" for the future. They were well coached the entire season and that gives them something to rely on going forward. With cap space, trade assets, multiple draft picks and a good coach, the Hawks have a lot to be excited about.
Maybe next time, those shots will go down.