Warriors and Clippers involved in post-Game 7 altercation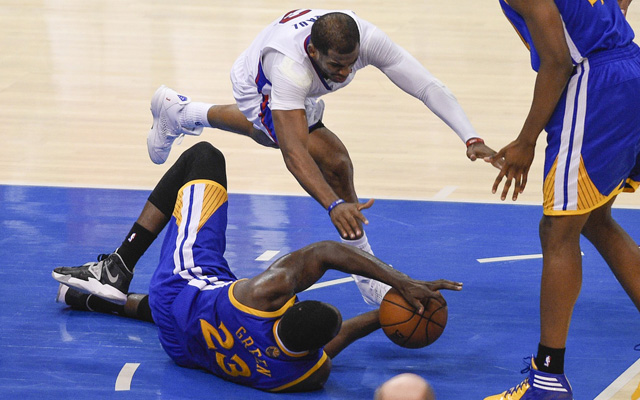 More postseason coverage: Playoff schedule, results | Latest news, notes
The Clippers and Warriors hate each other. And while the two managed not to get into a single serious altercation during their seven-game series, a major upset, which the Clippers won Saturday, the two naturally did get into it... in the locker room area after the game.
It all began with someone shouting near the Warriors' locker room, "It's awfully quiet in there now." They said it again. And again. The Warriors, still fuming from a nail-biting 126-121 loss to end their season, went out to confront the taunters. They didn't find any clear culprits. Some among the Warriors suspected it was a Clippers assistant coach. But one source from the Clippers end say that wasn't possible because everyone was accounted for in their locker room. When the Warriors got to the hall, they wound up shouting back at what turned out to be some Clippers ball boys. Just as that situation was dying down, several Clippers players came out of their locker room. As usual, they were led by Chris Paul — who has made a home under the skin of Warriors players. With now a collection of Clippers and Warriors in the hall, the mouthing picked back up. Before long, Marreese Speights — who I'm told was clearly an aggressor — ended up jawing with Glen Davis and the two had to be separated. No punches were thrown, according to multiple sources, but police were needed to break up the ruckus and make sure it didn't escalate.
via Warriors-Clippers Cap Riveting Series With Yet Another Altercation – Marcus Thompson II.
The two teams have had multiple altercations throughout the year, including the point where the Clippers refused to share chapel with the Warriors. It was an emotional series, not only with the aftermath of the Donald Sterling fiasco, but with the bubbling controversy over Mark Jackson's coaching future.
Don't expect these two teams to be any more fond of each other next season. This isn't over.