Nets find toughness to advance past Raptors thanks to June trade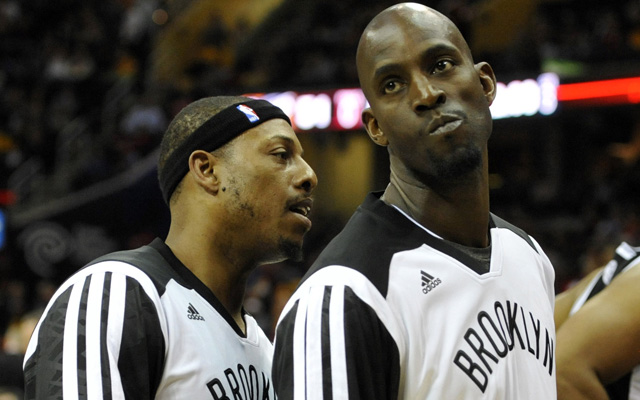 More postseason coverage: Playoff schedule, results | Latest news, notes
In the Nets' inaugural season in Brooklyn, they went to seven games against the Chicago Bulls. Against a team without Derrick Rose, without Luol Deng, and with Joakim Noah on one foot (plantar fasciitis), the Nets should have rolled. Instead, they rolled over, and the Nets lost at home in Game 7 to Chicago, an ignominous end to their glorious brand debut season.
Over the summer, the Nets capitalized on an opportunity, trading for Paul Pierce and Kevin Garnett, available with the Celtics rebuilding. The money was no limitation for Brooklyn, that's their M.O. Whatever it costs to win and expand the brand, it's worth it.
And in Game 7 vs. the Toronto Raptors, that investment paid off as Brooklyn barely survived a furious Raptors comeback 104-103. The Nets move on to face Miami in the second round.
And though it got dicey down the stretch, Brooklyn closed behind Pierce and Garnett. Garnett made play after play, hitting huge shots and disrupting the Raptors' simplistic offense. Pierce finished off the Raptors with a key defensive play on Kyle Lowry on the final possession.
The Nets kept the Raptors at arm's length throughout the series with those kinds of plays. Joe Johnson, who was also limited by plantar fasciitis vs. the Bulls last season, came through in a big way. Veteran experience, as cliche as that is, beat the inexprienced Raptors. The Nets lacked the ability to respond last season, so they traded for that ability.
Whether it's enough to be Miami is another question. For now, the Nets' investment in age and experience has brought the results they wanted, and the most compelling Eastern Conference semifinal (Indiana-Washington is the other half of the bracket) is set.
Talent is important, matchups matter, but sometimes in Game 7 it comes down to which team is mentally tough. The Nets knew they weren't tough enough last year. So they went out and got it.