David West on Roy Hibbert: 'He's got to be part of the fight'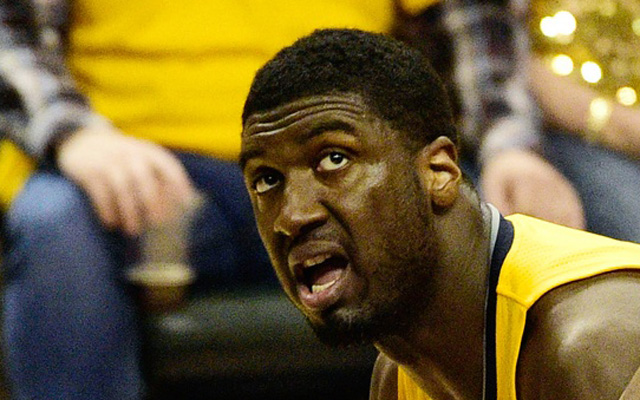 More postseason coverage: Playoff schedule, results | Latest news, notes
Roy Hibbert didn't score a single point on Monday. It was his third scoreless outing in eight playoff games. The 7'2, 290-pound Indiana Pacers center didn't grab a rebound, either. In 18 minutes against the Washington Wizards, he collected five fouls, shot 0-for-2 from the field and the Pacers were outscored by 17 points.
Some thought the matchup with Washington would change Hibbert's poor postseason fortunes, but, at least after Game 1, that doesn't appear to be the case. In a postgame scrum following Indiana's 102-96 loss, forward David West strongly spoke up about his frontcourt partner.
A beyond furious David West, on Hibbert: "He's got to be part of the fight. H's got to be part of this thing for us to go anywhere."

— Scott Agness (@ScottAgness) May 6, 2014
Hibbert is averaging 4.6 points and 3.3 rebounds in 21 minutes per game in the playoffs, shooting 36 percent from the field. The big man ended the regular season in a serious slump, but this is a new low. Forward Paul George echoed West in saying that Hibbert must contribute if the Pacer are going to get where they want to go.
Paul George on Hibbert: "We're at the point where we really need Roy and we need him now."

— Candace Buckner (@CandaceDBuckner) May 6, 2014
PG: "(It) comes down to us having heart and rebounding the ball. We need our big fella to rebound the ball for us…"

— Candace Buckner (@CandaceDBuckner) May 6, 2014
West, Hibbert and veteran forward Rasual Butler reportedly had a private talk in the weight room, but declined to comment on it, via Scott Agness of Pacers.com.
Hibbert himself acknowledged that things needed to change.
Roy Hibbert: "I'm going to change some things up for the second game. I'm going to look within myself and go out there and figure it out."

— Scott Agness (@ScottAgness) May 6, 2014
Hibbert: "I got to come out and be aggressive. I got to be a different Roy Hibbert than I have been."

— Scott Agness (@ScottAgness) May 6, 2014
The increasingly concerning issue is that this version of Hibbert has become the norm. His 13-point, seven-rebound, five-block performance in Game 7 against the Atlanta Hawks was the only time he'd reached double figures in the last month. He clearly didn't fit against a Hawks team with numerous three-point-shooting bigs, but the Wizards don't pose the same problem.
Washington is a solid team, though, and it has proven capable of creating good looks against the Chicago Bulls' stingy defense. Indiana will have to be much better than it was against Atlanta in order to advance past the second round. It's hard to imagine it happening without Hibbert playing a bigger part.