Tiago Splitter keeping LaMarcus Aldridge in check in Blazers-Spurs series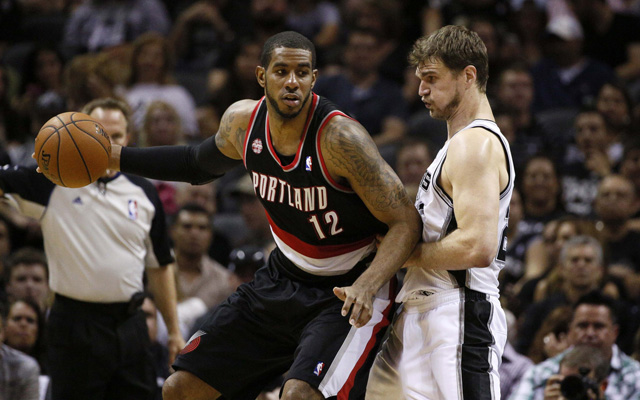 The Blazers are struggling vs. the San Antonio Spurs in their second-round matchup. Their offense has fallen off a cliff, their defense is getting gouged, and they don't seem to have any answer for what the Spurs are doing.
A large part of that has been how the Spurs have defended superstar LaMarcus Aldridge. Aldridge was phenomenal in the first-round vs. the Rockets, where Houston's lack of a long, agile defender allowed Aldridge to feast. But the Spurs have had phenomenal success with putting center Tiago Splitter on Aldridge. Hardwood Paroxysm noted how he's done it:
What makes Splitter so special defensively is his ability, at 6-foot-11, to stick with Aldridge when he puts the ball on the floor. For the Rockets, Omer Asik had the size to contest Aldridge's mid-range jumpers, but not the foot speed to keep up with him in half-court sets. Conversely, Terrence Jones had the quickness to stay in front of Aldridge, but neither the strength nor size to slow him down on the low block.

Splitter also uses his body perfectly, taking each hit on Aldridge's back-downs in the middle of his chest, ensuring that he stays in front of him at all times. And just for good measure, he's able to crowd the ball handler without fouling (Aldridge only attempted four free throws in Game 2). Splitter has never been a shot-blocker — one of the many things for which he has received criticism since he entered the league four years ago — but in matchups against dynamic, outside-shooting power forwards like Aldridge and Nowitzki* that works in his favor. Knowing that the chances of him blocking Aldridge's shot are razor thin, Splitter focuses on staying on the ground, and using his length to frustrate him by getting a hand in his face. He also does a good job of staying on Aldridge's right hip, which forces him middle and stops him from shooting his patented fadeaway jumper over his right shoulder.
via San Antonio Spurs: How Tiago Splitter has slowed LaMarcus Aldridge.
Here's video:
I thought Splitter's $9 milion per year deal was overpaying for the big man this summer, but at age 29, he improved tremendously at both ends of the floor. He's not only well worth the money the Spurs are paying him, he's become a bit of a steal. Imagine that, the Spurs being ahead of the curve.
Game 3 is Saturday, and unless the Blazers come up with a whole lot of adjustments really quickly, this series could get away from them fast.