Amid chaos, Russell Westbrook owned Game 5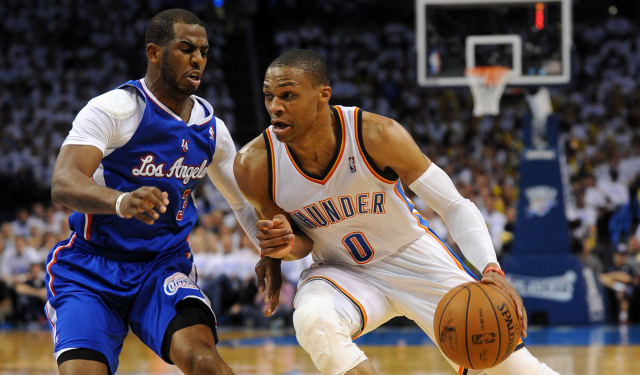 More postseason coverage: Playoff schedule, results | Latest news, notes
The ending of the Oklahoma City Thunder's 105-104 victory against the Los Angeles Clippers in Game 5 on Tuesday was stupefying. The Thunder scored the last eight points and ended the game on a 17-3 run.
The postgame podium served as a stage for Clipper frustration. Doc Rivers lost it, unleashing a tirade over a crucial call. Chris Paul, who committed a pair of late-game turnovers, blamed himself for the loss and pounded on the door as he exited the room.
The last 49 seconds of the game were the focus of most of the conversation, and everyone in attendance or watching at home needed a little while to wrap his or her head around what just took place. It would be a shame, however, if what Russell Westbrook did all night ended up getting lost in the madness. After all, he did finish with a game-high 38 points on 11-of-23 shooting, six assists and five rebounds.
As soon as Kevin Durant — the man who scored five of those final eight points after a relatively quiet performance overall — had a chance, he gave credit to his flamboyantly dressed co-star seated beside him. Durant might be the MVP, but Westbrook was the best player on the court.
"Russell carried us the whole game and definitely put me in position to hit those shots," Durant said.
While Durant struggled, hounded by Los Angeles' Matt Barnes and taking all sorts of tough shots, Westbrook kept Oklahoma City afloat. In the third quarter in particular, Westbrook went off, scoring 14 points on 5-of-7 shooting while Jamal Crawford got going for the Clippers and Durant shot only 1 for 8 on mostly contested looks.
The point guard did what he has done in all three of Oklahoma City's wins: refusing to let Los Angeles dictate the game. In transition, he was as unstoppable as usual, and in the halfcourt he was relentless. He scored 14 points in the paint and 14 from the foul line. That included the three free throws that sealed it, after being fouled by Paul behind the 3-point line. When Westbrook was lining those shots up, after his team had fought so hard to come back, with the arena a mix of excited and nervous, Durant couldn't watch.
After the game's final possession, Paul walked off the court angrily, having just turned the ball over and given away the game. Rivers took his time leaving, berating referees before he made his way to the locker room.
In all that commotion, with the crowd delirious, Durant ran over to Westbrook and lifted him up. It was only right; as Durant said, his point guard had carried the Thunder the whole way.