Court Vision: Playoff lessons as Miami advances to next round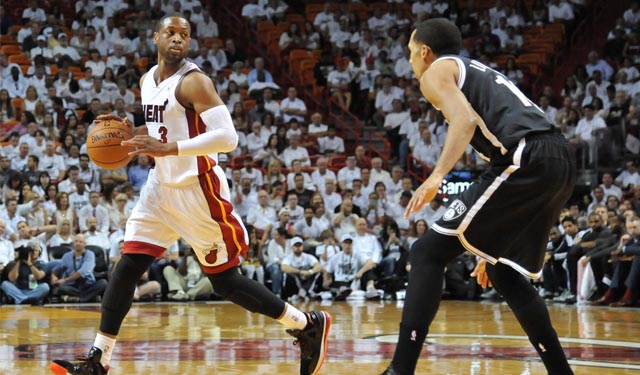 More postseason coverage: Playoff schedule, results | Latest news, notes
Here's what we learned in the NBA Playoffs on Wednesday, May 14, 2014 as we got the end of the series between the Miami Heat and the Brooklyn Nets with the Heat closing out Game 5 at home.
Miami Heat 96, Brooklyn Nets 94 | Heat win the series 4-1
• We learned that no lead is safe in the 2014 NBA Playoffs. The Brooklyn Nets were up 91-83 with under three minutes to go in the game. If they close out Game 5, then they have Game 6 at home and a good chance to force a Game 7. Even with the Game 7 being in Miami, you're essentially giving yourself a coin flip's chance to extend this series and really make it hard on the Miami Heat. And yet, a 12-0 run took away their lead and they fumbled away the final possession multiple times before finally having their season ended.
• How did that 12-0 run happen? Dwyane Wade found LeBron James for a 3-pointer to cut it to five. Paul Pierce missed a couple of shots. Wade hit a score off the pass from Mario Chalmers. LeBron blocked a shot in the lane by Joe Johnson then got to the free throw line for two points. Johnson missed a huge 3-point attempt and then Brooklyn gave one up to Ray Allen, who got the ball from a great extra pass by Chalmers. Allen hit a couple free throws after Shaun Livingston missed in the post. That's your 12-0 run in less than three minutes with the Nets' season on the line.
• The Nets wasted an incredible second half effort from Joe Johnson. He scored 24 of his 34 points in the second half, splitting the third and fourth quarter evenly with 12 points a piece. Joe Jesus tried to save his team, scoring from all over the floor and even giving them a little life in the last minute when he hit a huge 3-pointer to bring it within one, but he lost the ball on the final possession and never got a shot off to try to tie the game. Great game though.
• LeBron also had a big second half, scoring 20 of his 29 points after halftime. He got the free throw line for 10 of those points on 12 attempts. He nearly gave the Nets too much life by missing one of the two free throws in the final seconds that would have pushed the lead to three, but he helped come up with the defensive play that kept Johnson from getting a shot off.
• Chalmers didn't make a single shot but his passing was fantastic. He had seven assists on the night, including two huge passes for scores in that 12-0 run.
• If this was Kevin Garnett's last game, he finished his career with two points on three shots in 25 minutes and eight rebounds.
• Dwyane Wade carried his team early with 20 points in the first half. He finished with 28 overall, but while LeBron took some time to get going and the Heat battled the Nets for control of the game, Wade kept pace with whatever Brooklyn did.
• We had pretty much the same play as the controversial out-of-bounds play in last night's Clippers-Thunder game too! Paul Pierce's right hand was slapped and the ball went off of him. The refs reviewed in and gave the ball to the Nets. Apparently this review had conclusive evidence.
• If the Indiana Pacers win Game 6 in Washington D.C. tomorrow, Game 1 of the Eastern Conference finals will start Sunday in Indianapolis.
Spurs 102 Blazers 82 | Spurs win series 4-1
• The Spurs did their thing. Tony Parker left in the first quarter with hamstring tightness, but it didn't matter. The Blazers battled until halfway through the second, and then, in a burst, it was over.
• The Blazers in this game, like in all of their losses, were basically trying to hang on to a rope attached to a plane. You have to hold on the entire time. If you slip a bit, you're gone. They slipped in that second quarter. And that was it.
• Kawhi Leonard has evolved into some sort of next level hybrid predator. He struggled a bit this year coming back from knee injury, coming back from missing an offseason, coming back from in-season injury. He's healthy and he's chasing down loose balls and converting them into explosions. He gives the Spurs a different dynamic. He's their gamechanger now.
• You have to be able to slow down Duncan's turnaround. You can't stop it, but you have to deter it, you have to limit it. The Blazers couldn't at all, in any way.
• Damian Lillard fought. Nicolas Batum fought. LaMarcus Aldridge and Wes Matthews fought. Robin Lopez tried. But it just wasn't enough.
• The Spurs hit them in waves, constantly flowing in players that were dangerous. And every little bit hit the Blazers. They kept their gloves up for much of the first half, but when they dropped for a second, it was done.
• Six turnovers for the Spurs. Six.
• 47 percent from the field. 43 percent from three. 24 assists on 42 buckets.
• The Spurs have off until at least Sunday to get Parker healthy.
• When you sweep a team but give them one, to be polite? That's called a gentleman's sweep.