Report: Derek Fisher is Knicks' front-runner for head coach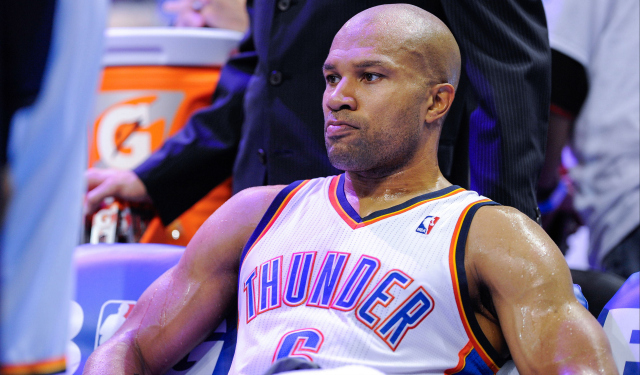 More Offseason Analysis: Coaching changes, news | Free Agency | Draft
The New York Knicks' coaching search will be rather different from other teams', as it appears Knicks president Phil Jackson would like to bring in someone from his circle. Derek Fisher is the front-runner, according to the New York Daily News' Frank Isola, and Tyronn Lue and Luke Walton also will be among those considered, according to ESPN's Marc Stein and Ramona Shelburne. The idea would be for Jackson to mentor the new coach. From Isola:
Jackson's plan, according to a source, would be to assemble an experienced staff around Fisher which could potentially include Kurt Rambis and Bill Cartwright, two former NBA head coaches. Jackson thinks highly of Rambis, the long-time Lakers assistant, and there is a possibility that Rambis could be hired as a head coach.

The one reservation, according to a source, is that Rambis wouldn't make a big splash like Fisher or Kerr.
Jackson will also see where the Denver Nuggets stand with their head coach, Brian Shaw, according to ESPN, though Shaw -- a former player and assistant coach under Jackson with the Los Angeles Lakers -- has previously stated that he does not intend to leave Denver.
Iowa State coach Fred Hoiberg is also on the radar, according to ESPN's Chris Broussard, but the Minnesota Timberwolves reportedly failed to woo him and he just signed a new contract with the Cyclones.
Fisher, Lue and Walton all played for Jackson in Los Angeles. Fisher is playing for the Oklahoma City Thunder at the moment and has no coaching experience, but it's not hard to envision him making a Jason Kidd-like transition.
Lue has spent the past five seasons working under Doc Rivers, first with the Boston Celtics and now with the Los Angeles Clippers. Walton served as an assistant with the Memphis Tigers during the 2011 NBA lockout, and spent this season as a Los Angeles D-Fenders assistant coach and a Lakers television analyst.
Knicks general manager Steve Mills spoke with Scottie Pippen at the NBA draft combine on Thursday about potentially joining the organization, "possibly as an assistant coach," according to the New York Post's Marc Berman.