Historical study: When the top 4 seeds reach the conference finals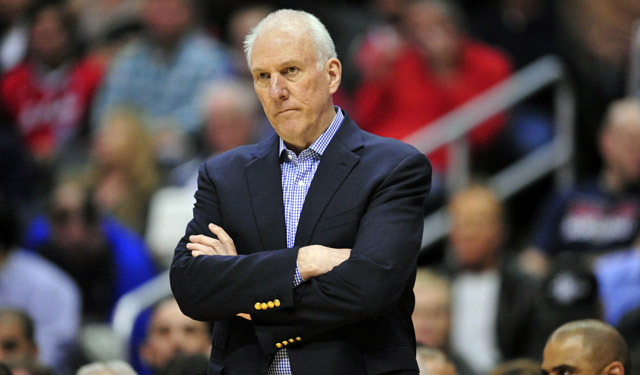 More postseason coverage: Playoff schedule, results | Latest news, notes
The 2014 postseason will mark just the fourth time in the 16-team NBA playoff era (1984-present) that the conference finals round will include all four top seeds, and we at Eye on Basketball love ourselves a historical curiosity.
Never has an "all chalk" conference finals round yielded two No. 1 seeds in the Finals, which is perhaps bad news for you lovers of heavyweight battles, and worrying if you're a Spurs or Pacers fan.
Here's how the round has played out on the three previous occasions of ones vs. twos (regular season records in parentheses).
1986
Eastern Conference Finals: No. 1 Boston Celtics (67-15) over No. 2 Milwaukee Bucks (57-25), 4-0
Western Conference Finals: No. 2 Houston Rockets (51-31) over No. 1 Los Angeles Lakers (62-20), 4-1
Summary of events: After steamrolling the Bulls (3-0) and Hawks (4-1) in the first two rounds, the Celtics dispensed the Bucks in four games, to the surprise of absolutely no one. The big shock was on the other side of the bracket, where the Twin Towers-era Rockets (great oral history HERE) stunned the almighty Lakers in five games before falling to Boston in six in the Finals.
2001
Eastern Conference Finals: No. 1 Philadelphia 76ers (56-26) over No. 2 Milwaukee Bucks (52-30), 4-3
Western Conference Finals: No. 2 Los Angeles Lakers (56-26) over No. 1 San Antonio Spurs (58-24), 4-0
Summary of events: Difficult though it may be to fathom a time when the Sixers and Bucks were concurrently mentioned in the proximity of the word "championship," the two played a highly entertaining seven-game series in which the Allen Iverson-Dikembe Mutombo Sixers outlasted the Ray Allen-Glenn Robinson-Sam Cassell Bucks. There was far less drama out West, where the lower-seeded but more talented Lakers, with Shaq and Kobe in their prime, crushed the Spurs by an average of 22.3 points per win before outclassing Philly (4-1) for the second of three straight titles.
2005
Eastern Conference Finals: No. 2 Detroit Pistons (54-28) over No. 1 Miami Heat (59-23), 4-3
Western Conference Finals: No. 2 San Antonio Spurs (59-23) over No. 1 Phoenix Suns (62-20), 4-1
Summary of events: The Larry Brown-coached Pistons reached the Finals for a second straight year, recovering from a 2-1 deficit and benefiting from a rib injury that sidelined the Heat's Dwyane Wade in Game 6 and limited him in Game 7. Meanwhile in the West, the high-scoring Suns of Amar'e Stoudemire, Steve Nash and Joe Johnson could not contain the Tim Duncan-Tony Parker-Manu Ginobili Spurs (whatever happened to those guys?), who made relatively short work of Mike D'Antoni's team before outlasting Detroit in seven games for the NBA title.
...and when No. 1 seeds face off in the Finals
The all-chalk conference finals also leaves open the possibility of a pair of top seeds reaching the Finals. No. 1 playing No. 1 has happened 10 times since the playoffs expanded in 1984, but just once in the past 13 seasons (regular season records in parentheses):
1984: Boston Celtics (62-20) over Los Angeles Lakers (54-28), 4-3
1985: Los Angeles Lakers (62-20) over Boston Celtics (63-19), 4-2
1987: Los Angeles Lakers (65-17) over Boston Celtics (59-23), 4-2
1989: Detroit Pistons (63-19) over Los Angeles Lakers (57-25), 4-0
1992: Chicago Bulls (67-15) over Portland Trail Blazers (57-25), 4-2
1996: Chicago Bulls (72-10) over Seattle SuperSonics (64-18), 4-2
1997: Chicago Bulls (69-13) over Utah Jazz (64-18), 4-2
1998: Chicago Bulls (62-20) over Utah Jazz (62-20), 4-2
2000: Los Angeles Lakers (67-15) over Indiana Pacers (56-26), 4-2
2008: Boston Celtics (66-16) over Los Angeles Lakers (57-25), 4-2