Report: Phil Jackson told Raymond Felton he will be traded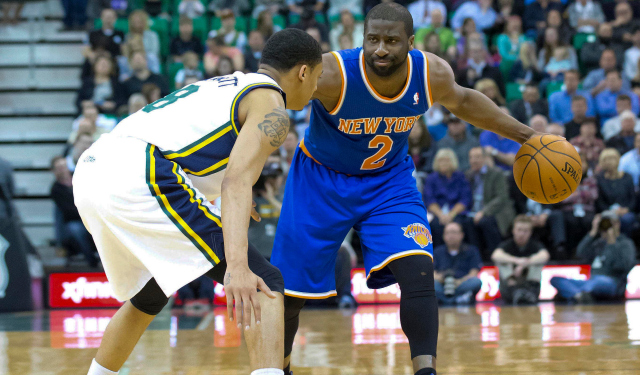 More NBA: Season Awards | Grades: East | Grades: West | Seasons in Review
New York Knicks president Phil Jackson told Raymond Felton that he will be traded this offseason, according to SNY.tv's Adam Zagoria. The conversation reportedly took place during the point guard's exit meeting.
Felton had the worst year of his career by almost any statistical measure in 2013-2014, with the possible exception of his disastrous 2011-2012 season with the Portland Trail Blazers, where Felton said his coach didn't have confidence in him and the team mocked him on social media after he had left. Battling an assortment of injuries, Felton posted averages of 9.7 points, 5.6 assists and 3.0 rebounds per game for the Knicks, suiting up in 65 games and shooting 39.5 percent from the field, 31.8 percent from the three-point line.
It is unclear what Jackson will be looking for in terms of a replacement for Felton, though historically he preferred taller floor generals as a coach. Felton is set to make $3.79 million in 2014-2015, and he has a player option for $3.95 million in 2015-2016. If he returns to optimal health, that's not a bad deal, but teams might be wary of acquiring him after he was arrested and charged with two felony weapons counts in February. He has a court date on June 2.
The Knicks went 37-45 last season, and Jackson wants to change the culture and the offensive system. Roster changes should be expected.