The NCAA blocked a Stephen Curry vs. Nik Stauskas 3-point contest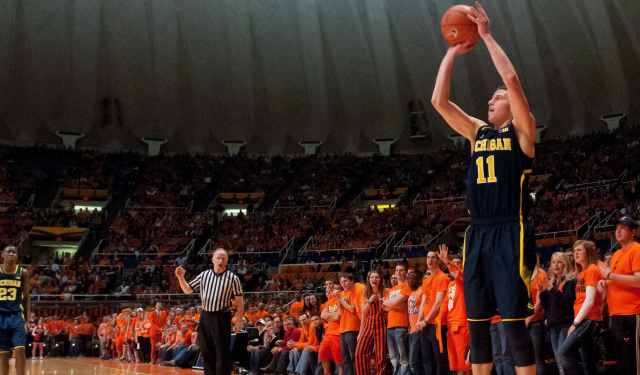 More Offseason Analysis: Coaching changes, news | Free Agency | Draft
Nik Stauskas almost had a 3-point competition in his backyard against Stephen Curry, but it would have violated NCAA rules, the Michigan guard prospect told reporters at the NBA Draft Combine in Chicago, via the Detroit Free Press.
"He challenged me. We tried to do it and the NCAA had some restrictions with playing against a professional and having a competition," Stauskas said at today's NBA predraft combine. "It couldn't happen, so hopefully we can still make that happen one day."

The whole challenge was set to be televised by TSN, the Canadian version of ESPN, Stauskas said.

"His people set a date for mid-July that they wanted to do it and of course I checked with Tom Wywrot our (Michigan) media guy and of course there was some NCAA violations and all of that stuff, so we couldn't do it. Me and Steph, in the backyard."
This all happened because, 13 months ago, the Golden State Warriors star guard saw a video Stauskas uploaded to YouTube. In it, the native of Mississauga, Ont., made 70 of 76 3-pointers on his backyard basketball court. (His father was either going to install a court, a putting green or a pool outside their home, and settled on the court because of Stauskas' enthusiasm for basketball when he was in the fifth grade, via the Canadian Press' Lori Ewing.)
3pt contest sometime @NStauskas11 ????? this is Impressive http://t.co/Ofj6HrpggQ

— Stephen Curry (@StephenCurry30) April 25, 2013
Stauskas said in Chicago that "[Curry] is not beating me in my backyard" and he's "always game for a three-point challenge," so perhaps now that he is free of NCAA restrictions, the competition could actually take place. Curry's probably the best shooter on the planet, and Stauskas is probably the best one in the draft, so it would be fun.
It would have been fun last summer, too. Thanks, NCAA!