Lance Stephenson says he needs to make Dwyane Wade's knee 'flare up'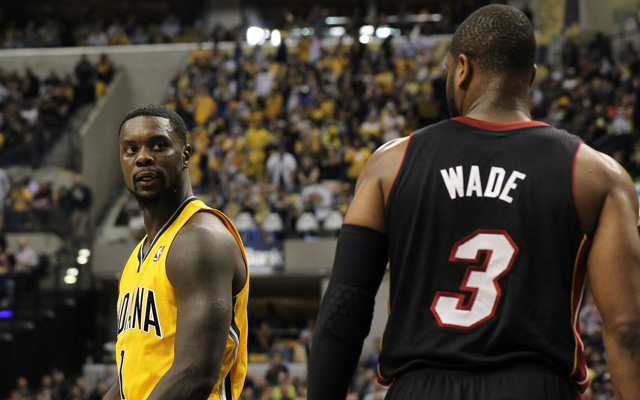 More postseason coverage: Playoff schedule, results | Latest news, notes
We've already covered how the Pacers and Heat have bad blood, which Dwyane Wade says is an advantage for Miami. And we've talked about the way that Wade and Lance Stephenson keep getting into scuffles. This probably isn't going to help matters. Stephenson said on Saturday that he plans on trying to make Wade's consistently-injured knees "flare up."
"D. Wade — I think his knee is messed up, so I've got to be extra aggressive and make him run and have him running around and make his knee flare up or something," he said after the Pacers practiced this afternoon. "I'll do anything as much as possible."

"It's just basketball," Stephenson said. "If I see D. Wade walking in the street, I won't try to get him. It's just basketball and just playing hard against each other. We both have a goal and neither of is gonna allow that to happen easily. I don't got no problems with them, but on the court there's no friends."
via Lance Stephenson wants to make Dwyane Wade's knee "flare up" | Heat Zone.
There's no indication of dirty play there, so that needs to be kept in mind. But it is an acknowledgement of Wade's knee which has caused him to miss significant time over the years. Stephenson should be aggressive, he should use his athleticism. He should try and get Wade moving. But bringing up the idea of making his knee "flare up" probably won't make Wade like him any more, if that's possible.
Game 1 between Miami and Indiana is Sunday.