Thunder struggling to find rest for Durant and Westbrook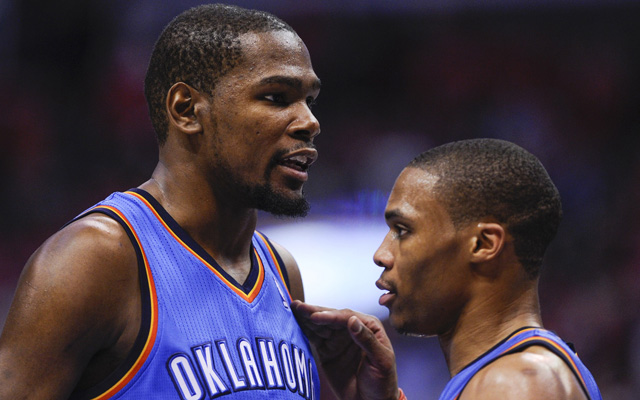 More postseason coverage: Playoff schedule, results | Latest news, notes
Can the Thunder afford to play without Russell Westbrook or Kevin Durant on the floor? Scott Brooks has gone to lineups without either of the Thunder stars for long stretches in the playoffs, but they had Serge Ibaka to provide some offense. Now the Thunder are going to all-bench player lineups without Ibaka, and in Game 1's first half, it was trouble. The Thunder were outscored 12-7 with both KD and Westbrook on the floor. Durant rested just five minutes, Westbrook six in the first half
But two of those buckets were Danny Green's 3s, one of which was well-contested by Caron Butler behind a screen, and the other was a pull-up 3 in transition after the ball was hit by the defender. So you can't be too unhappy with that if you're OKC.
The real reason this is difficult for the Thunder is that they need to get both of the stars rest. Brooks is going to need them for most of the second half if not all, and if you're going to go that route, you need to rest them in the first half. But if he goes to that plan in the second half, it's dangerous.
You can stagger the pair's time on the bench, which is what many advocate for. But then you're limiting the time they spend on the floor together, which is when they're most dangerous. Brooks is looking to maximize their most dangerous lineups, and the cost of that is minimizing more balanced lineups and risking stretches with lineups that can't score vs. one of the best offensive teams in the history of the league.
This all gets back to the Ibaka problem, but it's something the Thunder have to figure out. Can they survive without one of the two stars? It's yet another problem the Thunder face in this series exacerbated by the Serge Ibaka absence.