Report: Warriors don't want to include Thompson in Love deal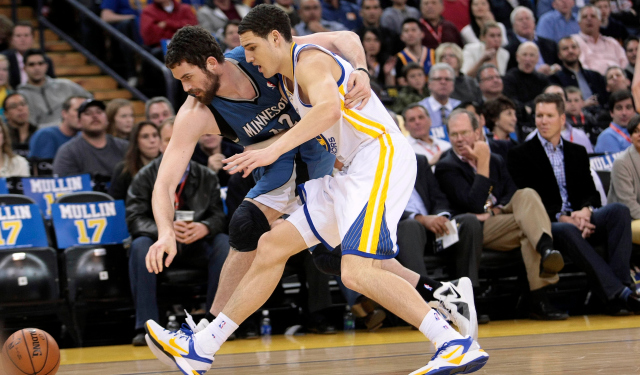 More Offseason Analysis: Coaching changes, news | Free Agency | Draft
The Golden State Warriors, one of the teams Kevin Love is reportedly interested in, could immediately become title contenders based on talent if they acquired him. They would need to do so without completely gutting their growing core, though, and Golden State doesn't want to include shooting guard Klay Thompson in a deal with the Minnesota Timberwolves, according to the Bay Area News Group's Marcus Thompson:
Ideally, the Warriors could pull it off with a package of [David] Lee, forward Harrison Barnes and the 2015 draft pick. That's probably the best the Warriors could offer.

A team source said the Warriors don't want to give up Klay Thompson to land Love. Draymond Green doesn't make enough to impact the trade financially. That leaves Barnes, whom the Warriors stuck by during his sophomore slump.

Perhaps Barnes and Green, in tandem, would qualify as enough young talent to pair with Lee -- but that's giving up too much as Green has proved invaluable off the bench. Maybe the Warriors could get their hands on another first-round pick to bolster their offer.
It makes sense to start negotiations there. If the Warriors can somehow add Love and keep Thompson, just imagine that offense. Stephen Curry, Thompson and Love all on the perimeter, launching threes? Recently hired head coach Steve Kerr could run just about anything and it'd work well. That doesn't mean Golden State should flat-out refuse to talk about trading the 24-year-old shooting guard, though.
Thompson is a valuable player, one the Wolves should probably demand if they are going to send Love to the Warriors. He makes 42 percent of his threes and can use his size and strength on defense. He could have All-Star appearances in his future and he's in Team USA's talent pool. He is not, however, the same caliber of player as Kevin Love.
Despite the fact that Love has never made it to the postseason in Minnesota, he's a superstar, a franchise-changing player. Pairing him with Curry would be devastating for opposing defenses, and Golden State must seriously consider any deal centered around David Lee and young players. Even if one of the young players is Thompson.