Report: Sterlings, Roeser efforted cover-up of scandal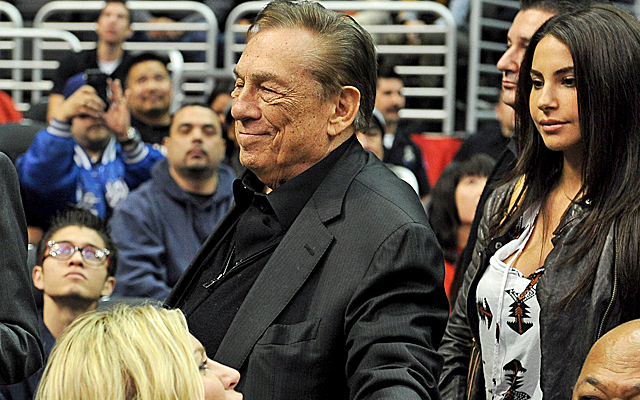 More: Sterling banned for life | Latest updates | NBA news
The NBA filed a charge this week to initiate the termination of Donald Sterling's ownership of the Clippers, following the events of the last month since his racist recorded comments were released to several outlets and Sterling was banned for life by the NBA. The Los Angeles Times now reports on the conclusions drawn from the NBA's formal investigation into the matter, including an alleged cover-up not only by Sterling's wife, Shelly Sterling, who seeks to retain ownership of the team -- but also team president Andy Roeser, who was placed on indefinite leave last month.
Donald Sterling made several attempts to deflect responsibility for his rant against African Americans — even asking his companion V. Stiviano to lie about the authenticity of the recording of the incident, the NBA contended in a supporting declaration as part of its formal case against the Los Angeles Clippers owner.

The new claim was made by the NBA's chief investigator and is among a voluminous collection of accusations and statements that the pro basketball league compiled in its effort to strip Sterling and his wife, Shelly, of ownership of the team.

The confidential documents, reviewed by The Times, alleged that Sterling and his wife of 58 years "are not in any sense estranged," as she has said. Shelly Sterling has been trying to distance herself from her husband as she makes her case to keep half ownership of the Clippers.

The league asserted that it must oust Shelly Sterling as an owner, along with her husband, to avoid the appearance that he is still in charge, which would "undoubtedly and dramatically reduce the value of the team."

The documents also contended that Clippers President Andy Roeser discussed the recording with Donald Sterling and then instructed an employee to destroy the copy, more than two weeks before it became public.
via NBA makes its case against Clippers owner Donald Sterling - Los Angeles Times.
The report goes on to detail how Roeser told a Clippers employee when Stiviano sent a copy of the recording to the office to "destroy it" and delete all the text messages involved with it.
So that would explain a lot of why Roeser has been removed from the equation. The investigation's assertion that Shelly Sterling and her husband are not estranged will likewise come into play when the NBA also removes her share of the team, which the NBA has already stipulated is automatic in the event of Sterling's ownership termination.
In short, the investigation in no way is going to help the Sterlings with either the NBA or their plans to inevitably sue the league over its vote to terminate ownership. A hearing is set for two weeks to decide the vote. Sterling has the option to appear and present at the hearing, but has given no indication he intends to do so.
If the investigative report is any indication, the NBA has built quite the case.