Report: Grizzlies going after Jeff Van Gundy for coaching job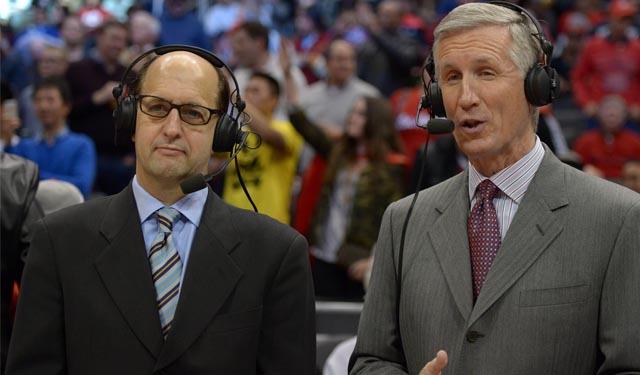 More postseason coverage: Playoff schedule, results | Latest news, notes
The Memphis Grizzlies' situation became pretty hectic over the last week. Both Jason Levien and Stu Lash are no longer part of the front office and owner Robert Pera is reportedly fine with letting coach Dave Joerger move on to the Minnesota Timberwolves. Other changes may follow as Pera tries to regain the magic of the 57-win, Western Conference Finals-bound Grizzlies of 2012-13.
A big part of that will be nailing the hiring of the next Grizzlies' coach and Pera could be swinging for the fences. According to Marc Stein of ESPN.com, the Grizzlies are looking to convince Jeff Van Gundy to take over the sidelines. The ESPN/ABC TV analyst would likely be offered a role with the Grizzlies like the one his brother Stan Van Gundy received as coach and team president of the Pistons.
One of the prime options under consideration by the Memphis Grizzlies in the wake of last week's management shakeup and the looming departure of Dave Joerger to the Minnesota Timberwolves is making a run at Jeff Van Gundy to be their coach and run their front office, according to NBA coaching sources.

Sources told ESPN.com that the Grizzlies have serious interest in trying to convince Van Gundy to serve as coach and team president in a job structure modeled after the new dual role brother Stan Van Gundy has secured with the Detroit Pistons.

Jeff Van Gundy's interest in that sort of undertaking -- or the Grizzlies specifically in the wake of all their recent turmoil -- is unclear, with the former New York Knicks and Houston Rockets coach and current ESPN analyst consistent in his reluctance to publicly discuss job openings. But after the ousting of CEO Jason Levien and with Joerger poised to leave, the immediate challenge for Grizzlies owner Robert Pera is convincing prospective candidates that they'll be walking into a stable situation.
Van Gundy hasn't coached since the 2006-07 season when he directed the Rockets to 52 wins and a playoff appearance. From 1995 to 2007, he coached in 11 of the 12 seasons. His teams posted a record of 430-318 with a 44-44 record in the playoffs. He coached the New York Knicks in seven seasons with his first and last season being incomplete seasons. He took over the final 23 games for Don Nelson in 1995-96 and then was fired after 19 games in 2001-02.
Van Gundy took over the Houston Rockets in the 2003-04 season, and in four seasons he led the team to three playoff appearances. Since leaving the Rockets after 2007, he's been a color analyst for ABC and ESPN. There isn't any indication he'd want the Grizzlies' position, and he probably wouldn't comment on it prior to his duties with ESPN and ABC being over for the playoffs.